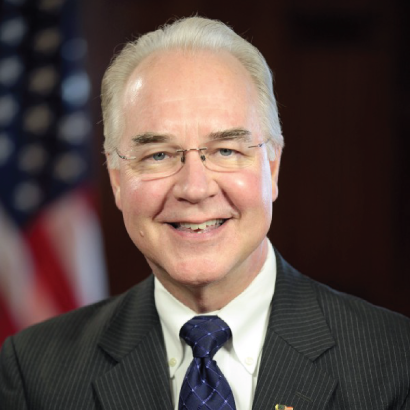 Editor's Note: Tom Price was confirmed as the Secretary of Health and Human Services on Friday, February 10, 2017.
Rep. Tom Price (R-GA) is slated to be the next Secretary of the U.S. Department of Health and Human Services (HHS). This is big news for Republicans in Washington who will retain control of both the U.S. House of Representatives and Senate, take over the White House, remake Medicare and Medicaid, and seek to repeal the Affordable Care Act (ACA). Don't worry if the ins and outs of health policy don't make your heart flutter. The NRPA Public Policy Team has poured through an avalanche of news about President-elect Donald Trump's tweets, scoured bills, speeches and policy papers, and followed around-the-clock television coverage of visits to Trump Tower to make sure you're up to date on President-elect Trump's most high profile nominee yet ‒ Dr. Tom Price.
Chairman of the House Budget Committee
Orthopedic Surgeon
Author of Bill to Repeal the Affordable Care Act (the Empowering Patients First Act)
Supports overhaul of Medicare and Medicaid (vouchers/premium support)
Proponent of health savings accounts (HSAs)
Rep. Price is a six term Congressman, practicing orthopedic surgeon, and founding member of the Tea Party Caucus in the House of Representatives. He's also the Chairman of the House Budget Committee and author of legislation to repeal the Affordable Care Act, which we'll cover in detail in the January edition of Parks & Recreation magazine.
Dr. Price stands out for his knowledge of Medicare and command of the federal budget, despite criticism in Washington ‒ from both the right and the left – about the lack of policy expertise among President-elect Trump's cabinet nominees thus far. And no matter your political leanings, it's clear that Dr. Price will bring an insider's view, years of practice experience as a doctor, and respectable policy chops to the table. More relevant for you, he'll serve as the nation's top health policy official. If confirmed by the Senate, he will be charged with overseeing aspects of our healthcare system including federal funding for medical research, disease prevention and control, the U.S. Food and Drug Administration's (FDA) drug approval process, repealing the Affordable Care Act and deciding the future of the Prevention and Public Health Fund – one of NRPA's top priorities.
Policy History
Despite his extensive knowledge of our healthcare system, Rep. Price has taken multiple troubling stances when it comes to wellness, public health and prevention during his time in Congress. As a prominent member of the GOP Doctors Caucus, he's supported the rights of doctors to practice medicine with as much financial reward – and as little government oversight ‒ as possible, suggested Congress would overhaul Medicare before he was nominated as HHS Secretary, voted against permitting the FDA to regulate tobacco and cigarettes, tried to repeal the Prevention and Public Health Fund multiple times, and even opposed a widely-praised effort to double cancer research funding ‒ known as the Cancer Moonshot. Most notably though, Dr. Price has served as the GOP's leading voice in the effort to repeal – and replace ‒ the Affordable Care Act, and many of the consumer protections and coverage expansions that accompanied it.
Outlook
Right now, only a slim Republican majority stands between Dr. Price and confirmation in the Senate to be our next Secretary of Health and Human Services. While Rep. Price stated he isn't wedded to his previous political stances or policy positions, the NRPA Public Policy Team fully expects Congress' healthcare agenda to closely align with his views, values and previous votes.
Look out for the January edition of Parks & Recreation magazine to learn more about Rep. Price's bill to repeal the Affordable Care Act. You can also follow NRPA on Facebook, Twitter, and Instagram for up-to-the minute news about Congress and President-elect Trump's cabinet.


Learn more about federal policy and legislative issues impacting parks and recreation.

Photo Credit: By Office of the President-elect [CC BY 4.0], via Wikimedia Commons