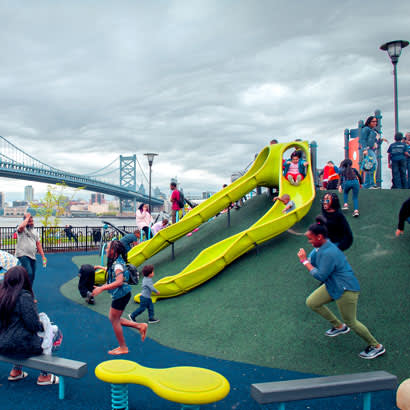 Community Engagement Resource Guide: Your feedback wanted!
Parks are created to benefit the people they serve. When the community has a say in what projects happen in their parks, they recognize their power and take ownership of the site to make it their own. But countless park and recreation professionals have told us that it is difficult to get attendance at traditional community meetings, to prioritize staff time and resources, and/or to find staff with the right skills to address the history of mistrust and build lasting relationships with community members.
NRPA promotes the need for all people in the community surrounding a park to have a seat and voice at the table, regardless of race, ability or socioeconomic status. That's why we have created a Community Engagement Resource Guide to ensure that equitable and inclusive community engagement is incorporated throughout the planning, design, maintenance and activation of neighborhood parks and park-system plans.
This guide was created by building on existing research, interviewing park and recreation professionals, and soliciting feedback from local and national community engagement experts. Now, we want to hear from you! We want to ensure this resource:
helps you accurately address real issues that park and recreation professionals face when attempting to engage your community, and
serves as a useful tool for the work you do every day.
NRPA is asking park and recreation professionals to review the draft Community Engagement Resource Guide and provide feedback using this survey by Friday, May 31. Keep in mind the questions:
Does this resource guide build the case for investment in community engagement?
Does it highlight the importance of building relationships with the community?
Does it provide solutions to address the issues you experience in your own projects?
Read the Resource Guide and give feedback.
Community Engagement Training at the 2019 NRPA Annual Conference
To complement this resource guide, NRPA is working with the National Charrette Institute to host an all-day training at the 2019 NRPA Annual Conference in Baltimore. The goal of this training is to increase the knowledge park professionals have to start relationships and to strengthen engagement with their communities. The highly interactive training will utilize evidence-based strategies, resources and best practices as well share attendees knowledge and experiences to inspire and provide tangible strategies for you to take home. Breakfast, lunch and refreshments will be provided during the training, and attendees will receive a $400 scholarship to attend.
If you are a park and recreation professional OR a non-profit park and recreation agency partner; value community engagement; work with underserved populations; and want to meaningfully engage all members of your communities, we encourage you to apply for the training.
For more information on the training and to access the application, click here. Applications will be accepted through Friday, June 7. If you have any questions, please send us an email.

Jared Mummert is a Program Specialist for NRPA.