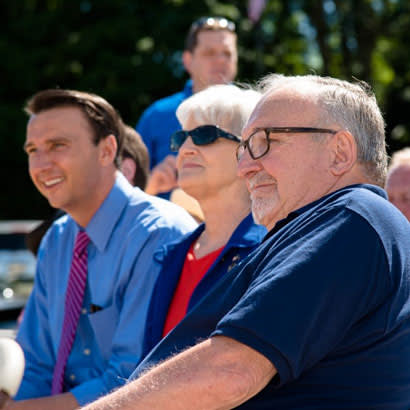 Each year, NRPA recognizes Park Champion initiative participants that have hosted their members of Congress or staff at an event at their agency with the Park Champion of the Year Award. The recipient of this award, chosen by the NRPA Public Policy Committee, is recognized at NRPA's Annual Conference and receives roundtrip lodging and airfare for two in their agency to travel to Washington, D.C., to advocate for parks and recreation on Capitol Hill. Finalists for the Park Champion of the Year Award are highlighted in NRPA's Parks & Recreation Magazine and the OpenSpace Blog.
On June 3, 2017, East Goshen Township Parks and Recreation brought history to life for 3,500 residents and elected officials, including Congressman Ryan Costello, at the East-West Goshen Bicentennial Celebration, to celebrate the 200-year anniversary of the split between East and West Goshen Townships in southeastern Pennsylvania. Parks and Recreation Director and Park Champion Jason Lang coordinated with ten different local organizations, including the East and West Goshen Historical Commissions, a local theatre company and high school clubs to create a historically accurate performance of the historical split of the townships. The cast of the play boasted supreme local talent: residents, volunteers and local actors depicted residents, and the county magistrate played the judge.
"We wanted to create a historically accurate and complete recollection of the split, broad enough to be understood and enjoyed by audiences who knew a lot about the event, as well as by those who knew very little to nothing of the event," says Lang. "Working with the historical commissions allowed us to do just that while also ensuring we were inclusive of both townships' perspectives."
In addition to the play, a citizen-made computerized rendition of the Battle of Brandywine from the Revolutionary War was played on repeat, making the split tangible to technology-savvy audiences.
The event was the first Lang coordinated through the Park Champion initiative, which provides NRPA members with the training and tools to build relationships with their members of Congress by inviting them to events like the Bicentennial Celebration. The event was attended by Congressman Costello, State Representatives Carolyn Comitta and Eric Roe, elected officials from both townships and approximately 3,500 East and West Goshen Township residents. The success of the celebration was a testament to the planning abilities of Lang and his team. Many of the park and recreation departments in Pennsylvania's townships, including that in East Goshen, are teams of just one or two people.
East Goshen Township Board of Supervisors Chairman, E. Marty Shane, said, "Jason and his peers deserve a lot of credit for all that happened. There was turnover in the leadership of the event planning committee early in the year. Jason stepped up to the plate and in just four months completely coordinated every aspect of the event-from volunteer recruitment and logistics to marketing, and getting our elected officials to attend. It's incredible."
In addition to providing tools to help coordinate the attendance of Congressman Costello at the event, Lang says the Park Champion initiative has been integral to bringing credibility to other initiatives led by East Goshen Parks and Recreation.
"The support of NRPA through the Park Champion initiative means a lot for our department and our community," says Lang. "We believe that every park and recreation agency should have strong relationships with their community and elected officials at all levels — they play a huge part in securing funding for current and future initiatives. It has given us the tools to continue to engage in day-to-day advocacy activities and build relationships with our elected officials. Through this work we have secured more than $4.1 million in grants to maintain and build trails, playgrounds and park structures."
Congratulations to Jason!
Are you the next Park Champion of the Year? Learn more and join the Park Champion initiative.
Jayni Rasmussen is NRPA's Advocacy and Outreach Manager. Chelsea Hodgkins is NRPA's former Government Affairs Intern.