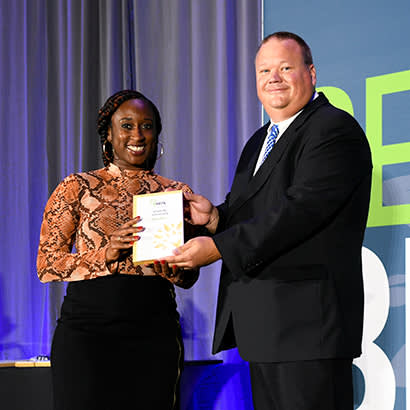 Did you know there are three different ways you can attend the NRPA Annual Conference, all expenses paid? It's true, Young Professional Fellowships, Diversity Scholarships and Student Scholarships allow eligible NRPA members to attend and explore the NRPA Annual Conference paired up with a mentor to help them navigate the experience and expand networks. Here's what the 2019 recipients had to say about their experiences:
NRPA Young Professional Fellowship
Who should apply: NRPA members under 35 with 2-10 years of experience in parks and recreation who want to attend the NRPA Annual Conference and grow their professional network.
"Winning an NRPA fellowship was a pivotal point in my career. It not only gave me a chance to attend my first NRPA conference, but also gave me the opportunity to create relationships within my field that I will be using far into my future. To learn and be mentored from some of the finest professionals in our field is should be a goal of every young professional. It will take you places you'd never thought possible!"
Luke Bolinger, CPRP
Community Partnership and Special Projects Manager
Town of Erie | Parks and Recreation
"Being selected as a 2019 Young Professional Fellow was an honor. It was a great experience to attend the NRPA Conference, have a mentor and be recognized at the Best of Best Ceremony. This national recognition has opened doors for me and led to a role serving on my state's conference committee, to a role on my county parks commission and more. I have gained confidence and valuable leadership skills to share with others. I highly recommend applying for this award!"
Sarah K. Hansen, CPRP
Facility Coordinator
Brookview Golden Valley | City of Golden Valley
"The Young Professional Fellowship was an incredible opportunity for me to plug in with NRPA and the Parks & Recreation industry. Connecting with my peers across the country and expanding my professional network was an invaluable benefit of the fellowship program. In addition, I was very fortunate to be paired with a mentor who really took an interest in my goals and helped me tailor my conference experience accordingly and he continues to provide me with guidance and support today. Through my mentor, I also learned a great deal about NRPA and various leadership or development opportunities. Finally, the educational sessions were not just informative, but inspiring as well."
Elissa Malone, CPRP
Programming & Fitness Superintendent
City of Frisco Parks & Recreation Department
NRPA Diversity Scholarship
Who should apply: Current members of NRPA from an underrepresented group in the park and recreation community and/or demonstrate outstanding contributions serving diverse communities specifically related to park and recreation programs and services.
"Winning the Diversity Scholarship was a rewarding experience for me. Practically, it allowed me to attend the 2019 Conference in Baltimore. Even though staff wrote a winning proposal that was accepted by NRPA, we still didn't have the funding to make the trip a reality. The scholarship allowed me to attend the conference and connect with like-minded people that I needed to know, but literally would have never met before. Personally, the fellowship showed me that the work that I was doing to introduce and encourage environmental education to at-risk students in Broward County was valued and respected within the national parks and recreation community. Professionally, since receiving the fellowship I am more respected within my organization and have been trusted with more intricate tasks and leadership roles. Receiving the fellowship was the induction into an elite community, and I am thankful to have been selected."
Attiyya Atkins
Public Communications Specialist
Broward County Parks & Recreation
NRPA Student Scholarship
Who should apply: Student members of NRPA who are currently studying for a degree in parks and recreation. If you are excelling at your studies, desire to learn more about the field, and want to attend the NRPA Annual Conference and learn from other professionals in the field, you should apply.
"Winning an NRPA scholarship allowed me access to a plethora of presentations and workshops to broaden my knowledge of our field in ways that traditional classroom education does not. Learning firsthand from qualified professionals exposed me to ideals and standards that I should strive to achieve throughout my own career. I love to speak with others about my research and raise awareness for the delicate balancing act public lands undertake to mitigate degradation while also providing a notable visitor experience, and attending the NRPA conference opened the door to these conversations and meaningful lifelong connections as a result. The quality of the NRPA conference significantly exceeded any others I have previously attended, and I highly recommend this experience to any individual preparing for a career in the park and recreation profession."
Kristen D. Sikorsky
Graduate Research Assistant | Park Management & Conservation
Department of Horticulture & Natural Resources, Kansas State University
The NRPA Fellowships and Scholarships are intended to inspire future participation and leadership in NRPA and to develop connections with park and recreation professionals from around the nation. Recipients receive complimentary NRPA Annual Conference registration, a travel stipend and hotel expenses reimbursed. Applications were due by April 10, 2020. Learn more about NRPA Fellowships and Scholarships.


Suzanne Nathan is NRPA's Public Relations Manager.