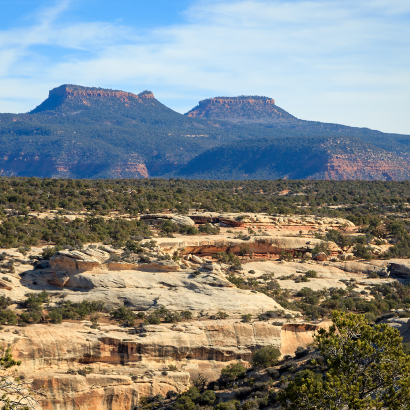 "NRPA has supported the integrity and purpose of our nation's public lands for over 50 years. We urge President Trump and the Secretary of the Interior, Ryan Zinke, to reconsider the plan to significantly reduce the size and boundaries of Bears Ears and Grand Staircase-Escalante National Monuments and to restore the full protection of national monument status as they were designated," said Barbara Tulipane, CEO of NRPA in a statement December 11, 2017.
The President would reduce Bears Ears National Monument 80 percent in size, from 1.35 million acres to approximately 220,000 acres, and reduce Grand Staircase-Escalante approximately 45 percent in size, from nearly 1.9 million acres to just over 1 million acres. Thus, more than two million acres of public lands will lose the protection of National Monument status, the largest such reduction of protection for American public lands in our nation's history.
There are 129 National Monuments that have been protected since the first one was established by Teddy Roosevelt, Devil's Tower in Wyoming. This monument was protected under the authority of the Antiquities Act of 1906, landmark legislation that has endured to today.
National Monuments are areas of federal public lands "that contain historic landmarks, historic and prehistoric structures, or other objects of historic or scientific interest." National Monuments can be declared by the President or approved by Congress through legislation.
In the last 112 years, a number of National Monuments have had status changes, all the way from minor boundary changes to being promoted officially to National Parks. The original intent of the designation of National Monument was to protect valuable natural, cultural, and historic resources from damage or destruction and to provide protection for their value to our nation. Most previous changes to National Monuments have been relatively minor; protections of the most important resources have been maintained or enhanced. That is, until this latest sweeping action that would remove National Monument designation from nearly 2 million acres of federal public land previously declared as National Monuments.
This presidential action follows recommendations of a report prepared by the Secretary of the Interior, Ryan Zinke, a report which has not been made available to the public. The focus of the Executive Order of April 27, 2017, was to direct the Secretary of the Interior to review the boundaries and justifications of 26 National Monuments established since 1996 that were over 100,000 acres in size. Among the reasons stated were to evaluate the 26 monuments for barriers to energy development and economic development as well as to assess whether there was appropriate involvement of state and local interests.
The public reaction to the announcement to revise two of the monuments in Utah was swift. Business interests, conservation organizations, and conservation-minded public overwhelmingly condemned the action. Literally millions of public comments were received on the President's Executive order to review and recommend changes, if warranted, to the designations of any National Monuments considered. And this may not be all the monuments that will be revised. Reductions to other National Monuments that were reviewed may be made.
There may be good reasons to alter the boundaries of certain national monuments for practical and justifiable reasons, but the wholesale reductions announced for Bears Ears and Grand Staircase-Escalante are not reasonable modifications.
The revised boundaries and new management units that could potentially result from the carving up of Bears Ears and Grand Staircase-Escalante could allow significant harm to the objects and lands that should remain protected by Monument designation. In addition, few, if any, compelling reasons have been given to justify such large-scale changes. No National Monument has ever been reduced to the level that these have — potentially putting at risk tens of thousands historic and cultural sites.
The law specifies that the monument should be of the smallest area possible to ensure proper care and management, but both Bears Ears and Grand Staircase contain tens of thousands of sites of historic and cultural significance. There are over 100,000 archeological sites in Bears Ears alone.
Local, state and tribal level input into the designation process of any proposed National Monument is critically important. Significant public comment was received before the designations of these monuments were established. Support for the designations was not unanimous. Those who spoke for greater state-level and local control of federal lands were especially vocal.
But the support or opposition of local or state governments should not in and of itself determine the size or status of National Monuments. National Monument status is intended to protect lands and objects of the highest national significance. The monuments that have been designated have been established by a thorough vetting process to affirm their value as national treasures, and they rightfully are part of the heritage of all people of our nation.
The Presidential action taken to severely reduce their size sets unacceptable precedent for potentially reconsidering every national monument that has ever been established.
There are yet unresolved legal questions as to whether the President has the authority to rescind declaration of a National Monument. Some legal scholars believe that the Antiquities Act and the Federal Land Policy Act of 1976 do not allow Presidents to make wholesale reductions to monuments; only Congress has that authority. Lawsuits against President Trump's action have been filed by Earthjustice and by the Navajo Nation, NARF (representing the Hopi Tribe, Pueblo of Zuni, and Ute Mountain Ute Tribe), and the Ute Indian Tribe.
Supporters of leaving the monuments inviolate are vexed by the contradictory logic behind slashing the size of the monuments. They feel this would potentially open these federal lands to energy development and other incompatible uses while leaving them intact would produce a better benefit from a robust outdoor recreation economy. Many people believe that the reductions would almost certainly harm the recreation and tourism economy of the region that has been widely acknowledged as economically valuable to Utah and surrounding areas. While other economic value from extractive industries or energy development on federal public lands might be realized, such economic value would be at the expense of a healthy, sustainable recreation economy that produces over $887 billion in value and 7 million jobs per year for our nation.
The National Recreation and Park Association has consistently supported the integrity and purpose of our national public lands. NRPA urges the President and the Secretary of the Interior to reconsider actions to significantly reduce the size and boundaries of these two National Monuments and to restore the full protection for these monuments as originally dedicated. To do otherwise is not in the long-term interests of the states and localities affected, the resources for which these lands have been protected, and the interests of the American public.
Richard J. Dolesh is NRPA's Vice President of Strategic Initiatives.