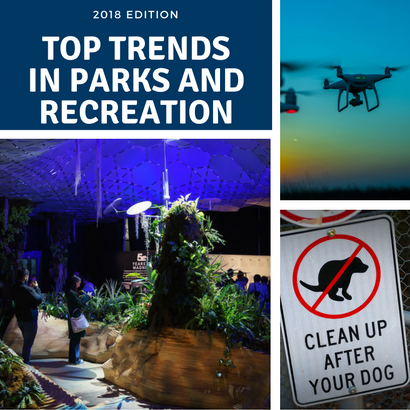 Several years ago, what started as a lighthearted look at new, interesting and even controversial trends in the field of parks and recreation for the coming year, has now become an annual New Year tradition. Past top trends for Parks and Recreation of previous years have proven surprisingly prescient, coming true more than not. Will we hit the mark again? You be the judge.
Part tongue-in cheek musing and part fearless prognostication, here are NRPA's Top Trends for 2018:
Parks Everywhere, Especially Underground
Innovative locations for public parks are being proposed everywhere — on the tops of tall buildings, in the middle of stormwater management areas, even in abandoned underground spaces. Thirty years ago, who would have thought that repurposing abandoned rail corridors into linear parks and active transportation networks would become a nationwide movement that would conserve more than 22,000 miles of unused rail lines converted to hiking and biking trails? Today, the spotlight is on underground parks. New York's Lowline, billed as "the world's first subterranean green space" is planned to open in 2021. Increasingly, the question most often asked about unused public space in cities across America is becoming: "How can we make this space into a park?"
Prediction: Major new underground public parks will be proposed in three cities. Advocates fighting to keep the now closed Battery Street tunnel in Seattle from being filled with rubble from the demolished Viaduct will win their fight and this underground space will be turned into a unique and endlessly interesting public park.
Parks as Supervised Opioid Injection Sites
With the spread of opioid abuse nationwide, some parks and public areas regrettably have become preferred sites for opioid users. In response, some localities are considering providing designated opioid injection sites that are staffed with health care professionals to supervise injections. Such public health outreach has a long history in Europe as well as Canada and Australia. Most recently in the U.S., King County, Washington, received state approval to establish an approved opioid injection site. More states are considering proposals.
Prediction: One or more newly designated, supervised opioid injection sites will be established in a community center or park and rec facility in the U.S. in 2018.
Drones, Drones and More Drones
Drone use by public sector agencies is becoming increasingly more widespread with governmental drones performing duties like successful search and rescue operations, surveillance of illegal activity, tracking the spread of invasive species, and more. In addition, the public flying of recreational drones is vexing those agencies who resist making an accommodation with this fast-growing form of public recreation. Drones will only continue to become more popular with the public who are looking for places to fly them and agency staff who are looking to utilize their unique capabilities.
Prediction: Several public park and recreation agencies will create drone corps utilizing staff-operated and volunteer-flown drones to monitor natural resources, map the spread of invasive species, count visitors, provide security monitoring for remote areas, and engage in firefighting and search-and-rescue missions.
Hepatitis A Coming to a Park Near You?
Public lands such as under highway bridges and unsupervised properties have sometimes become sites for homeless encampments. Such sites are much more likely to spread communicable diseases from unsanitary conditions and shared drug paraphernalia. In August 2017, CDC notified all state and local health departments regarding investigations of clusters of Hepatitis A in persons who were homeless and/or used injection drugs. Recent outbreaks of Hepatitis A in San Diego, Los Angeles and Santa Cruz, California were widely reported in 2017 and incidence of Hep A in homeless and illicit drug users has increased in other states including Michigan, Kentucky and Utah.
Prediction: Sadly, a U.S. park system will become the site of a Hepatitis A outbreak in 2018
Parks and Rec as Partners in Evidence-based Health Delivery
On the good news side regarding parks and health, many park and recreation sites are becoming not just places to improve health through physical activity, but locations to participate in evidence-based programs that measurably improve health. NRPA-sponsored programs with local park and rec agencies range from Active Living Every Day for sedentary adults to Walk With Ease low-impact weekly walking programs to arthritis intervention programs such as Fit and Strong! for those with osteoarthritis. 155 agencies representing 45 states and American Samoa have already made commitments to implement arthritis evidence-based physical activity programs in parks.
Prediction: At least one park and recreation agency will sign a contract in 2018 with a health care system to participate in a Community Integrated Health model program and be reimbursed for health services they provide to participants.
Billionaires Love Parks
In the past five years, there have been a series of extraordinary gifts to park systems across the country by extremely wealthy individuals who want to give back to their communities. These have included a $100 million gift to Central Park by hedge fund manager John A. Paulson in 2012; a $350 million donation to the River Parks Authority in Tulsa, Oklahoma by the George Kaiser Family Foundation; and many multi-million dollar donations to park systems — most recently a $12 million dollar donation in 2016 by Ken Griffin to the Chicago Park District to create a separated trail along the Chicago lakefront and a $3 million donation by the Kenneth C. Griffin Charitable Trust to build 50 soccer fields in underserved Chicago communities.
Prediction: At least five urban park systems in large cities will be recipients of multi-million gifts in 2018.
Dedicate Your Park — Or You Could Lose It
As cities increasingly look for available real estate, a high-profile case in New York City in which the city proposes to convert the Marx Brothers Playground in East Harlem to a high-rise development has brought the issue of converting park land to other purposes into sharp relief. Advocates are vigorously fighting the proposed conversion. "Public parks are under constant threat of diversion to economic development and other non-park uses," says James Kozlowski, law professor at George Mason University, who details another proposed conversion case in Westfield, Massachusetts, in his upcoming February 2018 Law Review column in Parks & Recreation magazine. In the case of Westfield, the court's decision rejecting the conversion hinged in part on whether the land was dedicated as a park, and therefore under state law required a two-thirds majority vote of the legislature to approve such a conversion, as well as federal protections from the LWCF law which required any conversion to be replaced by land of equal quality and value.
Prediction: Plans to convert park property to non-park uses without equal value replacement will be proposed with increasing frequency in 2018. Cities that have not been diligent in dedicating their parks according to state law requirements will lose valuable parks to development.
Dog Waste to Electricity
Park and recreation agencies are beginning to move beyond solar as the primary source for renewable energy resources. Greater application of wind energy and especially biomass energy, that is, the conversion of plant and vegetable matter to usable energy, will begin to power more park and rec operations to demonstrate the utility and value of renewable energy resources to the public. Biomass from parks such as wood chips, stable waste, plant matter, and surprisingly, even dog waste represents new potential sources of energy. A British non-profit, the Malvern Hills Area of Outstanding Natural Beauty is funding a project to produce a small-scale anaerobic digester for parks so park patrons can deposit dog waste which is composted to produce methane that is used to power park lighting.
Prediction: One or more forward-thinking park and rec agencies will seek innovative firms to produce and install anaerobic digesters in dog parks, encourage dog owners to deposit their collected dog doo therein, thus turning waste into energy!
Coyotes in Parks Are on the Rise, and That May be a Good Thing
Coyotes are becoming fully established in many U.S. cities and suburbs, a trend that does not surprise wildlife biologists and urban ecologists. Intelligent, omnivorous and extremely adaptable, coyotes are apex predators that have moved in next door and they are here to stay. Despite hysterical news headlines like "More Coyotes are Prowling in Wichita and May See Your Pet as Lunch" (true headline), local jurisdictions are realizing that the presence of coyotes in parks and on other public lands presents a more complex ecological challenge. Information about coyote population numbers, density, territorial range, food habits, and other important knowledge that biologists and natural resource managers want to have to evaluate their impact is sketchy. However, advocates for 'compassionate conservation' say that coyotes help keep urban ecosystems in balance and reduce populations of rats and other rodents, among other benefits.
Prediction: One or more park and recreation agencies will rise to the defense of coyotes in 2018 and will develop public education messages to show the value of wild coyotes to urban parks.
Economic Development Depends on Quality Parks
What does economic development have to do with parks and recreation? Plenty according to NRPA's VP of Research Kevin Roth who cites an NRPA study that shows local parks and recreation are responsible for generating $140 billion in economic impact and one million jobs annually. More importantly, as the Roanoke Times recently editorialized about why Humm Kombucha, a specialty health beverage brewer, chose the Roanoke Valley as a site to locate a new $10 million facility with 46 good jobs: "The greenways, the bike paths—they aren't frills. Those are actually economic development infrastructure, just in a different form."
Prediction: You can place a sure bet that when Amazon finally selects the location for HQ2, the highly coveted second Amazon headquarters site with its 50,000 jobs, will be built in a city with a great park and recreation system with abundant trails, expansive greenways and blueways, and a populace that loves its parks and recreation facilities.
Are You a Trend Spotter?
We would love to hear from you — what do you think will be a top trend in parks and recreation in 2018, and what predictions do you have for the coming year? Leave your observations of trends and a prediction of what you think will come to pass in parks and recreation in 2018 in the comments. We will plan to feature some of them in a new post later this January as well as the very thoughtful analyses of top trends from some of the leading thinkers in our field.
Read Predictions for Parks and Recreation's Top Trends in 2019.


Richard J. Dolesh is NRPA's Vice President of Strategic Initiatives.