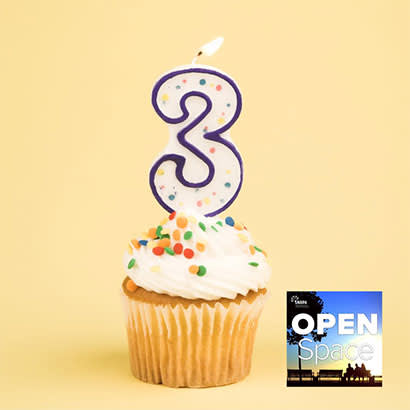 On this episode of Open Space Radio, we're celebrating our birthday! We started Open Space Radio a little over three years ago, and while many of you may have heard us talk about the early days of finding our podcasting groove — with not a whole lot of podcasting experience to pull from — we like to invite you, our listeners, in every once in a while to reflect back on some of our favorite Open Space Radio moments from the past. And we've had a lot of favorite moments.
Three years later, we still feel so lucky to be able to share with you the conversations we get to have with park and recreation professionals and other incredible people who are truly improving the quality of life for the people in their communities. Since we recently celebrated our official third birthday, we thought it would be a good time to look back on our three most downloaded episodes to date and share some of our thoughts, as well as give you a bit of a preview of a past episode you may have missed!
Tune in to the full episode below to listen to our reflections on the past three years and hear clips from these past episodes:
On this episode, we spoke with Tom Norquist, president of the International Play Equipment Manufacturers Association (IPEMA) about how risk and adventure play is stepping back into the limelight and helping kids' independence and creativity.
We reflect on how this episode is still really relevant today – for one, because of the increased awareness we're currently seeing around the need for outdoor recreation during the pandemic, and also because we recently worked with IPEMA on guidance for safely using playgrounds during the pandemic.
On this episode, we spoke with Neelay Bhatt, vice president of PROS Consulting and past NRPA board member, about what esports are, their impact on parks and recreation and the potential opportunities they present.
We reflect on how esports and virtual programming can bridge a gap and reach audiences that haven't typically participated in traditional park and recreation offerings, and how esports are going to increase in popularity due to the COVID-19 pandemic.
On this episode, we talked with Jesús Aguirre, Superintendent of Seattle Parks and Recreation and NRPA board member, Brian Zimmerman, CEO of Cleveland Metroparks, and Adriane Clutter, Division Chief at Montgomery County Recreation in Maryland, about how each of them was responding to COVID-19 at the time (March 10, 2020) in their respective areas of the country.
We reflect on how the stats for this episode are so shocking to look at now compared to when we recorded the episode – for example, at the time of recording for this episode, there were only 432 confirmed cases of COVID-19 in the U.S., compared to the more than 5 million current cases. We also discuss our admiration for how well park and recreation professionals have pivoted to serve their communities during such a challenging time (be sure to also listen to the May, June and September bonus episodes for more on this).
Thank you so much for your support and for listening to Open Space Radio over the years. We truly love being able to produce this podcast for you and can't wait to see what the next three years bring! As always, if you have any ideas for future episodes, reach out! Send us an email or connect with us on Instagram!
Listen to the episode for the full story.