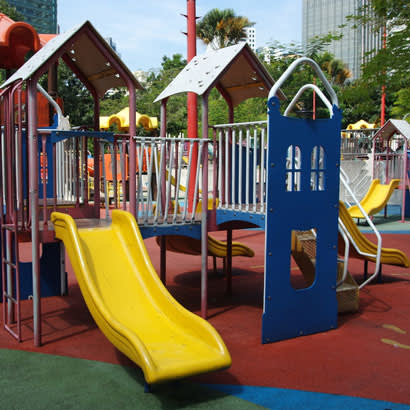 NRPA's most recent Park Snapshot survey (June 24-26) indicated that 54 percent of park and recreation agencies have made decisions to reopen their playgrounds and playspaces. In collaboration with local public health and government officials, and with new playground reopening guidance available from KABOOM! and NRPA, agencies are reopening thoughtfully and with additional safety measures in place to reduce the risk of COVID-19 spread. The guidance includes recommendations for limiting capacity on playgrounds and supporting physical distancing efforts, cleaning playground surfaces, wearing face coverings, utilizing staff and volunteers as park ambassadors, educating community members about proper use, and more. Additionally, agencies are encouraged to prioritize equity in reopening playgrounds and other playspaces, ensuring that disinvested communities have the resources needed to safely reopen and encourage healthy use of these critical spaces.
Perhaps one of the most important components in safely reopening playgrounds is building the education and awareness of community members on how to safely use these spaces. Agencies should develop a detailed communications plan and deploy messaging consistently — and across a variety of channels — to frequently remind visitors to take steps to prevent the spread of COVID-19. This includes communicating through traditional and social media, your website, newsletters, e-blasts, and installing signage in and around facilities. Regarding playgrounds, agencies should encourage park users to practice the following behaviors:
Monitor your health and stay home if you don't feel well or are experiencing symptoms including fever, cough, shortness of breath or other symptoms of COVID-19.
Wash your hands often with soap and water for at least 20 seconds, especially after you have been in a public place or after blowing your nose, coughing or sneezing.

If soap and water are not readily available, use a hand sanitizer that contains at least 60 percent alcohol. Cover all surfaces of your hands and rub them together until they feel dry.

Avoid touching your eyes, nose and mouth with unwashed hands.
Cover your mouth and nose with a tissue when you cough or sneeze or use the inside of your elbow. Throw used tissues in the trash and wash your hands after coughing or sneezing.
Put distance between yourself and other people outside of your home.

Remember that some people without symptoms may be able to spread the virus.
Do not gather in groups.
Stay out of crowded places and avoid mass gatherings.

Considering wearing a face covering

when using playgrounds.

Cloth face coverings should not be placed on young children under age 2, anyone who has trouble breathing or is unconscious, incapacitated or otherwise unable to remove the mask without assistance.
Parents and caregivers should encourage the proper wearing of face coverings and masks. When face coverings and masks are worn properly and children are supervised, they should not pose additional safety hazards. It is important to supervise children prudently when using playgrounds and other play structures.
Parents and caregivers should monitor how face coverings or masks are being worn. If children are unable to wear them or if play is vigorous and the face covering is moving around on the face or neck, children should not wear them. Physical distancing is paramount when face coverings or masks cannot be worn.
Consider the type of face covering or mask being worn. Face coverings that tear away easily are the best option for wearing on playgrounds.

Do not share personal items or equipment

, including food or water bottles with people outside your household.
NRPA and KABOOM's guidance, along with updated guidance from the Centers for Disease Control and Prevention (CDC) for park administrators during COVID-19, recommends that clear and accessible signage should be installed at playground sites reminding visitors how to use these spaces safely. To support agencies in creating and posting signage, the International Play Equipment Manufacturers Association (IPEMA), Voice of Play and NRPA have collaborated to create a set of signage tools for playgrounds, playspaces and other similar equipment. These tools can be easily downloaded, printed and posted in and around your park and recreation facilities as needed. You can access the tools here:
Click on image below to open full-size infographic in new window for download.
For more information on safely reopening playgrounds, view the recent webinar hosted by NRPA, KABOOM! and the Outdoor Alliance for Kids, which also featured presenters from CDC and Douglassville Parks and Recreation.
NRPA continues to work alongside partners including CDC, IPEMA and Voice of Play, and KABOOM! to provide up-to-date resources on safe playground operations. We encourage your agency to continue to consult with local public health and government officials and have a plan for scaling up additional mitigation strategies quickly should they be needed.
For more information about NRPA's response to COVID-19, as well as available resources for park and recreation professionals, please see our Coronavirus Disease 2019 (COVID-19) webpage.
Allison Colman is NRPA's Director of Health.