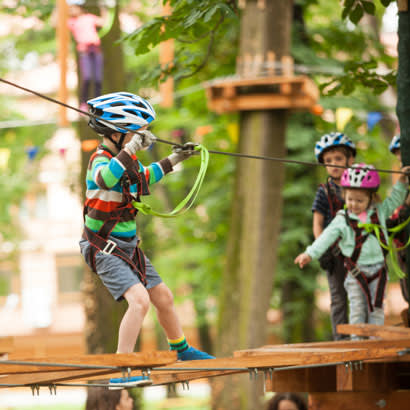 On today's episode, we chat with Tom Norquist, president of the International Play Equipment Manufacturers Association (IPEMA), about how risk and adventure play is stepping back into the limelight and can help kids' independence and creativity.
Typically, when we think about play, the idea of risk or danger may be a little scary, especially if we're talking about children playing. However, this kind of unstructured, hands on, risk play is making a comeback. Taking a risk and coming out on top provides kids with a great sense of accomplishment. Taking a risk also has consequences, which can also help kids develop critical decision-making skills. Incorporating some type of risk into play can teach kids lessons and skills that they can take with them for the rest of their lives, and truly benefit their development physically, mentally and socially.
Listen to the full episode below to hear Norquist, an expert on play, talk about why risk and adventure play is such a vital component in kids' lives. You'll also want to hear about his own adventure playground that he built in his backyard — it's so cool that one NBC Nightly News reporter cancelled her flight back home to stay longer!
Listen to the episode for the full story.