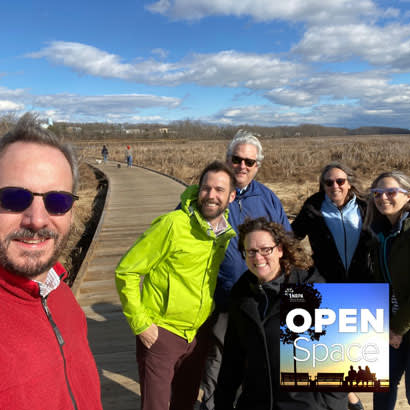 The May issue of Parks & Recreation magazine is out now, and on today's bonus episode of Open Space Radio, we're diving deeper into one of the feature articles, "Collaboration in the Time of Pandemic." We're honored to be joined by the author, and executive director of NOVA Parks, Paul Gilbert, as well as Jane Rudolph, director of Arlington County Department of Parks and Recreation, and Kirk Kincannon, executive director of Fairfax County Park Authority.
On today's episode, we talk with these three park and recreation leaders from the Northern Virginia suburbs of Washington, D.C., about their collaborative response to the Coronavirus Disease 2019 (COVID-19) pandemic. Their three agencies, as well as other local agencies, have been collaborating for many years, but that existing relationship has been even more beneficial during this time. While each of them has navigated tough decisions related to public health and their parks systems, having each other's support has been key.
We discuss the difficult decisions they've had to make as far as closing their parks and the tough conversations that happened prior to making that decision. Although most trails are still open, these agencies, along with others in the area, ultimately decided to close their parks and confront the situation from a public health perspective, hoping to slow the spread of COVID-19. And, in an area like Northern Virginia, where many of the parks and trails that these agencies manage intertwine, it was necessary to have a unified approach.
Their unified approach and collaboration have ensured simple, consistent messaging to the communities they serve, as well as consistent messaging to their staff — many of whom are still working, while maintaining proper physical distancing, to make sure that when the parks are cleared to open, they will be ready.
Tune in to learn how these three agencies have been supporting each other and their communities in a time filled with uncertainty, as well as what types of messaging have been most impactful for them and how this collaboration is helping them plan for the future.
For more information about NRPA's response to COVID-19, as well as available resources for park and recreation professionals, please see our Coronavirus Disease 2019 (COVID-19) webpage.
Pictured above (left to right): Paul Gilbert, NOVA Parks; Seth Hendler-Voss, Prince William County Department of Parks, Recreation, and Tourism; Kirk Kincannon, Fairfax County Park Authority; Laura Kowalski, Reston Association; Cindy Hoeder, Town of Herndon; Jane Rudolph, Arlington County Department of Parks and Recreation
Listen to the episode for the full story.