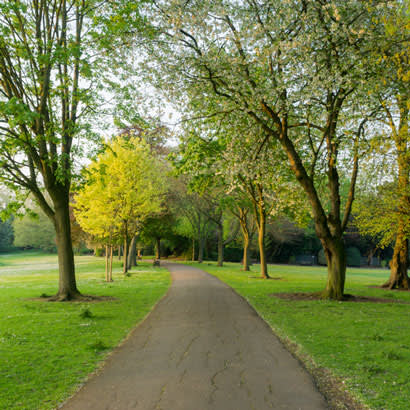 From parks in large sprawling suburbs to dense urban cities and everything in between, it is not hard to see (and the research has found) that parks in the poorest neighborhoods tend to have sub-par equipment, less trees and lack the love given to parks in the wealthier areas of our cities and towns that have beautiful playgrounds, walking paths and greenery. It is in these same communities, only miles apart from one another, that we see differences in life expectancy of up to 20 years. Yet, we know that having quality parks and green space within a 10-minute walk of home improves both our physical and mental health and are essential to economic development, community cohesion and civic engagement. In order to ensure that everyone has the chance to live their longest, best life possible we need to increase investments in park infrastructure and programming, so that everyone has a great park in a great neighborhood.
And we know this is possible. Communities such as San Francisco, California and Reno, Nevada are a few of the cities already leading the way because of the overwhelming support from their mayors and city leaders. Right now, local governments are at the center of change and leadership in our nation, and now is the time for us to build on this momentum.
That's why NRPA, along with the Trust for Public Land (TPL) and Urban Land Institute (ULI), launched the 10-Minute Walk Campaign on October 10, 2017, to build a movement to increase park access, quality and funding. We know that the public overwhelmingly supports parks, but we need our mayors and other local leaders to step up and make parks a priority. That's why 150 mayors from across the country and both sides of the aisle have already publicly announced their commitment to the 10-Minute Walk Campaign, supporting the vision that everyone, in every city and town across America, deserves a quality park or open space within a 10-minute walk of home.
To further support cities to achieve this goal, on January 29, NRPA launched an application to provide 12-13 cities with planning grants and technical assistance to dig deep and make an actionable plan to address park access, quality and funding in their communities.
At a time when our park and recreation budgets continue to be placed next to last in the city budget, we must champion mayors and city leaders that invest in parks and recreation. And we must support them in understanding that parks are the key drivers of great neighborhoods, economic development, healthy people, resilient communities and a solution to many other pressing issues faced by our communities.
So, what can you do to show your support and ensure everyone has a great park within a 10-minute walk?
Encourage your mayor to join the 10-Minute Walk Campaign. If your mayor is interested in joining, he or she can sign this form and send it to the 10-Minute Walk Team.


Learn about the 10-Minute Walk Planning Grant and Technical Assistance opportunity. NRPA provided 12-13 cities with $40,000 planning grants and technical assistance to develop their highest, best and measurable commitment to the 10-Minute Walk Campaign. Learn more here!


Contribute your expertise and success by submitting an idea for a video, story, and/or mini-webinar. Please send us your ideas!
Rachel Banner, MPH, is the 10-Minute Walk Program Manager at the National Recreation and Park Association.