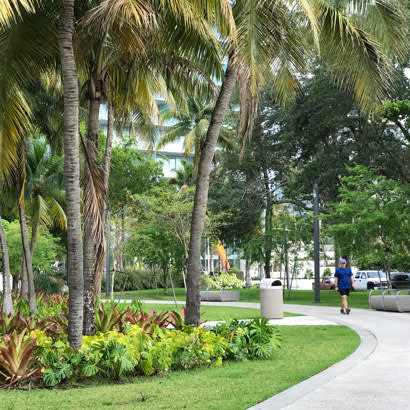 The Detroit riverfront captures a compelling tale of urban transformation. Home to a thriving industrial base in the early 20th century, the riverfront gradually became marred by crime, pollution and urban decay. In 2003, the Detroit RiverFront Conservancy was formed by a determined, innovative group of civic and community leaders who wanted to reverse these negative trends and create a world-class riverfront park, providing safe, green and accessible recreation space for all.
The Conservancy's work has resulted in an international success story. Today, the riverfront is teeming with activity, attracting millions of visitors each year. Children splash in fountains, people roam butterfly gardens and bike on greenways, and crowds gather for a full schedule of activities, including concerts, festivals and community yoga. "One of the most special things about the riverfront is that it is a truly welcoming space," says Detroit RiverFront Conservancy President and CEO Mark Wallace. "You see visitors from out of town and Detroiters who live in the neighborhoods; you see folks who are new to the city and folks who have been here for 85 years. It's a special place where everyone feels pride in this community, where everyone can get along and be themselves."
The Assembly Initiative
Stories like this are part of the inspiration behind Assembly, a groundbreaking initiative to understand how place-based design can impact civic life. Studies show that communities across the United States are facing concerning civic engagement trends, such as distrust among neighbors, economic and political segregation, low voter turnout and disinvestment in public infrastructure. At the same time, promising innovations are emerging to support civic life — often through enhancements to parks and public spaces. Assembly's research efforts seek to further understand this crucial relationship between place-based design and civic health.
Assembly is being led by the Center for Active Design (CfAD), a nonprofit organization committed to transforming design and development practice to support healthy, engaged communities. With funding from the John S. and James L. Knight Foundation, and guidance from a diverse cross section of expert advisers, Assembly embraces community design as an essential tool for shaping four civic engagement outcomes:
Civic trust and appreciation — Individuals feel they are part of a collective civic identity. They value local public spaces, and exhibit pride in their community.
Participation in public life — Residents regularly make use of enticing public spaces that facilitate equitable access among diverse groups and spark interaction among neighbors and strangers.
Stewardship — Individuals feel responsible for public spaces in their community, engaging in maintenance, programming, beautification and advocacy initiatives.
Informed local voting — Residents understand the role of local government in shaping their communities. They contact local officials, signal support for issues, and vote in local elections.
Original Research Is Forging a Path
In June 2017, CfAD released original research findings from the Assembly Civic Engagement Survey (ACES), the first study of its kind to examine specific community design features that influence civic life, using large-sample survey methods and visual experiments. ACES was fielded in 2016 to more than 5,000 respondents across the United States, capturing a diverse cross section of economic conditions, demographics and population densities. The survey inquired about the respondents' civic perceptions and behaviors, as well as about design elements and maintenance conditions within their communities, and it generated a trove of data to analyze relationships between characteristics of place and civic life.
According to Joanna Frank, president and CEO at the Center for Active Design, "With the publication of ACES findings, we are making strides to build widespread awareness around this compelling field of study and to offer concrete data that civic leaders can use to shape communities." ACES touches on a range of design topics, many of which have direct implications for practitioners working in parks and recreation.
Parks and Civic Life
Maria Nardi, director of parks, recreation and open space in Miami-Dade County, recognizes the essential role of her department in facilitating civic life. "People come to parks to be together, to be connected. In Miami-Dade, you have parks, public spaces, and natural and historic areas that are essential hubs for interaction across diverse communities." In fact, scholarly literature indicates that parks support intercultural and intergenerational interaction, and that people living in neighborhoods with parks are more likely to report a sense of civic trust and willingness to help others.
ACES affirms this valuable role of parks in building community connections. More than 30 percent of respondents say they regularly meet and talk to their neighbors at their local park. Further analysis indicates that park access is essential. In fact, even when controlling for a host of demographic characteristics, ACES finds that living within a 10-minute walk of a park is associated with a 2 percentage point increase in civic trust and stewardship. Yet, living near a park means little if it's inaccessible, and physical design characteristics also play a role in real and perceived park access. People who report that their local park has few entrances, or is surrounded by busy streets that make pedestrian access difficult, score 2 percentage points lower on Assembly's civic trust index than people with readily accessible parks.
Popularity Matters
When it comes to parks, popularity really matters. ACES respondents who say they live near a popular park that is used by many people also exhibit elevated civic trust (+10 percentage points.) Interestingly, this finding holds true whether or not respondents actually visit the park themselves. Living near a popular park is also associated with increased confidence in local government institutions, including greater satisfaction with the local park and recreation department (+29 percent), the mayor's office (+13 percent), and even the police (+14 percent).
Lisa King, executive director of Summit Metro Parks in Akron, Ohio, recognizes that design and programming can play an essential role in making a park more popular. "One of our sites, Summit Lake, offers a beautiful, natural space in the middle of the city. Yet, many surrounding neighbors are non-swimmers with fears of the water. Our job has been to engage them in creating design improvements and programs to help dispel those fears. We've installed a pop-up nature center, large stones at the edge of the lake, picnic tables, swings, a temporary shelter, along with activities like fishing and bird-watching. The project has taken off like wildfire — GED students are taking nature hikes before class, kids from the neighborhood are fishing every day. We're thrilled that more and more residents are enjoying Summit Lake."
Maintenance Considerations
ACES included detailed questions about the specific amenities available in respondents' local parks, as well as the maintenance condition of each amenity. Analysis shows that certain park amenities are associated with enhanced civic trust, regardless of their condition. For example, the presence of dog parks and community gardens is associated with higher levels of civic trust, even if they're a little rough around the edges. On the other hand, maintenance appears to be particularly critical for facilities impacting children and families, such as playgrounds, sports fields and park bathrooms. These amenities are associated with greater civic trust when well-maintained, but significantly diminished levels of civic trust when poorly maintained. "Maintenance is a top priority," says Lisa King. "We know from feedback how important it is to clean restrooms daily. We want people to love their parks and feel like they sparkle."
Community-driven stewardship can be essential pieces of the maintenance puzzle. In Philadelphia, residents are encouraged to care for public spaces through an annual "LOVE Your Park Week," featuring citywide celebrations and service days to activate and beautify neighborhood parks. Jennifer Mahar, senior director of civic initiatives of Philadelphia's Fairmount Park Conservancy, is inspired by the outpouring of stewardship during the celebration. "LOVE Your Park unites residents through collective responsibility. It's a reminder that parks are for, and by, everyone," she says. Throughout the year, the Conservancy, in a unique collaborative partnership with Philadelphia Parks & Recreation, leads a Neighborhood Park Stewardship Program that mobilizes more than 115 volunteer park friend groups in maintenance, programming and beautification initiatives across the city.
Inviting Participation
ACES found that simple changes in messaging can make people feel more welcomed at parks. One experimental survey question was inspired by Charlotte, North Carolina, where the city is augmenting traditional signs about park rules (such as "no loud music" or "no alcoholic beverages"), with positive, inviting "Can Do" signage (such as "You can give a high five!" or "You can take a photo!"). According to Monica Holmes, an urban designer for the city, "Rather than telling people what not to do, we wanted to rethink the role of municipal signs — what if we could use them to spark a sense of fun and positivity?"
Analysis reveals that positive messaging can significantly boost civic trust. For example, ACES respondents who were randomly assigned photos that included "You can give a high five!" signs were 11 percent more likely to say they would be "really proud to live in this community" and 9 percent more likely to believe "the city really cares about the people in this park," compared to those who were shown a traditional, rules-based sign. Such findings resonate with other practitioners seeking to cultivate a sense of welcome. Mark Wallace posits, "Why should signs always emphasize a park's closing hours, the time you're not supposed to be there? In Detroit, we're looking at ways to reframe the same message positively to emphasize open hours and make people feel more welcome."
A Cornerstone for Future Research
As the first study of its kind to empirically investigate the impacts of design on civic life, ACES represents a major contribution to the field. The full report is available for free download from the Center for Active Design. Results point to practical opportunities for building on and enhancing community assets, often through relatively low-cost interventions to improve maintenance conditions and make public spaces more welcoming and accessible. In conjunction with a range of research efforts, ACES will inform the development of a set of Assembly design guidelines, scheduled for publication in 2018.
There is still much more to learn about the relationship between place-based design and civic engagement. Assembly is drawing the road map — defining metrics for civic life, identifying research questions for future experiments, and engaging practitioners who design and manage parks and public spaces. This work has tremendous potential for impacting communities across the country. In Miami-Dade, Nardi reports that the parks department is "focused on design strategies that maximize park access and visibility, provide spaces for social interaction, and incorporate things like shade, water, walkways and signage in a meaningful way. Most importantly, we want to create beautiful spaces that move people and inspire them to share ideas and build community. Our parks serve as the stage for people to come together and live happier, healthier lives."
Suzanne Nienaber is Partnerships Director for the Center for Active Design.
References:
1. Michigan, U.O. Redevelopment of Detroit's Riverfront. April 18, 2005.
2. Peters, K., B. Elands, and A. Buijs. (2010). "Social interactions in urban parks: Stimulating social cohesion?" Urban Forestry & Urban Greening, 9(2), 93-100.
3. Rigolon, A., Derr, V. & Chawla, L. (2015). "Green grounds for play and learning: an intergenerational model for joint design and use of school and park systems." Handbook on Green Infrastructure: Planning, Design and Implementation (pp.281).