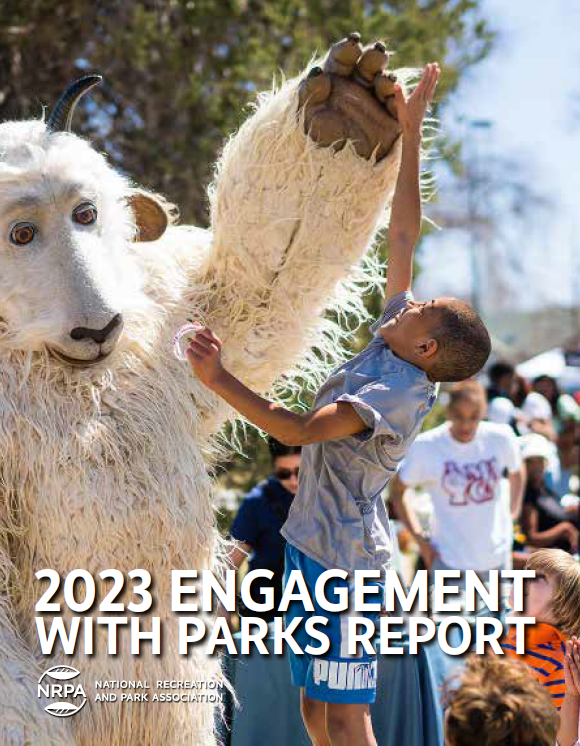 Interact With The Data
Engagement With Parks Report – 2022
Each year, NRPA conducts a study exploring the public's relationship with their local parks. This study examines the essential nature of local parks and recreation, including how parks play a role in deciding where to live, the number of local parks, trails and other open spaces within easy access to people's homes, and the public's desire for local and state governments to sufficiently fund their local park and recreation agencies. The 2022 Engagement With Parks Report examines the role of parks and recreation in everyday life including the public's desire for the vital services agencies bring to the community such as emergency shelters and youth employment.
Engagement with Parks Report – 2021
The 2021 NRPA Engagement with Parks Report dives into a host of topics related to how adults and their families interact with their local park and recreation system. Among many other subjects is a snapshot of when and why the public visits their local parks and other recreation facilities, the public's wish to be engaged by their local park and recreation professionals to identify needs and desires and their support for increased funding to ensure equitable access for all.
Engagement with Parks Report — 2020
The 2020 Engagement with Parks Report continues to demonstrate the essential value of local parks and recreation. It provides a unique look at the field during the coronavirus (COVID-19) pandemic and showcases the vital role that agencies and professionals serve in their communities.
Engagement with Parks Report — 2019
The 2019 Engagement with Parks Report looks at how people interact with parks, the key reasons driving this interaction and the greatest challenges that prevent increased usage. Additionally, the study takes a closer look at people's favorite outdoor activities, as well as their support of local governments expanding open space in their jurisdictions for the protection of natural resources in the community.
Engagement with Parks Report — 2018
Similar to the 2019 report, the 2018 study probes the importance of public parks in peoples' lives, including how parks rate against other service offerings of local governments. In addition, the 2018 study addresses the level of interest in improving easy access to high-quality parks and recreation facilities, including the public's support of local officials who advocate for parks and increased funding for them.
Engagement with Parks Report — 2017
The 2017 study took a special look at parks and recreation's role in resiliency and their special responsibility to help their communities withstand and recover from natural disasters.
Engagement with Parks Report — 2016
The inaugural edition of this study found that seven in 10 U.S. adults say they are more likely to vote for local politicians who make park and recreation funding a priority. Further, most people back increased local government spending for park and recreation agencies with solid support for a nearly 30 percent increase in funding for local park and recreation agencies.