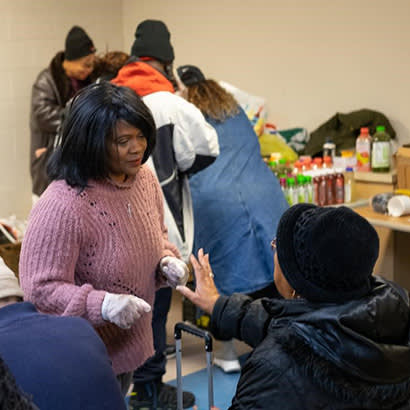 Inside the Bald Eagle Recreation Center, located in Ward 8 of the nation's capital, is where I teach my JJ Center Food Pantry shoppers that food can have positive health benefits. By using food as their medicine along with their doctors' orders, it has been proven to reduce health disparities and achieve health equality. The JJ Center Food Pantry resides in a food desert, which is known to describe areas where residents are a majority of low-income African Americans and grocery stores are more than two miles away. Therefore, my husband and I transport food to this area. We are achieving success with many of our shoppers obtaining healthy, nutritious food selections.
I, Dr. Mary Roach, am a Doctor of Pharmacy who offers health education along with nutritious food choices to others. As a pharmacist, I know chemical structures of medicines, and many of the same chemical structures are found naturally in foods. Therefore, by eating natural vegetables and fruits, people can prevent and control their health. Additionally, studies show that 60-80% of health problems could be prevented or controlled through proper nutrition.
For example, a drug called nitroglycerin has nitrates that dilate the blood vessels to prevent a heart attack. Typically, this drug is given to people who have had a heart attack and is prescribed in order to prevent further attacks. However, beets are high in nitrates and could dilate the heart if eaten regularly. Therefore, eating beets is a possible preventative measure . This is just one example, but there are many foods that could be used to prevent and control illnesses.
We need to get back to basic foods and that means eating foods grown naturally rather than processed foods. Initially, I helped my husband change his eating habits after he was diagnosed with kidney failure and had to be placed on dialysis. By working with his team of doctors for his dialysis, he was taken off six of the eight medications being used to treat his type 2 diabetes, high blood pressure, and high cholesterol. Additionally, I have lost more than 80 pounds and kept it off for more than six years. These results showed me that I could help others that frequent our JJ Center Food Pantry at the Bald Eagle Recreation Center.
Our work has been effective, and we had three pantry shoppers featured on the Capital Area Food Bank for accomplishing great results. One shopper lost 30 pounds and was able to get her diabetes under control. Another individual is improving her health through nutritious food. Our program occurs every Wednesday and Saturday to proactively improve the health of those living in Ward 8. The program not only allows shoppers to obtain highly nutritious foods on a low budget, but it is revitalizing their lives. They are full of energy, getting health problems under control, and losing weight.