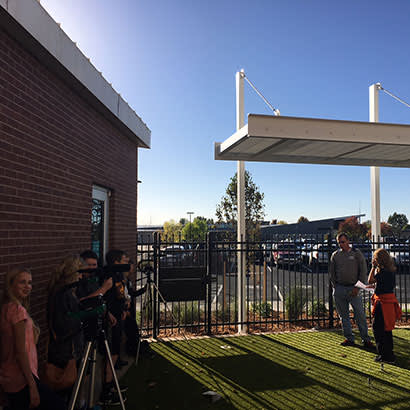 Looking for ways to engage the community and reinvigorate a stagnate government broadcast channel, Town of Windsor Communications staff began to look beyond its walls for new ideas and new partners.
"Upon my arrival in 2016, we had a great communications foundation, but we needed to increase engagement and bring local government more into the community," said Communications Manager Katie VanMeter.
Hearing about a relatively new media program at Windsor Middle School, Severance Middle School, and Windsor High School that incorporated video production into the curriculum, VanMeter reached out.
"Video is a great storytelling medium," she said. "I thought this collaboration would be a great opportunity to engage students with local government — especially our Parks, Recreation & Culture Department — while at the same time build video content for our platforms."
"One of our department's goals has been to increase our exposure locally, regionally, and nationally through a variety of mediums," added Director of Parks, Recreation & Culture Eric Lucas. "Partnering with the schools for video production was a no brainer."
The schools jumped on board for the 2016-2017 school year.
"We chose to engage with Windsor because it gave our students a real-world experience they could not find in the traditional classroom environment," said Doug Kathan, Windsor Middle School media teacher.
For the collaboration, the Town of Windsor provided a list of video ideas ranging from promotion of the new Community Recreation Center to how to volunteer with the town. After students selected a topic they were passionate about, town staff developed a project brief to help focus the messaging.
Students were encouraged to connect with town staff and facilities in the creation of their videos, filming on-location with content experts.
"The students got to interact with the city and people who run the community in which they live, that is something that is not traditionally done at the middle school level," Kathan said.
"Engaging with the youth of our town exposes them early on about what occurs in our community and gives them a behind-the-scenes look at how their local government operates," Lucas said.
Throughout the editing process, town Communications staff visited the classes to provide feedback and guide development from the lens of the "client."
"Students interacted with a real client who had a vision of what they wanted in an end product," Kathan said. "This was a new experience that required students to think creatively, communicate, and collaborate as a team to achieve a final product worthy of airing."
"Students started to take ownership of their own learning, because we encouraged them to develop every step of their videos from concept to completion," said Christy Swafford, former Windsor Middle School media teacher. "Our collaboration provided opportunities for students to ask deeper questions, search for themes in photos, interviews, and music, and build networks of people to provide information and resources."
The final videos premiered at an end-of-year film festival hosted by the Town of Windsor, and were featured on the town's broadcast and YouTube channel, as well as town social media pages and in-house displays at the Community Recreation Center.
"We saw [our video playing] when we went to the Rec Center. It was really cool to see something we made come together that great," said eighth-grade student participant Breelyn Caffey.
The project was a win-win for everyone involved.
"The end product was a grand slam in my book!" Lucas said. "The department and town ended up with fantastic marketing videos, and the students gained valuable experience that they will carry with them for life."
"This was unlike anything students had experienced," Kathan said. "It raised the level of engagement and caused them to see their product with a new set of eyes. This partnership is the next step to evolving education into a new realm where city and school come together to build something completely novel."
Due to its initial success, the Town of Windsor and Weld RE-4 School District media collaboration has continued in the 2017-2018 school year with a focus on Public Service Announcements.