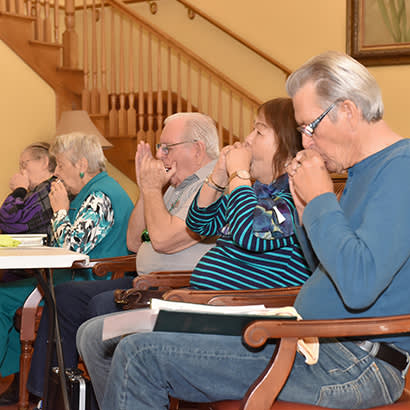 On any given day, the St. Charles Park District Adult Activity Center is bustling with members engaged in various pastimes. You'll find older adults ages 50 and up playing Pinochle, practicing shots around the pool table, or building a high score in Scrabble. There is truly something for everyone, regardless of their unique interests. For some, that is playing the harmonica and being a member of the Harmelodian Club.
The Harmelodian Club, with members in their 70s and 80s, meets every Monday morning for 90 minutes to practice and play together while also enjoying each other's company. "They are a close-knit group that really cares about each other," said Lynne Yuill, adult activity center supervisor. "They welcome each other with open arms." That sentiment is genuine as members describe their club of harmonica players as welcoming, stress free and like a second family. That goes a long way for new members, since the majority of newcomers have never played before. Most began playing the harmonica when they joined the club, at the suggestion of a friend, to socialize or to learn a new skill. But no matter what the reason, one thing's for certain - once they started, they were hooked and haven't looked back.
"I look forward to it every Monday. It's fun, and I enjoy seeing everyone and learning more each week," said Harmelodian member Carolyn, who joined the club more than two years ago.
Said Yuill, "Being involved with a club or group at the center helps prevent isolation, which happens for many reasons such as a physical limitation or caring for a sick spouse. But if you come to the center, you continue to be engaged with others and it helps keep you connected to your community."
The benefits of playing music are many, including studies that show it can decrease stress, enhance memory, and for the harmonica in particular, it exercises the lungs and helps with breathing. Members have also cited additional benefits such as building confidence, which was the case for Ken Wallace, who has been a member since the club's inception nearly 15 years ago. "This club has changed me from an introvert to an extrovert,"Wallace said, referring to playing in the weekly group as well as performing in front of audiences.
While the Harmelodians have always performed at a Christmas concert for the preschool children at the center, the club has recently taken their band on the road to local assisted-living centers. They are bringing enjoyment and a sense of community connectedness to others through their music. Wallace couldn't agree more. "That joy is an extension of how we feel when playing."
Erika Young is the marketing manager at Saint Charles Park District.