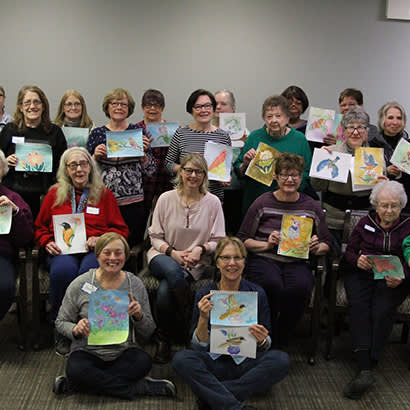 Creativity has no age limit! The Lisle Park District Senior Center community demonstrates this regularly, and thanks to a grant from the JCS Fund of the DuPage Foundation, seniors are able to share their talents with the greater Lisle area. Aside from the various senior programs such as yoga, swim, and strength training, the Senior Center offers a chance for older adults to express their artistic side through a program called Senior Perspectives which includes three, four-week long art experience classes featuring different drawing and painting techniques. Local artists teach senior participants chalk drawing, pastels, watercolor, pencil drawing, and acrylic painting, and each course ends with the participant having created a gallery-ready picture. The series of classes not only allows for local seniors to explore their creative side, but also offers a great opportunity to socialize, as well as learn something new. Research has shown that engaging in the arts improves older adults' mental health and well-being. Since the program began in September of 2018, more than 35 people have participated in the program, many of which participate in more than one four-week course. The impressive works of art each senior has created will be displayed for the community in an exhibit at The Museums at Lisle Station Park, a facility of Lisle Park District.
The exhibit, "Senior Perspectives," is subtitled "Interactive Art Gallery: Unique Artworks, Personal Experiences, and Art for All," and will run through November 2019. The pieces from the art courses will be featured in a diverse assortment of artistic mediums and stylistic works created by community members both past and present. All ages are encouraged to visit the gallery, with its official opening on July 4. While on display, the museum will host various events and artist meet-and-greets surrounding the exhibit, including a gallery night during a local Chamber of Commerce Business After Hours event on July 24. Kids will be welcome to express their creativity during the museum's monthly Kids Time event, with August's event "Gallery Day." Guests of the popular annual event, Depot Days, will also be invited to enjoy the gallery during Gallery Days in September. Celebrating and appreciating art within the senior community has opened a door to the rest of the Lisle community. By showcasing their creations, the museum and senior center are helping seniors unleash their creativity and connect through art and expressions.
Anna Labedz is a Communications Specialist at Lisle Park District.