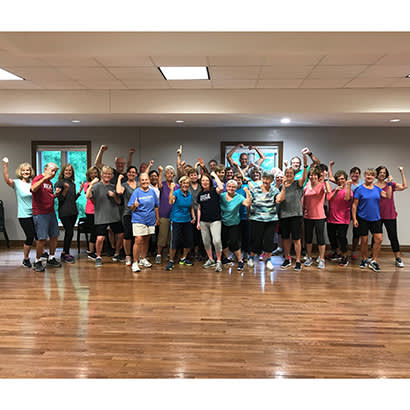 Serving the county's residents age 55 and up, the Jasper Park and Recreation's Older Americans Center strives to create an environment of social, mental, and physical wellbeing. Whether we are stepping to the beat at a city park or in a yoga pose, the goal of the Older Americans Center is to create a socially pleasant and positive experience for everyone. With a growing active aging population, we have responded by encouraging healthy lifestyles for each individual that steps in our door.
Every weekday is filled with activities that cultivate friendships, laughter, and opportunities to challenge the mind and body. Among our most popular programs are the fitness classes. Each class is developed and planned with evidence-based exercises that support strength, flexibility, coordination, and balance. Water aerobics classes deliver a workout that is gentle on the joints and great for heart health, beginner's yoga and chair yoga promote muscular endurance, flexibility, and mental rejuvenation, and residents also have the opportunity to take a self-paced walk at a city park, which is always followed by a discussion on an aging-related topic.
Although our center has many great programs to choose from, the most popular class has participants stepping to the beat of the music. Our low-impact aerobics class provides a workout for the heart and finishes with strength exercises and stretching. During this class, many of the exercises reinforce brain and muscle coordination and challenge balance. The nature of the low-impact exercises with provided modifications allow each participant to work at an intensity level best for their body and ability.
One participant stated, "Our park and recreation exercise has helped me in so many ways, I can't count them all. In short, I have made many new friends and connected with some old high school classmates. I am more active than I have been in all my adult life.I have been able to get off my diabetic medications because of this program. Best of all, I am happier than at any other time in my life."
As a park and recreation fitness professional, it warms my heart to witness the creation of great friendships formed as a result on participation in our programs. Some may see it as a challenge to quiet the numerous conversations and laughter as we begin each session, but I find it to be an absolute delight to hear the chatter and joy that fill the room. I believe it is simply one more piece to the healthy living puzzle and an important reason as to why the programs continue to thrive. As another participant said, "This program has been a great help for me. I look forward to coming and talking to everyone."
Exercise is medicine. Laughter is medicine. The Older Americans Center is here to cultivate both and encourage steps toward living the fullest life possible!
Kaci Wehr is the community engagement coordinator/ ACSM Certified Exercise Physiologist at the Older Americans Center - City of Jasper Park and Recreation.