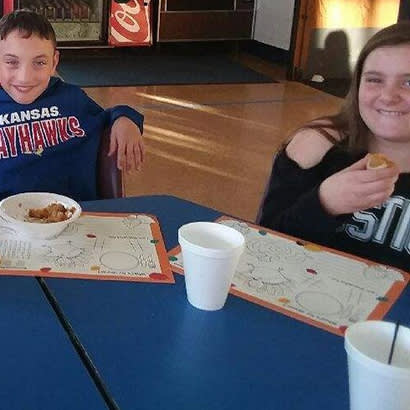 2018 Healthy Out-of-School Time grantee agency Chanute Recreation Commission in Chanute, Kansas, recently decided to get in the holiday spirit by cooking up a Thanksgiving-inspired meal using only Foods of the Month during their afterschool program. Read on to see if the meal was a success!
The November Foods of the Month are root vegetables and lean meats. After identifying and sampling some root vegetables with our afterschool kids at the Rec Center, including parsnips, turnips and rutabagas (not exactly a hit there! LOL!), our teen counselors decided they could make vegetable soup using many of the root vegetables -- potatoes, carrots, onions, parsnips, and the lean meat, so kids could sample that. Then, one of our counselors mentioned that pumpkin was one of October's Foods of the Month and sweet potatoes were one of root vegetables for November, so she suggested that kids could taste test both sweet potato pie and pumpkin pie after the soup! Clever! It reinforces what kids learned last month while also focusing on this month's foods.
On Wednesday, our phenomenal supervisors and counselors used the experience for a math lesson by having the kids measure the soup ingredients as they put them in the crockpots. Then it was THE day! The kids were able to try the vegetable soup and sample both kinds of pie. One little boy, Tristan, had three helpings of the vegetable soup. The majority of kids couldn't tell any difference between sweet potato or pumpkin pie, but about the sweet potato pie, one student commented, "This is amazing! I didn't know you could make pie out of sweet potatoes!"
It was a fun experience! Win for everybody!