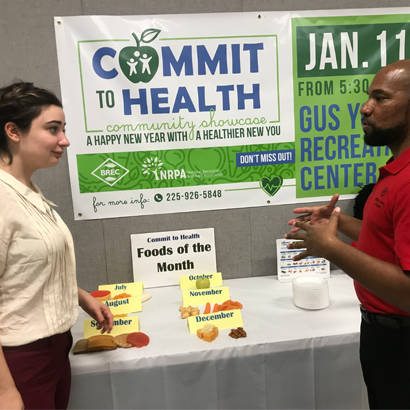 In the fall of 2017, NRPA members were invited to submit a proposal outlining a community health day, focused on healthy holiday celebrations using Commit to Health resources like the Foods of the Month healthy eating curriculum and physical activity ideas. With support from the Walmart Foundation, three winning agencies were each awarded $500 to implement their event. The goal of the contest was to encourage park and recreation facilities to design an event focused on community engagement and healthy holiday celebrations to improve the health and welfare of their communities.
BREC, in the East Baton Rouge Parish of Louisiana, held their free Commit to Health Showcase on January 11 at the Gus Young Recreation Center. Just over 60 adults and 50 children braved the rainy weather to participate in a host of fun games, food sampling, resource vendors, and win lots of prizes.
Kids had a blast playing active games like Nine Square, Gaga Pit, testing their boxing skills, and participating in a Frisbee relay. Adults were busy playing Plinko in an attempt to win T-shirts, aluminum water bottles, fanny packs and more great prizes.
After participants had worked up an appetite, they were treated to pasta with chicken and vegetables, one of several meal options served to hundreds of BREC afterschool participants daily through a partnership with the Big Buddy Program. Meals are prepared daily by Chef Celeste Bristo.
Attendees also checked out a Foods of the Month display, as they sampled nuts, strawberries, pineapples, tomatoes, peppers with light ranch dressing, and fruit-infused water.
To start the new year off right, adult attendees were encouraged to "toss off a bad habit" by writing what they're going to change in the new year on a tennis ball, then giving it a toss.
The fun went on all night, with ongoing prize drawings throughout the event for items like tickets to New Orleans Pelican basketball games, Walmart gift cards, and cook books filled with healthy recipes.
To top it all off, all attendees received a spaghetti dinner with wheat noodles and turkey sauce and a green salad to take home with them.
The event was a success thanks to help from numerous partners, including Healthy Kids Collaborative/Jr. League of Baton Rouge, Big Buddy, Mid-City Redevelopment Alliance, St. Vincent de Paul, The BRidge Agency, Representative C. Denise Marcelle, SBP South Louisiana, Pelican Bayou Counseling Agency, and BRBAC's Metro Health. BREC would like to share kudos and special thanks to Theresa Griffin, Michael King, Craig Bilbrew, Gloria Daniels and the BREC on the Geaux Team, especially Martha Basile, for a job very well done.
For more photos of the event, check out a full album on BREC's Facebook page.