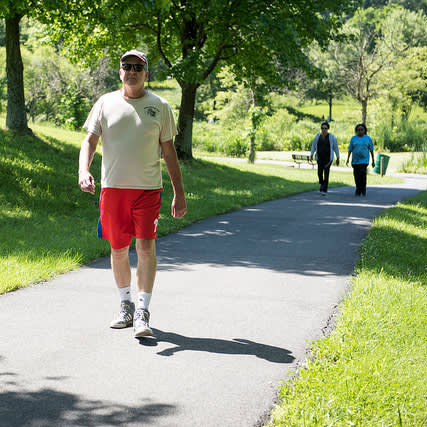 Today is World Arthritis Day - a day that encourages organizations and individuals around the world to work towards increasing awareness about arthritis and other rheumatic conditions. According to the Centers for Disease Control and Prevention (CDC), an estimated 54.4 million (22.7%) U.S. adults have been diagnosed with arthritis, and almost half of these individuals are limited in their daily activities.
Much of the efforts to improve the lives of people with arthritis have been largely focused on the physical health. However, a recent study by the CDC, Symptoms of Anxiety and Depression Among Adults with Arthritis - United States, 2015-2017, found that an estimated 10.3 million adults with arthritis had either anxiety or depression symptoms (or both) in 2015–2017, and were more likely to report symptoms of anxiety (22.5%) and depression (12.1%) compared to less than 11% of adults without arthritis. The study also found that:
Adults with arthritis who report anxiety and depression symptoms experience adverse health outcomes and poorer quality of life.
Symptoms of anxiety and depression were higher among adults aged 18-44 years than among those over 65 years.
Among adults with arthritis, symptoms of anxiety and depression were much higher in women, those with chronic pain or co-occurring chronic conditions, those unable to work or with disabilities, and adults who reported their sexual identity as lesbian, gay, bisexual or other.
In efforts to address anxiety and depression among people with arthritis, the CDC recommends: (1) screening and referrals to mental health professionals; (2) screening and referrals to non-pharmacological evidenced-based strategies; and (3) promotion and adoption of proven self-management education programs and physical activity programs in community-based settings that can minimize the symptoms of both mental health conditions and arthritis and promote better quality of life.
NRPA currently partners with the CDC, through a 5-year Cooperative Agreement to promote and expand the adoption of evidence-based programs through parks and recreation. These evidence-based programs have benefits including sustained reductions in depression, anxiety, fatigue and pain, and increases in physical activity, self-efficacy and self-rated health. Over the last several years, over 230 local park and recreation agencies across the U.S. and American Samoa have offered one of more of the CDC-recommended evidence-based physical activity programs in their community.
In efforts to expand the adoption of these programs in local park and recreation settings, NRPA is currently accepting applications for the grant opportunity - Instructor Training Grants for Physical Activity Programs - which trains local park and recreation staff as instructors to offer an evidence-based physical activity program in their community. Applications are being accepted through November 19, 2018.
Cheers to parks being health and wellness solutions across the country!