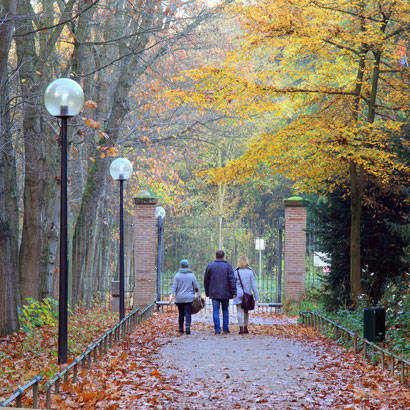 This is blog four of five in our series covering the Americans' Engagement with Parks survey and recent NRPA research.
Those boots are made for walkin', but can they get you to your local park or recreation center? For seven in 10 Americans, the answer is yes. Results from the recently released annual Americans' Engagement with Parks survey show a large majority (70 percent) of Americans say they can walk to at least one local park, open space or recreation center and 34 percent say multiple parks or facilities are within walking distance. For those living in the Northeast, Midwest, and West regions, this number rises to 75 percent. Yet those that live in the South are less lucky, where only three in five respondents live within a walkable distance of a park or recreation facility.
This is not the first time NRPA has received these results — in fact, it is the third. In a study on Americans perceptions of parks first released in 1992 and the updated replica study released earlier this year, nearly identical outcomes were found. Sixty-eight percent of respondents in 2015 and 71 percent of respondents in 1992 said that there was a park, playground or open space within walking distance of their home. That updated study went on to show rural respondents were significantly less likely to live within walking distance of a park (52 percent) compared to respondents from towns (74 percent), cities (78 percent), and metropolitan areas (76 percent).
It is important to note that "within walking distance" is subjective. We intentionally did not give a specific distance (e.g., a quarter of a mile, three blocks, 10 minute walk, etc.) to ensure the most accurate responses were given. The reason: what may be a walkable distance for one person may be insurmountable to another.
While these numbers are encouraging to NRPA's vision that "everyone will have easy access to park and recreation opportunities in sustainability communities," the Americans' Engagement with Parks survey also addresses Americans perceived safety walking to the local park, open space, or recreation center. A major determinant for the number of visits a person makes to their local park and recreation facilities is whether they can safely travel to and from these areas. Nearly three in five Americans feel "completely" or "very" safe walking to and from their local park and recreation facility (58 percent) while another 29 percent characterize the walk as being "somewhat safe."
But the 14 percent of Americans that report that the walk to their nearest park is "unsafe" are less likely to take advantage of everything their local park and recreation agency has to offer. Only 38 percent of survey respondents who have not visited a park or recreation facility over the past year perceive the walk to and from such facilities as being safe. By comparison, 89 percent of survey respondents who have visited a park or recreation facility at least once in the past year report that they feel safe walking to and from their local parks. Further, survey respondents without a safe way to walk to parks visit these facilities 40 percent fewer times per year than do those that feel safe walking to and from their local parks.
NRPA launched the Safe Routes to Parks (SRTP) campaign to address the multiple barriers to park access. SRTP is a national initiative to facilitate safe and equitable access to parks for all people. Safe passage to and from parks and recreation centers is unique to each facility. This means park and recreation agencies must be involved in a variety of ways — from conducting assessments to identify gaps and barriers in park access to improving and maintaining public infrastructure to greater community engagement. Ensuring a safe route to and from parks is necessary if we truly believe our parks are for everyone.
Additionally, knowing important characteristics about the residents within walking distance of your facilities can help you provide customized programming that best fits your users. It can also help with targeting the parks and recreation centers in greatest need of access assessments. NRPA's Facility Market Reports offer key data and insights about the market you serve within a 10-minute walk of any facility or proposed facility. I encourage you to take advantage of this member benefit.
Parks and recreation centers are places of growth, learning, fitness, and health and located practically in your back yard. So whether you pull on your boots, sneakers or sandals, walk on down to your local park or rec center today!


Melissa May is NRPA's Research Manager.


View other blogs in this series: