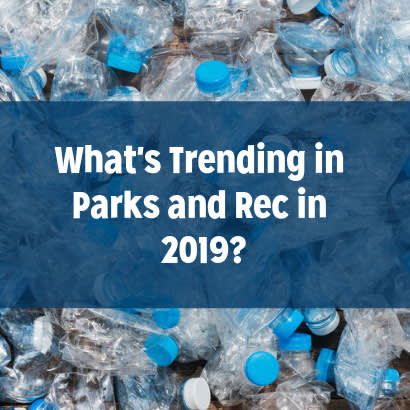 It's time for the Top Trends in Parks and Recreation for 2019. One part good research, one part taking the pulse of NRPA members, and one part just blue-sky thinking, the Top Trends are always fun and interesting — and prove to be true, more often than not.
One of Parks and Recreation's Most Cherished Environmental Quality Efforts May Soon End
Recycling has been the most "feel good" environmental program for park and recreation agencies over the past 40 years. Unfortunately, the recycling of consumer waste may be all but over because of rapidly changing market forces, shrinking profit margins and China's refusal to accept most American wastes.
Even though recycling has been a bedrock component of the messaging around environmental responsibility for park and rec agencies, China's recent refusal to accept any paper waste with more than 0.3 percent contamination has slammed the brakes on the inexpensive yet profitable recycling of paper waste from the United States and other industrialized countries. Recent estimates by Waste Management, the largest U.S. recycling company, show that 25 percent of U.S. paper waste is contaminated with food and other non-recyclables. Experts agree it is virtually impossible to achieve a 0.3 percent contamination level. This, coupled with China's recent decision to ban imports of 24 additional categories of other recyclable materials — including PET (Polyethylene terephthalate) plastic, which is used for billions of recyclable bottles — means most recycling waste can no longer be disposed of profitably.
With little incentive to recycle and no place to put the waste, some communities have even stopped collecting recyclables. What does this mean for park and rec agencies? Should they stop or suspend their recycling programs or pretend that the recyclables they collect are actually being reused instead of going straight to landfills? Should the effort to teach personal responsibility to kids and adults for reusing and recycling wastes just end, or should park and rec agencies continue what will be a more and more untrue conservation narrative?
Prediction: One or more park and rec agencies will end their recycling programs in 2019.
Related: Listen to the podcast covering this prediction with the author, Rich Dolesh, and Brendan Daley, the Director of Strategy and Sustainability for the Chicago Park District.
Opioid Abuse in Parks Will Force Changes in Design, Programming, Maintenance and Public Safety
Depressingly, deaths from opioid abuse increased yet again in 2017 and have now become the nation's highest cause of death for adults under 50, with more than 70,000 deaths annually.
The level of opioid abuse in parks is staggeringly high, prompting an extraordinary response from park administrators. Agencies are beginning employee training programs, building awareness in program and maintenance leaders who may be trained and equipped with Narcan in the case of an overdose, and training summer playground staff who must be alert for opioid hazards to children. Maintenance personnel who clean paths and weed landscape beds and may be exposed to hundreds of discarded needles and paraphernalia need training and safety gear as well.
Opioid abuse levels in some parks has grown so high that it is literally causing design changes in parks to improve sight lines near bathrooms, changing the placement or removal of benches to lessen opportunities for abuse, installing safety lighting to deter nighttime abuse and identifying the best locations to place large-volume, vandal-proof sharps containers in outdoor settings, not just in bathrooms.
Prediction: Park and recreation agencies will allocate funding for training for all staff and install outdoor sharps containers to encourage the safe disposal of needles. One or more park and rec agencies will begin to work with nonprofits to deploy health advocates to offer education on safe needle usage, train staff on how to administer Narcan and target programming for youth in out-of-school time programs.
More Tech in Parks: Beacon Counters, Geofencing and Drones
Technology is making a greater impact in parks than ever before. The most tantalizing tech developments for 2019 are monitoring systems, such as beacon counters and geofencing that can be used in parks. Beacon counters are simple, relatively inexpensive bluetooth-enabled devices that can be mounted in a variety of locations — interior and exterior — that detect a person's presence through their cell phone signal and relays that information to a central location. Geofences utilize RFID or GPS in a similar manner to locate people within larger areas.
Brian Albright, director of San Diego County Parks and Recreation, says, "Many of our parks are free without staff, so we have no way of monitoring and counting how many people are using the parks, what the most popular areas are, times of day, etc. The beacon counters attach to light poles, fencing, signs, etc., and power themselves through photovoltaic cells. We can collect and monitor the data remotely from our headquarters office at any time."
Recreational drones are becoming increasingly accepted in park settings, although there is still not a lot of love for them yet. With advances in technology, reduced prices due to mass production and greater public acceptance, drones are becoming just another type of tech recreation. Fears of some park managers concerning privacy intrusions and safety violations persist, however. A new FAA rule soon to be announced allowing drones to fly over people, which is presently prohibited, will cause more heartburn to park managers.
Drones are truly a disruptive technology, upending our preconceptions of what this technology may do. But in parks, the promise of drones in assisting in public safety missions, identifying and mapping rare plant communities and wildlife habitat, and improving public security continues to stimulate interest in this type of tech.
Next on the scene: 'Follow me' drones are already on the market and will soon be in many parks. Drones are beginning to be used for pollination services. A U.S. firm is already using full size drones for dropping pollen bombs on fruit and nut crops and increasing yields 20–60 percent. Could there be new applications for parks?
Prediction: Park and recreation agencies will eagerly embrace use of technology for many purposes, including monitoring of park visitors, biometric identification at entrances to public facilities and programs, and scientific uses, such as mapping wildlife populations, surveying fire-prone landscapes and charting the spread of invasive species.
eSports Coming to Public Park and Rec Facilities?
Will parks and recreation dip a toe in the eSports phenomenon? With revenue topping a half-billion dollars per year and a global audience of 400 million annually, there is no question that eSports are more than a fad. Despite the possible downside to health promotion, eSports is a form of recreation virtually guaranteed to draw crowds of young people into recreation facilities and venues. eSports events and tournaments have excellent potential for revenue generation and facility utilization, but how can parks and rec use the eSports phenomenon to promote health and physical activity?
Pig Yoga, Really?
If you thought doga (dog yoga), cat yoga, or 'caprine vinyasa' (baby goat yoga) was the epitome of yoga experiences, make way for pig yoga. Yoga with a variety of animals is truly a trending topic, and some park and recreation agencies across the country are now sponsoring highly popular goat yoga classes where instructors provide amicable baby goats for participants to share. But pig yoga? Yes, it really is trending.
Note: This is a streamlined version of the Top Trends for 2019. Check out the print edition of the January 2019 issue of Parks & Recreation magazine, or read more about how park and rec agencies will spend more on infrastructure, consolidate facilities with health and social services in parks, move to non-binary gender identification, and lose ground to pay-to-play indoor commercial adventure recreation facilities such as sky-diving domes, trampoline centers, and turf sports bubbles. And, where will 90 million dogs go?
What's your prediction for a new trend in parks and recreation in 2019?
Richard J. Dolesh is NRPA's Vice President of Strategic Initiatives.