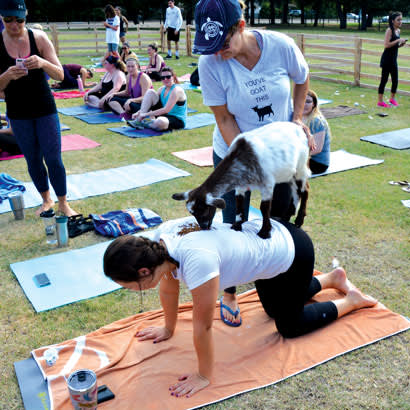 We are back with the top trends for parks and recreation for the coming year. NRPA's fearless predictions about what will be the most significant trends in parks and recreation is now entering its fourth year.
The annual exercise is an eclectic collection of trend lines, prognostications and just plain blue-sky guesses about what the future will bring. The top trends for 2019 include subjects as large as the worldwide challenges of waste disposal and those as small as speculating what programs come next after pickleball. For some predictions our tongue is planted firmly in cheek, and for others, we are seriously addressing the kind of world we will be leaving for the next generation.
Recycling
One of Park and Recreation's Most Cherished Environmental Quality Efforts May Rapidly Come to an End
Recycling has been the most "feel-good" environmental program for park and recreation agencies over the past 40 years. Unfortunately, the recycling of consumer waste may all but be over because of rapidly changing market forces, shrinking profit margins and China's refusal to accept most American wastes.
Virtually every park and rec agency in the country since the 1980s has developed a public-facing recycling program, intended to educate people about the environmental value of recycling and reusing separated consumer waste, thereby saving energy and natural resources.
However, China's recent refusal to accept any paper waste with more than 0.3 percent contamination has slammed the brakes on the inexpensive, yet profitable, recycling of paper waste from the United States and other industrialized countries. Recent estimates by Waste Management, the largest U.S. recycling company, show that 25 percent of U.S. paper waste is contaminated with food and other non-recyclables. Experts agree, it is virtually impossible to achieve a 0.3 percent contamination level. This, coupled with China's recent decision to ban import of 24 additional categories of other recyclable materials, including Polyethylene terephthalate or PET plastic, used for billions of recyclable bottles and other classes of waste materials, by the end of 2019 means that the era of profitable recycling is all but over. According to Bloomberg, it now costs New York City $18 per ton more to recycle waste than to put it in a landfill.
With no economic incentive to recycle and the increasing costs to dispose of once-recyclable materials, many formerly recycled waste materials will now go directly to landfills without passing through waste-separating materials recovery facilities (MRF). Some communities have even stopped collecting recyclables. If there are no solutions to the present dilemma, companies that for decades have made substantial profits on materials recycling may cease to do so or convert operations to more profitable business lines. Some innovative alternatives have been proposed in waste conversion, but at present, they are a risky financial gamble. As an alternative to shipping wastes to China, companies are seeking new receiving countries, such as Thailand, Vietnam and Korea. Certain metal recycling, such as aluminum, which is 100 percent recyclable, does remain profitable and is very popular with park and rec agencies.
What this means overall to park and rec management and public education efforts to recycle and reuse is currently unknown, but recent developments and market changes are likely to have a profound effect on messaging the need and value of recycling. American cities and U.S. park and rec agencies that have included paper/plastic/glass recycling in their sustainability plans may be forced to discontinue some types of recycling, and then what?
Some agencies might continue recycling, but this could amount to perpetuating a false narrative that the materials are being recycled when in fact they no longer are. Some major companies have set ambitious recycling/reuse goals, and there is great public will to support recycling. However, if there are no alternative solutions or technological breakthroughs, a 40-year effort to encourage personal responsibility and actions for environmental conservation through recycling may come to an end sooner rather than later.
Prediction: One or more U.S. park and rec agencies that presently recycle paper/plastic/glass will modify or end their internal and public recycling programs in 2019.
Opioid Abuse in Parks
Opioid Abuse in Parks Forcing Changes in Design, Programming, Maintenance and Public Safety
Depressingly, opioid abuse makes the Top Trends list for the third year in a row. Recent statistics by the Centers for Disease Control and Prevention and other researchers show that deaths from opioid abuse increased yet again in 2017 and have now become the nation's highest cause of death for adults under 50, with more than 70,000 deaths annually.
The level of opioid abuse in parks is staggeringly high, prompting an extraordinary response from park administrators. Employee training regarding opioid abuse is now a must for employees working in parks, from program leaders who may be trained and equipped with Narcan for emergency injections and summer playground staff who must be alert for opioid hazards to children, to maintenance personnel who clean paths and weed landscape beds and may be exposed to hundreds of discarded needles and paraphernalia.
Opioid abuse levels in some parks have grown so high that they literally are causing design changes in parks to improve sight lines near bathrooms, changing the placement of or removing benches altogether to lessen opportunities for abuse, installing safety lighting to deter nighttime abuse and identifying the best locations to place large- volume, vandal-proof sharps containers in outdoor settings, not just in bathrooms. There is recognition that the park visitors' experience regarding the perception of safety and parents' fear for children's safety may be fundamentally changing in high-abuse areas.
Prediction: Park and recreation agencies will increase efforts to combat the opioid crisis and improve park safety by allocating funding for additional training for all staff; purchasing proper safety equipment for staff on the frontlines and installing outdoor sharps containers to encourage the safe disposal of needles. One or more park and rec systems will embrace approaching the epidemic through a public-health lens, forging stronger partnerships with health departments and nonprofits to deploy social workers and health advocates to offer education on safe needle usage and disposal, training on how to administer naloxone and targeted programming for youth enrolled in out-of-school time programs.
Technology
More Tech in Parks: Beacon Counters, Geofencing and Drones
Technology is having a greater impact in parks than ever before. Lower costs, technological simplification and mass production is making high tech inexpensive and accessible to park and rec agencies.
The most tantalizing tech developments for 2019 are monitoring systems, such as beacon counters and geofencing, that can be used in parks. Beacon counters are simple, relatively inexpensive bluetooth- enabled devices that can be mounted in a variety of locations, interior and exterior, that detect a person's presence through their cellphone signal and relays that information to a central location. Geofences utilize RFID or GPS technology to locate people within larger areas.
Brian Albright, director of San Diego County Parks and Recreation, says, "Many of our parks are free without staff, so we have no way of monitoring and counting how many people are using the parks, what the most popular areas are, times of day, etc. The beacon counters attach to light poles, fencing and signs, and power themselves through photovoltaic cells. We can collect and monitor the data remotely from our headquarters office at any time."
Recreational drones are becoming increasingly accepted in park settings, although there is still not much love for them. With advances in technology, reduced prices due to mass production and greater public acceptance, drones are becoming just another type of tech recreation. Fears of some park managers concerning privacy intrusions and safety violations persist, however. Drones are truly a disruptive technology, upending our preconceptions of what this technology may do. At England's Gatwick Airport, the inability of security forces to stop a rogue drone closed the airfield for 36 hours, showing just how disruptive this technology can be. However, in parks, the promise of drones in assisting in public safety missions and improving public security continues to make this tech tantalizing.
Next on the scene: "Follow me" drones in parks and use of drones for pollination. A U.S. firm is already using full-size drones for dropping pollen bombs on fruit and nut crops, increasing yields 20–60 percent. Could there be new applications for parks?
Prediction: Park and recreation agencies will eagerly embrace the use of technology in 2019 for a variety of purposes, including monitoring of park visitors, biometric identification at entrances to public facilities and programs, and scientific uses, such as surveying fire-prone landscapes and charting the spread of invasive species. Although it is not likely to occur in 2019, facial recognition software may be coming to parks and recreation sooner than we think, as it already has for retail businesses and law enforcement.
eSports
eSports — Coming to Public Park and Rec Facilities?
With revenue topping a half-billion dollars per year and a global audience of 400 million annually, eSports are more than a fad. In eSports, spectators essentially sit and watch individuals or teams of players compete in a variety of electronic games, cheering rabidly for their favorite champions or teams.
With slick marketing, intensive promotion and exciting competition for participants and audiences alike, this essentially sedentary recreational activity poses a conundrum for parks and recreation. It is almost the antithesis of what we fight for every day — combatting childhood obesity, getting kids on their feet and being physically active.
Despite its sedentary nature, eSports is a form of recreation virtually guaranteed to draw crowds of young people into recreation facilities and venues. eSports events and tournaments have excellent potential for revenue generation and facility utilization. Is it possible for public parks and recreation to convert this enormous potential into a means of promoting health, physical activity and social cohesion for young people?
Prediction: Several park and rec agencies will sponsor eSports tournaments in 2019, combining digital gaming with supplemental events and physical activity challenges. For participants, this will offer maximum fun in combination with heart-healthy physical activities, gaining the best of what can be an outstanding opportunity for parks and rec to attract and engage youth.
Funding
Investments in Park Infrastructure Will Rise
As reported in The Wall Street Journal recently, investments in state and local infrastructure, which have been depressed since the Great Recession of 2008, are finally increasing because of increased revenues from local tax receipts that fund much of park and recreation infrastructure expenditures, such as buildings and roads.
State and local spending is up nearly 10 percent from last year, according to data from the Commerce Department, and spending on capital outlays continues to grow, nearly reaching the peak last seen in 2009. The Commerce Department data also show that spending on amusement and recreation facilities is up 31 percent from a year ago. It appears that economic conditions will remain favorable for new investments in park and recreation infrastructure if local and state tax collections continue to rise and interest rates remain relatively low. Parks and recreation at all levels will expand the social and economic value it brings to local, regional and state economies.
Prediction: Building on the momentum of the past few years, local and state governments will make even more park and recreation infrastructure investments in 2019 in buildings, playground equipment, roads and bridges, and capital repairs to aging infrastructure, topping the highest level of infrastructure spending since the recession of 2008.
Beyond Pickleball
Pig Yoga, Really?
If you thought doga (dog yoga), cat yoga, or 'caprine vinyasa' (baby goat yoga) was the epitome of yoga experiences, make way for pig yoga. Yoga with a variety of animals is a trending topic, and, nationwide, some park and recreation agencies are now sponsoring highly popular goat yoga classes, where instructors provide amicable baby goats for participants to share. But pig yoga? Yes! It really is trending. As Jennifer Igneri writes in the website Nylon: "I gave up on whatever pose I was holding the second one of my new swine friends came over to me to say hello. Why would I hold a Tree pose when I could roll around on the floor with Franklin, a puppy-sized five-month-old piglet, instead? What I will tell you is that it was the most magical day of my life."
Prediction: If you can relate to the animal and it is a willing participant, there is a good chance there will likely be a new yoga class yearning to rise above the ordinary.
Quick Takes:
Dogs, Dogs and More Dogs
In the November 2018 issue of Parks & Recreation magazine, we learned that dog parks are one of the fastest growing types of parks in the country. The more than 90 million dogs in the United States must have a place to go, literally. Larger dog parks have become destinations and can contribute significantly to agency revenues and tourism. Increasingly, for many, dogs are regarded not just as part of the family but as children.
Libraries, Health Services, Social Services, Cemeteries, Afterschool Care — All in Parks
More and more, local jurisdictions are consolidating governmental functions and services. While there are several agencies that have park/schools, a greater collaboration between municipal services for public benefit is coming sooner than you think. The consolidation of social services and health services with community recreation centers is a no-brainer. Combining libraries with community centers makes sense too, and perhaps many other governmental services. Such new consolidated service centers can provide walkable/bikeable access; intergenerational programs, healthcare, playgrounds, child and afterschool care, and all can be incorporated into existing parks, providing close-to-home access for residents — a win-win-win.
Nonbinary Gender Identification in Parks and Recreation
With a rising national movement for gender equality, local governments and park and recreation agencies will increase efforts to adopt inclusive policies and engage members of the LGBTQ+ community. Actions will range from making enrollment forms non-gender specific to modifying signage on existing restrooms and planning new bathroom facilities to be gender neutral. The efforts will pervade much of park and recreation management, including training for staff to become more LGBTQ+ inclusive and engaging LGBTQ+ individuals and groups to provide advice and assistance, as agencies work to improve practices and policies.
Not Outdoors, Indoors
Are traditional public park facilities being replaced by indoor commercial recreation experiences? Just count some of the new indoor facilities that are growing by leaps and bounds — trampoline centers, climbing facilities and multi-sports bubbles that have turf-play areas for baseball, lacrosse, football, soccer and other field sports.
Most are private-sector, for-profit facilities that may supplant public park and recreation programs and facilities. With outdoor temperatures rising due to climate change, there is a growing market for such indoor pay-to-play recreation, which, in many cases, is overtaking the capacity of public parks and recreation to offer these recreation amenities but leaving such experiences out of reach for those who cannot afford it.
Many thanks to all who contributed ideas for the top trends list. Whether or not included here, your ideas will continue to animate articles, blog posts and podcasts throughout the coming year. Please do continue to send me your ideas and trends. What do you think will be a top trend in 2019?
Richard Dolesh is NRPA's Vice President of Strategic Initiatives.