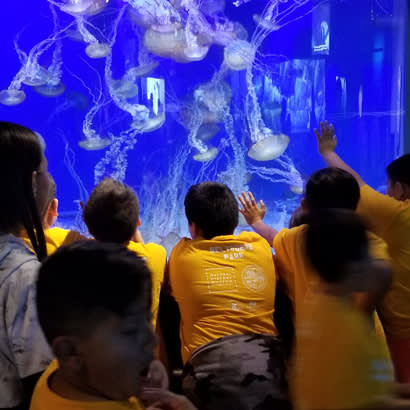 In 2018 the National Recreation and Park Association (NRPA) published its Out-of-School Time (OST) Report, which is based on the responses from a survey of 334 park and recreation agencies across the U.S. The study details how OST programs are making a difference in the lives of their communities' youth, and highlights what more can be done and what obstacles must be overcome to fully deliver on these programs.
A key finding from the report is that more than half of park and recreation agencies offer OST science, technology, engineering, and math (STEM) activities that focus on the environment, technology and project-based learning. One of those agencies is the Los Angeles County Department of Parks and Recreation (DPR) which offers summer camps focusing on environment, science, technology, engineering, art and math (ESTEAM).
In 2016, DPR initiated an effort to update its mission, vision and values, as part of its Business and Operations Plan. The renewed mission includes a focus on serving as environmental stewards, building healthy and resilient communities, and advancing social equity and cohesion. DPR decided to realign recreation programming to support its strategic purpose with a goal towards partnering with others who share similar missions. Specifically, DPR's school-age summer camp was reimagined to feature an outdoor science focus in partnership with the Natural History Museum (NHM) of Los Angeles County.
The pilot camp program began in 2017 serving 350 school-age children at eight sites. The program has since expanded in terms of partners, sites and participants. In the summer of 2019, DPR partnered with NHM as well as the Department of Beaches and Harbors and the Department of Public Works to offer six-week ESTEAM camps at 17 county parks, serving over 900 children.
Through the camp, participants had the opportunity to become better connected with the outdoors, explore early career pathways, build their self-confidence and understanding of science, and learn to take action to improve their natural environment. The camp provided children with hands-on learning activities that excited, energized, and exposed them to a wide variety of skills and ideas. ESTEAM principles were embedded in group games, the arts, field trips, guest speakers, cooking projects, music and movement, just to name a few of the daily activities offered.
The camp integrated informal academic learning into hands-on collaborative project-based activities for school-age participants. For example, during engineering week, campers made models that helped illustrate how curbs, gutters, catch basins and storm drains work. They constructed a drain from street level using foam board to connect to the kiddie pool, which represented the ocean. Campers were split into groups of three to five. They used paper plates, cardboard rolls, tape and scissors to construct a track from the catch basin that eventually led to the kiddie pool. The campers experimented with various slopes to see which worked best.
The program integrates the missions of both DPR and NHM through a shared vision and purpose of creating a museum-like experience that centers on inquiry at county parks. The strength behind the program is the innovative partnerships involving organizations that work together to promote cross-organizational learning.
Various strategies were employed to develop the curriculum, which originally involved staffers from NHM working with DPR's Natural Areas staff. Initially, a train-the-trainer model was used to build staff competencies needed to deliver the curriculum. About 16 hours of training were provided at NHM, with DPR recreation managers and supervisors in attendance. In year two, the same training model was utilized, but training was increased to 25 hours with the same population of staff. In 2019, the training was modified to include 40 hours of hands-on training, with a shift in the target population to include over 40 frontline staff responsible for curriculum implementation.
The ESTEAM Summer Camp Program is a great example of how partnerships work to advance education in environmental stewardship and sustainability for children. This program is important and much needed, especially for kids who are from underserved urban communities and lack the means or opportunities to experience nature. The program has grown and evolved gradually to address the areas of concern identified through annual evaluations.
DPR is committed to working with NHM and other partners to improve the program for future years. This would involve implementing various recommendations from the 2019 evaluation report, such as: providing and expanding staff training, focusing on areas such as lesson structure and classroom management, designing a system for providing ongoing support to staff, allotting more time to staff for preparation and planning, continuing to refine the curriculum, and exploring new ways to engage campers in community science.
Mercedes Santoro is a Deputy Director with the Los Angeles County Department of Parks and Recreation
Clement Lau is a Departmental Facilities Planner with the Los Angeles County Department of Parks and Recreation.
ESTEAM Summer Camp Program at Los Angeles County Department of Parks and Recreation