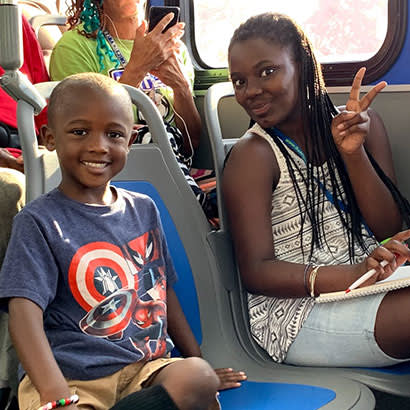 It's 7:50 a.m. in North Little Rock, Arkansas, when Nystaucia Lane and her three children, Alyssa, Jaiden and Nolan, walk down Pike Avenue heading for the bus stop on 24th Street, the kids eager to enjoy another day filled with friends and activities. They make it to stop #12580 for the 7:55 a.m. Route 13 bus. As they wait in the shelter the boys laugh and play, Alyssa works on new song lyrics in her notebook, and Nystaucia takes a moment to breathe. This is the first leg of their new summer morning commute.
As the bus pulls up, the Lane family climbs aboard, showing the driver their Rock Region METRO summer passes. They slide into their seats saying hello to their fellow commuters — once strangers and now part of their daily social network. The family chats with fellow riders as the bus travels south to the River Cities Travel Center in downtown Little Rock. Here the family transfers to a second bus heading west to Brandon House, a summer camp program where Alyssa runs in to join her friends. On a typical day, Nystaucia then walks Jaiden and Nolan five more blocks to the Stephens Community Center for their summer program, before returning to Brandon House where she works. From start to finish, the journey takes nearly an hour. But it's an hour that Nystaucia is grateful for, and an hour that wouldn't be possible without the support of the Walmart Foundation.
In the Little Rock area — like so many other U.S. cities — one of the biggest challenges many residents face is having access to reliable, consistent and safe transportation. Without transportation, people can't get to work, buy groceries, see a doctor or leave their immediate neighborhood. For many families, a lack of private or public transportation in the summer months can mean the difference between their kids accessing enough food, staying engaged with peers, receiving academic support, moving their bodies, and connecting to positive relationships with role models and mentors.
To address this challenge, a cross-sector partnership between the Central Arkansas Library System (CALS) and Rock Region METRO, with support from the Little Rock Parks and Recreation Department, launched a city-wide transportation initiative, the Be Mighty METRO program. With more than 90 percent of the city's summer meal sites at libraries, parks and community centers directly served by existing bus routes, the partners developed a strategy to provide bus passes to vulnerable youth and families in support of their transportation needs during the summer months.
While there were high hopes for this program increasing the number of youth accessing summer meals, the success was even greater than expected. Since June, pass holders have taken over 12,000 rides on the public transportation system with over 1,200 individuals registering for bus passes. The number of summer meals served at libraries increased by 46 percent (compared to June 2018) and the CALS summer reading numbers have also grown substantially, from 7,733 youth in 2018 to 13,652 engaged in 2019.
In addition to the direct benefit of helping families access summer meals and enrichment activities, there were numerous additional benefits attributed to the program — parents and caregivers could now take the bus to work, to the grocery store, to medical appointments, or to parks, splash pads and community events. The program provided huge ($200-$300/month) cost savings to families — money that could be used to purchase healthy foods, school supplies or other family needs. An extra benefit is the role that public transportation plays in environmental sustainability.
While the bus pass initiative wraps up at the end of summer, it's clear that the program was a success. The partners hope that they can continue to educate the community about the availability, affordability and benefits of public transportation to grow ridership, and continue to work together to offer solutions that meet the fundamental transportation needs of all families they serve.
Allison Colman (she/her) is NRPA's Director of Health.