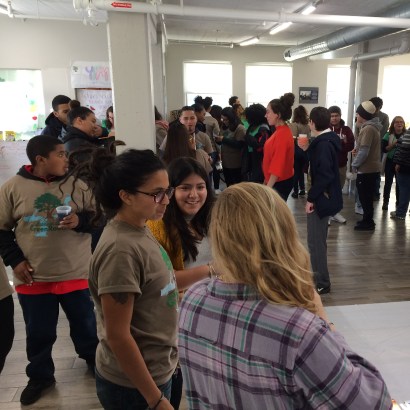 If you grew up in Chelsea, like I did, you probably didn't know it is a waterfront community. Just north of Boston, Chelsea at 1.8 square miles, is the smallest city in state of Massachusetts. With more than 40,000 residents calling Chelsea "home" and living within only one-third of the city's total land mass, it is likely one of the most densely populated cities in the nation. Why, you might ask, are residents not living in the remaining two-thirds of the city? Herein lies our challenge.
Chelsea, surrounded by water on three sides by the Mystic River, Island End River, Chelsea Creek and Mill Creek, is home to many industries that benefit the greater New England Region, and beyond. The Chelsea Creek waterfront is the storage depot of all the jet fuel used at Logan International Airport and 70-80 percent of the region's heating fuel and road salt for 350+ communities. Where industrial activity no longer exists, the ghosts of its past live on in contaminated land, abandoned piers and underutilized property that offer no public access or recreational benefit to adjacent residents.
Throughout the remainder of the city, one can find the New England Produce Center, the second largest produce distribution center in the nation; as well as many manufacturing, airport-related and other commercial and industrial uses that add to Chelsea's environmental and public health burden. While some businesses have collaborated and partnered on projects to lessen their impacts on residents' quality of life, others have not.
More than 70 percent of Chelsea residents identify as ethnic and/or racial minorities and our community speaks more than 35 different languages. A full 24 percent live below the poverty guidelines, compared to 10.5 percent for the entire state. Chelsea has some of the highest rates of asthma hospitalizations, major cardiovascular disease, lead poisoning and numerous cancers.
Enter GreenRoots — a community-based organization working to achieve environmental justice through collective action, unity, empowerment and youth leadership. Resident-led activism and empowerment are changing Chelsea's fate.
With funding from Southwest Airlines through the National Recreation and Parks Association's Great Urban Park Campaign, GreenRoots is engaging some of the most vulnerable residents in mitigating a contaminated parcel of land along the Mill Creek waterfront and turning it into a state-of-the-art natural playground that will incorporate green infrastructure to protect from future climate change impacts.
Along this part of the waterfront, there are five public housing developments, the closest one is for the elderly and disabled. Just a stone's throw from the site is Chelsea's Elementary School Complex where thousands of students attend.
While urban revitalization projects are never easy (due to contamination, higher than normal clean-up and construction costs, and muddy land ownership records), they are often the most rewarding. The parks and open spaces will have been designed with thorough community engagement, will be built by the community and will have a sense of ownership like nowhere else.
To ensure all present and future generations of Chelsea residents know they live in a waterfront community, we are knocking down the physical and metaphorical barriers blocking people from the water's edge. When the oil industry says, "there is no public canoeing or kayaking on the Chelsea Creek," we organize events and get dozens of people on the river. When land owners say, "I'm not liable for any contamination found on my property," we engage pro bono lawyers and take the case to the Attorney General. When decision-makers disregard the power of young people, we uphold the work of the Environmental Chelsea Organizers (ECO) youth crew and show them that Chelsea's youth are the smartest, most passionate and dedicated leaders who are bringing about change each and every day.
This work is not easy; and it is not always on the forefront of residents' minds. In low-income communities like Chelsea, often the most pressing issues – affording rising rents, making ends meet, relying on public transportation, working two and three jobs, fear of immigration – take center stage. However, once we engage residents and talk with them about parks, open space, and creating access to the Chelsea Creek, each gets excited to have more opportunities to be outside and along the water's edge in lush parks. Furthermore, everyone wants to see a healthier environment where children don't suffer from asthma and diseases aren't so prevalent.

GreenRoots and ECO implement community organizing strategies to engage the most impacted and hardest to reach community members. These tactics include:
door-knocking
presenting in churches and religious institutions
meeting with parents and school children
engaging other neighborhood groups and word of mouth
ECO conducts organizing in their schools and clubs, on social media and with other youth groups. We meet people where they are at in terms of skill level and encourage deeper commitments to further their leadership goals.
Past and present examples of our strategies to build leadership skills and change political structures include:
direct action (protests, sit-ins, rallies and boycotts)
negotiations and mediated conversations with businesses and project proponents
organizing press conferences
community meetings and forums
utilizing social media tools and more.
Staff organizers work to ensure our members are engaged in campaigns in a meaningful way.
ECO recently organized a Chelsea Creek Youth Assembly where more than 100 youth participated to envision the future of their waterfront. The event was organized by and for youth to begin engaging teens and adolescents in articulating their goals and dreams for the Chelsea Creek as the City of Chelsea begins a process to reimagine the waterfront. Without ECO's work, youth perspectives would not be included and the final result would be adult-centric.
At the end of the day, GreenRoots is empowering and engaging the most impacted residents in a "Si Se Puede" spirit to reverse years of environmental discrimination and degradation to transform our city into an urban mecca of environmental justice, without displacement of our residents. Our environmental justice work is a key component of recognition from the Robert Wood Johnson Foundation as a 2017 Culture of Health Prize Winner.
Read the other blogs in the Community Engagement Series:
Roseann Bongiovanni is the Executive Director of GreenRoots, Inc., a community-based organization working to achieve environmental justice, waterfront access, youth leadership on environmental justice concerns and much more in Chelsea, Massachusetts.