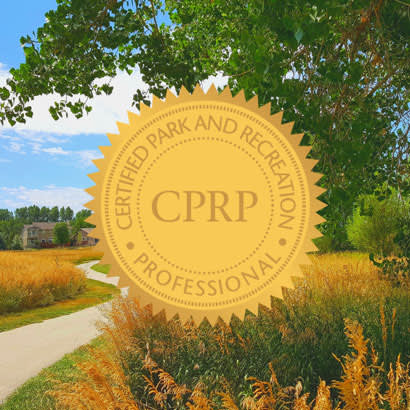 Your professional to-do list is a mile long, most days you have a meeting instead of a lunch, and you have enough career goals to fill a bullet journal. Sound familiar? You have your eyes set on sitting for the Certified Park and Recreation Professional (CPRP) exam in 2019 and know the enormous benefit and distinction of having this certification, and yet, you haven't committed yet.
Whether you have test anxiety, are overwhelmed by finding time to study or feel like your brain power is already maxed out in the workplace and in your personal life, you'll find a few tips here to help you hit one of the most impactful career milestones in our field.
1. Start with your "why"
The material within the CPRP study guides and practice exams is voluminous but not particularly complicated. Still, you may feel rusty as a student and retaining new terminology and approaches may not come naturally.
As an adult learner you'll need to be able to prioritize your time but more importantly, you'll need to be able to motivate yourself on a self-imposed deadline (and while there are Netflix episodes to watch and commission meetings notes to review), so know why you are doing this so you can harness the power of your "why" to shift you back into test preparation mode leading up to the test.
What will it feel like to walk out of the test center after hearing "passed" from the test proctor?
What will your career look like when you can add those four letters after your name in your email signature?
What else can you accomplish once you receive your CPRP?
Start with your "why" and remember that you can do challenging things.
2. Assemble your fan club
If you identify as needing encouragement or accountability to achieve your goals, this tip is for you. If you happen to fall into both of those behavioral categories, listen up! The moment you decide to pursue your CPRP, it's time to gather your biggest cheerleaders and scream your goal from the rooftops. Your fan club members include:
Your parents, spouse, kids and friends — let them all know that you are working on your CPRP certification so they understand when you need to devote time to your studies, but most importantly, explain to them what this certification means to you professionally (see #1)
Your boss, co-workers and employees — tell those that you work with that you have your eyes set on the CPRP prize for 2019 and that you could use their support and accountability
Your colleagues in the CPRP forum on NRPA Connect or the YPN Facebook group — grab a study buddy, find someone who recently sat for their test (pep talks!), and read others' experiences
Assign a post-test party crew — assemble your fan club for a mini-celebration after your examination or plan to bring in coffeecake at your next work meeting to announce your new title appended to your surname
Yourself — whether you add reminders to your calendar, put post-its on your mirror or promise yourself a weekend getaway once you pass, don't forget that your biggest fan is yourself!
3. Create a realistic timeline
Time can get away from us, so it's key that you have a timeline that is realistic. You know yourself best, so figure out what a doable timeline is and then put it in motion. If you are a procrastinator and know you won't study until two weeks before, then don't prolong scheduling your date. If you are a slow burn learner and plan to read the manual five times, give yourself time and block time in your weekly schedule to read, read, read. Here are some more timeline tips:
Schedule your test date immediately
Add a little buffer to your initial date
Consider your busy season (of work, life and the year) and then schedule your test date accordingly
Block off weekly time to study in advance and honor it like you would an appointment with your boss or a best friend
Clear the entire day of your exam and schedule it for the afternoon so you have the morning to complete your normal routine and rituals and finish any last-minute studying
Know your approach to studying and create a schedule accordingly, a.k.a. don't wait until the week before to create flashcards if those will be your secret to success
Reschedule one time if you need to (I did!) but know that you may only have one chance to reschedule your test date
4. Use technology as a teammate
There are new tools and apps being developed daily and some of them can help you accomplish your goal to become a Certified Park and Recreation Professional.
Study with your screens — study like a college student in 2018 with websites like Quizlet and GoConqr; take full advantage of the online study guide and test exams
Hack your productivity — download Tomato Timer to adopt a Pomodoro approach to studying and to fill your downtime with intentional reviews prior to taking the exam
Rely on peer support — search the CPRP forums for peer feedback and encouragement; network to find a virtual study buddy if you don't have any local peers working through the curriculum
Bottom line, there are few feelings like investing in and believing in yourself. Use these tips to check off "Get my CPRP" on your goal list and then get out there and put it to use in your community.
Kate Connell, CPRP, is the Assistant Aquatics Supervisor for Iowa City Parks & Recreation Department.