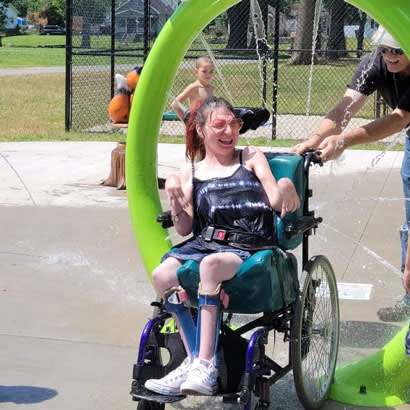 Pictured left: The St. Cloud Commons All-Inclusive Splash Pad is the newest addition to the Greater Huntington Park and Recreation District's All-Inclusive Playground in Huntington, West Virginia. Photo courtesy of Kelsey Hunt.
Providing safe inclusive spaces is vital to ensuring equitable access to quality parks and amenities in communities. This work also strengthens resiliency and creates equitable engagement related to other important issues like sustainability and environmental stewardship.
Through NRPA's partnership with the American Water Charitable Foundation and their Building Better Communities program, we have worked in 12 states, in communities served by American Water, to provide people with a connection to nature and to encourage future environmental stewards. These new spaces specifically focus on water, one of our most vital natural resources. As one key element, the program works to ensure equity is at the center of everything we do and provides spaces for families to engage with nature and water play, while learning how to be future water stewards.
This past year, two splash pad projects were completed in Huntington, West Virginia, and Alton, Illinois. They focused not only on providing a water play experience integrated with environmental stewardship educational components, but also focused on ensuring these spaces were inclusive for all members of the community regardless of ability. This not only provides the opportunity of water play and fostering community building through equitable access, but also provides a connection to water, conservation and environmental stewardship — providing a connection with nature that is accessible to all.
Breaking down barriers in West Virginia
The Huntington, West Virginia, project, supported through the Building Better Communities program, ties to their larger community's efforts around inclusion and equity, but with a specific focus on a connection with water. The St. Cloud Commons All-Inclusive Splash Pad is the perfect addition to Greater Huntington Park & Recreation District's All-Inclusive Playground site. Approximately 1 in 5 children in their community have some type of disability, yet their needs often are excluded in planning for traditional recreational spaces. By creating a space where children of all abilities can play alongside each other, the district is contributing to greater awareness, breaking down barriers and fostering friendships. West Virginia American Water was instrumental in helping to bring forth the first all-inclusive splash pad to the program and is proud to see the project complete.
The Huntington project has brought free recreational programming to an underserved area and has helped guests stay cool during the extreme summer heat. Not having a pool within their district compounded the need for local aquatic play. The educational component of the splash pad has created a learning opportunity for guests young and old. Water cycle signage helps teach the next generation how to be good water stewards by protecting one of Earth's most precious resources. The project also has other sustainability aspects including a recirculation system for the splash pad's water system, bioswales to responsibly handle runoff and permeable surfacing. This project showcases how parks can be leaders in conservation efforts for their communities. "The Greater Huntington Park & Recreation District is grateful to this program for presenting our community with such a great opportunity and commitment to investing in inclusive play.", Kathy McKenna, Executive Director, Greater Huntington Park & Recreation District
Opening an inclusive and educational splash pad in Illinois
The Building Better Communities program provided the Alton, Illinois, community with a fun, inclusive recreational opportunity with the new Riverside Splash Pad. The splash pad creates a unique learning experience with educational signage. The "Journey of Water" sign explains the sustainability elements of the splash pad describing its recirculation system and how this space is connected to the larger Alton community and natural environment. The sign details how activated water passes through the splash pad's elements, into the drain, and into an underground containment system. After advanced water treatment technologies disinfect the water, this water is recirculated through the system for more fun! The site also incorporates bioswales to absorb runoff that supports native plants, which helps bolster wildlife and provides natural solutions to climate change. This project demonstrates the park agency's leadership in conservation and sustainability practices and how these methods can be used by parks and recreation to be better stewards of our natural resources.
Illinois American Water has been providing water service in Alton for more than 145 years and they were thrilled to help bring this project to fruition. Alton lacks aquatic play facilities. And even though the community is located on the banks of the Mississippi River, a great natural resource, it is cut off from the river by floodwalls. Beyond the environmental aspects, the Riverside Splash Pad was designed to be all-inclusive and offers the first and only free water play experience for the community. The splash pad overlooks the great Mississippi River, providing a great backdrop to educate about the importance of our natural resources and the need for future environmental stewards. The space is designed to highlight the Alton community's connection to the river, incorporating Bald Eagles, steamboats, and aquatic wildlife within the splash pad itself, further illustrating the community's important connection to water and why every drop counts. Everyone, from the youngest child to the oldest adult of any ability can enjoy themselves in the space. The Alton Parks and Recreation Department hopes the splash pad and its learning components help everyone understand how important it is to conserve water and ways to be good water stewards.
Future projects poised to make a difference
Ensuring inclusive play is important for all our efforts. This year, an all-inclusive splash pad supported by the Building Better Communities program opened in the City of Lawson, Missouri and another will open in the spring of 2022 in Franklin, Indiana. We look forward to sharing more regarding those projects and how they are helping revitalize their downtowns, while providing a connection to nature.
And in August 2021, the American Water Charitable Foundation in partnership with NRPA announced its next round of grantees. These recipients — Lexington, Kentucky and Imperial Beach, California — will create equitable community-focused, water-inspired play areas that feature modern, state-of-the-art splash pads. You can read more here about how these projects are centered in equity and will ensure the continuation of conservation efforts and the creation of our next generation of water stewards.
Lyndsey Younger is the deputy director of Alton Parks & Recreation Department.
Kathy McKenna is the executive director of Greater Huntington Park & Recreation District.