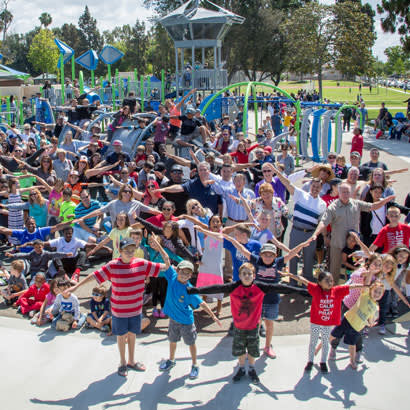 Whether through charrettes, pop-up events or community meetings, engaging your community in a park project is essential to its success. However, there isn't a "one size fits all" approach to reach every neighborhood. Some communities may be hesitant to change or distrust the government, making your agency's outreach more difficult. You are not alone in these challenges.
Agencies across the country are facing similar challenges and are developing innovative, culturally sensitive strategies to involve communities in their projects. Koboi Simpson, Athletics Administrator for Clayton County (Georgia) Parks and Recreation, knows firsthand the challenge of developing alternative communication methods to engage hard to reach neighborhoods. Joseph Claunch, Director of the Zuni Youth Enrichment Project, was tasked with leading the development of a park space in the heart of the Zuni Pueblo reservation in New Mexico. Joseph ensured art was a central part of the park and engaged Zuni artists, religious leaders and neighborhood stakeholders to create the Ho'n A:wan ("of the people") Community Park. In Covington, Kentucky, Park and Recreation Manager Rosie Santos used her experience in environmental education to develop a program that engaged youth in underserved communities and empowered them with tools and knowledge to address environmental issues in their neighborhoods.
As part of the 10-Minute Walk Learning Series, on December 5 at 2 p.m. ET, these three professionals will speak to their community engagement experiences and participate in an interactive panel discussion on strategies other park professionals can use in their communities.
Speaker Bios:
Joseph Claunch, Ph.D, Director of Zuni Youth Enrichment Project
Joseph Claunch is a member of the Puyallup Tribe in Tacoma, Washington, and graduated with his Ph.D. in Sport and Exercise Psychology from the University of Kansas. Joseph's research and programming interest have focused on what coaches, teachers and mentors can do to optimize the motivation of Native American youth. Joseph is currently the director of Zuni Youth Enrichment Project and the head varsity football coach at Zuni High School in western New Mexico. Joseph recently led the development of a 3-acre community center and park in the heart of Zuni's main Pueblo village.
Koboi Simpson, Athletics Administrator, Clayton County (Georgia) Parks and Recreation
Koboi Simpson is the Athletics Administrator for the Clayton County Parks & Recreation Department, in Clayton County, Georgia, where he manages youth sports operations and supervises the county's college internship program. He serves on the NRPA Conference Programming Committee, and he is a frequent speaker at several state and national conferences, delivering presentations on best practices in youth sports. Koboi is a tireless advocate for diversity and inclusion, serving on NRPA's Equity Advisory Panel. Koboi is a Certified Park and Recreation Professional and a Certified Youth Sports Administrator.
Rosie Santos, Parks and Recreation Manager, City of Covington, Kentucky
Rosie Santos has 10 years of experience in environmental education and community programming. In her more recent position as the Parks and Recreation Manager for the city of Covington, Kentucky, she oversees recreation services, as well as park and trail planning and development. In collaboration with a citizen advisory group and other partners, she developed an innovative process for redeveloping neighborhood parks throughout the city.
Register for the webinar today, and be sure to join the discussion on the 10-Minute Walk Learning Series community on NRPA Connect to learn more and hear others' experiences.
Jared Mummert is a Program Specialist for NRPA.