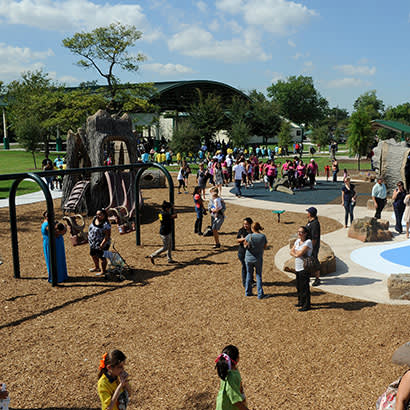 The 2019 Parks Build Community (PBC) project includes something new and exciting that no other PBC project has had before — research. Thanks to funding from BCI Burke Playgrounds, NRPA is working with North Carolina State University College of Natural Resources and Baltimore's Johns Hopkins University to measure the impact the renovated ABC Park will have on the community. The research will explore three potential impacts: health (physical activity), social (socialization and public safety) and economic (any change in local business activity).
Data Collection
The data will be collected over five years. Research began in December 2018 to establish a baseline using SOPARC: System for Observing Play and Recreation in Communities. The SOPARC data collection takes place for approximately two weeks and will be done annually to quantify the community's activity difference in ABC Park over time. Concurrently, SOPARC data collection is taking place at another Baltimore park, which will be used as the control park, where no renovation is taking place.
Two other data collection methods will be used annually during the five-year term:
Surveying the Community – Researchers will survey the community in and around ABC Park and the control park to gain perceptions from nearby residents about the renovation's impact on park access and safety, and how the project has encouraged local children to play.
Analyzing Economics and Public Safety – The research team will also analyze local economic data through sales estimates from local businesses close to the park and public safety data through law enforcement records.
NRPA will receive raw data each year and, at the end of the five years, will produce a final report.
Contributing Partners
NRPA is the lead coordinator on the research component of this PBC project. "We here at NRPA are excited for this new opportunity to build on the PBC experience we've enjoyed for many years with a cohesive research program in Baltimore," states Kevin Roth, NRPA's vice president of professional development, research and technology. "This research will help inform future projects and add to the growing information we regularly gather on the important impact parks and recreation has on communities."
Graduate students from Johns Hopkins University are collecting data on the ground. The Research Center at Johns Hopkins University reached out to NC State University about using NC State's experience to spearhead the evaluation of the PBC project, and NC State became the lead research investigator for the Baltimore PBC project. The Department of Parks, Recreation and Tourism Management at NC State is part of the Robert Wood Johnson Foundation-funded Physical Activity Research Center (PARC), and has been investigating park-based physical activity among youth from low-income communities of color.
"Through our PARC project, we have used systematic observations of play, park audits, street audits and surveys to understand use and park-based physical activity in low-income neighborhoods of color in New York City, Raleigh and Durham, North Carolina," says J. Aaron Hipp, Ph.D., an associate professor of community health and sustainability and university faculty scholar at NC State. "Within the Department of Parks, Recreation and Tourism Management at NC State, we are always seeking projects that we believe will have a direct impact."
Hipp continues: "What drew me, personally, to this project were several things. First, the opportunity to work with NRPA and the potential to develop evaluation metrics that can be shared with park systems nationally. I believe there is a great opportunity for impact here. Second, we are already evaluating 40 parks in low-income communities of color along the East Coast and this is an opportunity to repeat similar methods in another city.
The evaluation can help further the generalizability of our results. Third, I believe the investment in time and money with Parks Build should be accompanied by an evaluation to understand the ROI.
"ABC Park, in particular, is interesting as there is great community interest in the improvements to the park, and it is important to document the process of redevelopment to share with the community changes in park use, sense of community and general well-being," Hipp explains. "I am looking forward to engaging with the community, learning their experiences prior to redevelopment and following along for several years after the redevelopment to see if Parks Build can ripple out into the community to increase sense of pride, well-being and togetherness."
The 2019 PBC research funding is provided by BCI Burke Playgrounds. We asked Brian Johnson, chief marketing officer of BCI Burke why it was important to Burke to fund this research? He states, "Research informs great design and is a key component in Play That Moves You. Studying how kids, families and communities use and benefit from play environments and public spaces ensures that everyone receives the maximum developmental benefits and that they are designed to grow with both child and community."
PBC is a national initiative, demonstrating the transformative value of parks on the health and vitality of communities across America. The vision to build and revitalize parks as thriving gathering places for youth, families and adults is one shared by NRPA, its industry and nonprofit partners, and the thousands of park and recreation professionals who develop and maintain these treasured public places. For more information about PBC projects or to become a donor, please contact Gina Mullins-Cohen, NRPA's vice president of marketing, communications and publishing.
Suzanne Nathan is NRPA's Media Specialist. Kevin Brady is NRPA's Senior Evaluation Manager.
Donors and organizations involved in the 2019 PBC project include:
NRPA produces multiple reports that provide industry-wide information about the impact of parks and recreation and how it relates to health, social and economic outcomes. These reports include:
Americans' Engagement with Parks Report - Each year, NRPA conducts a study to explore Americans' use of parks, the key reasons that drive their use, and the greatest challenges preventing increased usage. This annual study probes the importance of public parks in Americans' lives, including how parks rate against other service offerings of local governments. The survey of 1,000 American adults looks at frequency and drivers of park and recreation facility visits and the barriers that prevent greater enjoyment. In addition, the 2018 study addresses the level of interest in improving easy access to high-quality park and recreation facilities, including the public's support of local officials who advocate for parks and for increased funding for them.
Economic Impact of Local Parks Report - This report not only demonstrates that the nation's local parks generate more than $154 billion in economic activity each year and support more than 1.1 million jobs from operations and capital spending alone, but also breaks down the significant economic impact for all 50 states and the District of Columbia. It definitively supports the argument that parks are powerful engines of valuable economic activity and deserve support and recognition from elected officials, policymakers and the public.
Promoting Parks and Recreation's Role in Economic Development - This report explores the role that quality park amenities play in 21st century regional economic development. Based on conversations with more than 70 park and recreation professionals, economic development practitioners and site-location consultants, it highlights the important supporting role parks and recreation plays in recruiting and retaining businesses and skilled workers.
Park and Recreation Inclusion Report - NRPA developed this report to provide greater insight into how agencies across the United States ensure that all members of their communities can enjoy parks and recreation. The study also highlights the significant challenges the industry faces in delivering on this promise.
Healthy Aging in Parks - Based on survey responses from 524 park and recreation professionals, this study explores how park and recreation agencies and their staff serve older adults.
Learn more about these and other reports. For more information about NRPA's research, contact Kevin Roth.