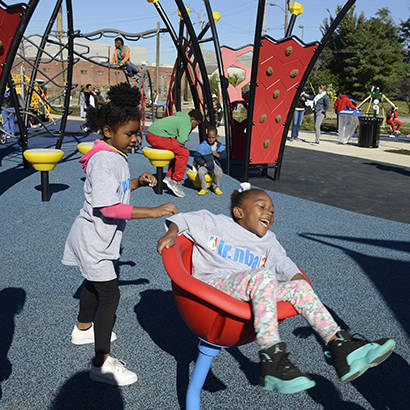 Children need the freedom and time to play. Play is not a luxury. Play is a necessity.
— Kay Redfield Jamison, an American clinical psychologist and writer
The 2019 Parks Build Community (PBC) renovation of Catherine Street Park in Baltimore, Maryland, is well underway to becoming a new space for children, and adults, to play. Whether it is new playground equipment and splash pad, or basketball court and outdoor fitness equipment, there will be opportunities for residents of all ages to play outside.
Research shows that playing outside is important for the overall health and development of children. In a May 2019 blog, Claire McCarthy, faculty editor of Harvard Health Publishing, outlined the following six crucial ways playing outside helps children:
1 Sunshine. We need sun exposure to make vitamin D, a vitamin that plays a crucial role in many body processes, from bone development to our immune system. Sun exposure also plays a role in our immune system in other ways, as well as in healthy sleep — and in our mood. Our bodies work best when they get some sunshine every day.
2 Exercise. Children should be active for an hour every day and getting outside to play is one way to be sure that happens. They can certainly exercise indoors but sending them outdoors — especially with something like a ball or a bike — encourages active play, which is really the best exercise for children.
3 Executive function. These are the skills that help us plan, prioritize, troubleshoot, negotiate and multitask; they are crucial for our success. Creativity falls in here, too, and using our imagination to problem-solve and entertain ourselves. These are skills that must be learned and practiced — and to do this, children need unstructured time. They need time alone and with other children, and to be allowed (perhaps forced) to make up their own games, figure things out, and amuse themselves. Being outside gives them opportunities to practice these important life skills.
4 Taking risks. Children need to take some risks. As parents, this makes us anxious; we want our children to be safe. But if we keep them in bubbles and never let them take any risks, they won't know what they can do — and they may not have the confidence and bravery to face life's inevitable risks. Yes, you can break an arm from climbing a tree — and yes, you can be humiliated when you try to make a friend and get rejected. But that doesn't mean you shouldn't try; the lessons we learn from failure are just as important as those we learn from success.
5 Socialization. Children need to learn how to work together. They need to learn to make friends, how to share and cooperate, how to treat other people. If they only interact in very structured settings, such as school or sports teams, they won't — they can't — learn everything they need to know.
6 Appreciation of nature. So much of our world is changing, and not for the better. If a child grows up never walking in the woods, digging in soil, seeing animals in their habitat, climbing a mountain, playing in a stream, or staring at the endless horizon of an ocean, they may never really understand what there is to be lost. The future of our planet depends on our children; they need to learn to appreciate it."
Lifelong Benefits
PBC sponsors agree. "As a company deeply invested in providing evidence-based research, we know that outdoor play is the cornerstone for children's health, well-
being and overall development," says Anne-Marie Spencer, PlayCore's corporate vice president of marketing. "Well-designed play and recreation areas help children and families enjoy the benefits of the outdoors and create a lifelong affinity for active lifestyles."
Rather than play outside, many of today's children may prefer to spend time indoors on electronic devices. In moderation, sedentary activities are not inherently harmful, but research shows more and more people, especially children, are spending too much free time on devices. In a recent article for Sanford Health, writer Danae Lund Ph.D., LP states: "On average, American children spend four to seven minutes a day in unstructured outdoor play, compared to seven or more hours in front of a screen. Outdoor play should not become a thing of the past."
The health and wellness benefits of spending time outside are not limited to youth. The authors of an April 2018 article, titled "Developing a Park Prescription Program for Your Community," in Parks & Recreation magazine, state: "Park Prescription or 'Park Rx' programs are gaining in popularity and helping to motivate people to be active in our parks. These programs encourage physicians to 'prescribe' physical activity in park settings to their patients. By creating awareness of nearby parks and their health benefits, they can also help increase participation in programs in, as well as stewardship of, parks."
Generations have long known that spending time outdoors is "good for you," but no one had quantified just how much time was necessary for adults to gain health benefits. That was until a large-scale study, funded by the National Institute for Health Research and published in the June 2018 issue of Scientific Reports,
quantified just how much time spent in nature promotes health and well-being: at least two hours per week.
Bringing Play into Communities
PBC, a national initiative, demonstrates the transformative value of parks on the health and vitality of communities across America. The vision to build and revitalize parks as thriving gathering places for youth, families and adults is one shared by NRPA, its industry and nonprofit partners and the thousands of park and recreation professionals who develop and maintain these treasured public places.
Donors are excited to participate in the 2019 PBC project:
"Outdoor play spaces provide places for families and communities to gather, move, get much-needed Vitamin D and take advantage of more space to play! Providing this type of environment through Parks Build Community gives us the opportunity to bring play and development into a community and create a place for everyone to thrive," says Brian Johnson, chief marketing officer for BCI Burke.
"As an advocate for rebuilding communities and rejuvenating play for people of all ages, our ongoing mission is to provide sports equipment solutions to renovate green spaces and facilities, such as Catherine Street Park in Baltimore," says Andrew Peterson, recreation and field sports manager at GARED. "GARED is pleased to partner with the NRPA on this project, which shares our passion for play and the importance of sports and recreation in communities across the country."
NRPA and the PBC donors look forward to the grand reopening of Catherine Street Park this September, during the 2019 NRPA Annual Conference. To learn more about PBC projects or to become a donor, please contact Gina Mullins-Cohen, NRPA's vice president of marketing, communications and publishing.
Resources for Creating Safe, Equitable Outdoor Spaces
Spending time outside is key, but having equitable access to a fun, safe outdoor play space is just as important. To assist members in creating spaces that are welcoming to all, NRPA created two resource guides to share best practices:
The Parks for Inclusion Policy Guide – A set of resources designed to guide agencies in creating and implementing inclusive policies.
The Community Engagement Resource Guide – Provides park and rec professionals with a road map to implement equitable and inclusive community engagement strategies around the planning, design, construction, maintenance and activation of park projects and park plans.
Donors and organizations involved in the 2019 PBC project include:

Active Network

BCI Burke Playgrounds

California Sports Surfaces

Dero

DuMor

Epic Outdoor Cinema

GameTime

Gared

Greenfields Outdoor Fitness

Johns Hopkins University

NC State University

OpenSpace Radio

Parks & Recreation magazine

Physical Activity Research Center (PARC)

Pilot Rock

PlayCore

Playworld

Vortex
Suzanne Nathan is NRPA's Public Relations Manager.