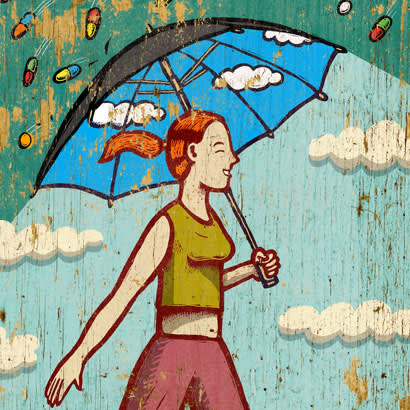 Park Prescription or "Park Rx" programs are gaining in popularity and helping to motivate people to be active in our parks. These programs encourage physicians to "prescribe" physical activity in park settings to their patients. By creating awareness of near-by parks and their health benefits, they can also help increase participation in programs in, as well as stewardship of, parks.
Research conducted on Health Care Provider (HCPs) shows that prescriptions given along with counseling can increase patients' physical activity. Park Rx programs are another way to inform the public and HCPs about the health benefits of parks. However, these programs are not without their challenges: making connections to stakeholders (physicians, public health and parks), designing a program that meets the needs of the community and stakeholders, funding for programs and providing evidence that the program is meeting its goals. So how can you address these challenges when designing a Park Rx program?
Identify Stakeholders
When looking to create partnerships, stakeholders to consider are HCPs, the public health department and community members. Some communities have created health coalitions to leverage partnerships, while others have reached out directly to HCPs. Finding an interested and engaged HCP or public health official will be crucial to the success of program design and implementation, so we recommend the following resources:
1. Local chapter of the American Academy of Pediatrics: This is one way to find HCPs and its "The Role of the Pediatrician in Primary Prevention of obesity" report contains recommendations to pediatricians to promote and identify opportunities for physical activity.
2. Exercise is Medicine™ (EIM): EIM offers physicians and communities resources for integrating physical activity into healthcare provider services, as well as for linking patients to evidence-based community programs.
3. Public Health Departments: Investigate the local public health department initiatives to see where the park resources might align (many times, initiatives are mentioned on the department website). Reach out to the person(s) heading healthy living (PA, eating, weight, diabetes prevention) initiatives. Discuss resources parks have to offer that align with health initiatives. Then determine a path for Park Rx.
Setting the Primary Goal for Park Rx Program
A crucial step in developing a Park Rx program is to identify the primary goal. Is it creating park/agency awareness, increasing participation in park programming or enhancing health of the community? Health and parks do go hand in hand, but it may be vital to the program design and success to prioritize one over the other. For programs to engage HCPs, the primary goal must be health oriented with a primary health outcome, otherwise the program risks losing its support. It may be more accurate to place promoting parks as the secondary outcome and promoting health (through promoting parks) as the primary outcome. Once a goal is determined, then an organization can design a distinct program based on the leadership, partnerships and resources available in its community.
Designing the Program
A variety of Park Rx programs exist across the United States. Some programs have created resource packets that include places for PA and a Park Rx sheet for HCPs to give to patients (Park Rx America), and some have the physician prescribe PA and refer the patient to a local recreation and park agency Portland Rx Play). Some programs use park surroundings to encourage PA (TRACK Trails) or encourage HCPs to prescribe walking (Prescription Trails), while others provide events at parks with HCPs (Docs in the Park). However, the challenges with designing the program are not only in accessing the HCPs, but also the legal constraints of the Health Insurance Portability and Accountability Act of 1996 (HIPPA).
HIPPA, legislation designed to safeguard medical information, limits what HCPs can share, as well as requires patient consent for something as simple as passing along a name to agencies. When designing a program, if the HCP is conducting follow-ups, there are no HIPPA concerns. However, if the park and recreation agency is conducting follow-ups with a patient, then HIPPA requires the patient's consent.
In a study we conducted, we asked HCPs for their perspective on Park Rx programs. The study participants identified the following challenges to encouraging physical activity:
limited time with patients
lack of training or awareness of resources to have conversations with patients
patients' healthcare needs beyond exercise
a lack of awareness of where to send patients for PA
hesitation to write a prescription for something they do not believe a patient can comply with daily
Some strategies the HCP study participants recommended to help in designing include:
tailoring the discussion of outdoor PA to each individual child and family (focus on barriers to getting outdoor PA followed by provider suggestions of techniques to deal with these barriers)
setting goals related to PA with patients and families and following up at the next office visit
having the healthcare providers' staff or recreation and park staff conduct follow-ups with patients (see HIPPA Concerns for implementing this strategy)
Park Rx Program Examples
An additional benefit of a Park Rx program is that it can be an outdoor recreation resource. Following are a few programs that use natural settings to encourage people to exercise:
Park Rx America hosts a publicly available searchable database of parks and outdoor spaces to help HCPs and patients locate places for outdoor PA. The goal for this online database is to include parks/outdoor spaces across America, support for linkage to patient electronic medical records, patient tracking of visits to outdoor spaces to "fill" the prescription, and a way for healthcare providers to follow up with patients with reminders and motivation. Park Rx America relies on local community partners to assess their parks and outdoor spaces to add to the online database, but it provides tools for assessing parks, recruitment materials for getting healthcare providers on board, and Park Rx materials.
The Kids in Parks' TRACK Trails encourages children and families to get outdoors. Age-appropriate resources are available for each TRACK Trail, and the children can register online to earn prizes. Kids in Parks is working with HCPs and communities to use TRACK Trail resources to encourage physical activity in natural settings.
In addition to encouraging PA in outdoor settings, a byproduct of programs like these is that participants may become more comfortable in natural settings and outdoor recreation pursuits. These programs, while mainly focused on people's health, have the potential to develop commitment to conservation of public lands, as well as increase interest in outdoor recreation activities.
The authors are a team at the Appalachian State University HOPE Lab – "Promoting HOPE (Healthy Outdoor Play and Exercise) for children and youth":
J. Joy James, Ph.D., is an Associate Professor of Recreation Management,
Becki A. Battista, Ph.D., is an Associate Professor of Exercise Science, and
Richard W. Christiana, Ph.D., is an Assistant Professor of Public Health.