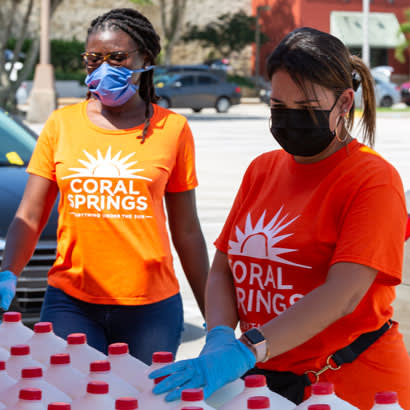 Park and recreation professionals play a vital role in supporting and advancing the health and well-being of all individuals and our communities, including people who are experiencing homelessness. Given the unique role that public parks play in the lives of many people experiencing homelessness, it is important that park and recreation professionals understand the extent of homelessness, its root causes, how they can approach the issue with empathy and be a contributor to local solutions.
NRPA is working to elevate innovative approaches to address the issue — as well as co-occurring issues including mental health and substance use disorder — by providing park and recreation professionals with resources, tools, learning opportunities and stories from the field. On November 12, 2021, NRPA released the first blog in this series, Understanding Homelessness: The Extent, Causes and Local Solutions. This second post delves into additional support and resources available, as well as outlines potential solutions and a path forward.
The Role of Park and Recreation Professionals in Supporting People Experiencing Homelessness
In 2017, NRPA conducted a survey to better understand how park and recreation professionals were responding the growing issue of homelessness in parks and the associated challenges. The data showed that while the issue is quite complex and the field has differing viewpoints, the majority of park and recreation agencies were already collaborating in cross-sector and city-wide efforts to mitigate homelessness and support community members experiencing homelessness. Professionals reported that the most common strategies they were implementing included:
Providing space to support personal hygiene (restrooms, showers, etc.)
Providing shelter during emergencies
Providing access to computers/phones
Connecting people to social services
Less common strategies included providing food assistance, storage, job training, and health and wellness activities targeted to people experiencing homelessness. The public agrees that park and recreation professionals have a role to play in supporting people experiencing housing insecurity. The majority of U.S. adults agree that park and recreation facilities should be used as emergency shelters, particularly during natural disasters and public health crises, and that park and recreation personnel and equipment should be leveraged to support emergency and social service response efforts when needed.
Since 2017, NRPA has supported an ongoing dialogue around this issue among professionals, like-minded partners and public officials by hosting several education and virtual learning sessions, sharing case studies and thought-provoking content in Parks & Recreation magazine, and hosting an in-person Innovation Lab in Los Angeles. More recently, NRPA has developed a series of resources to help park and recreation professionals respond to people experiencing associated issues, including substance use disorder and mental health disorder. These activities have showcased a variety of strategies and approaches local agencies have used to respond to challenges surrounding homelessness in parks, including litter, garbage, increased risk of fires, substance misuse and paraphernalia, staff and public safety, mental health crises, political pressure and more. Analysis of these examples points to a focus on systems-change, people-centered and cross-sector approaches as the most effective and beneficial solutions for all.
COVID-19 as a Catalyst for Addressing Homelessness
Homelessness, which was already steadily increasing prior to 2020, became even more urgent to address during the COVID-19 pandemic. As the virus spread, park and recreation agencies stepped into a vital role to support public health and safety during the early months of the pandemic. In fact, 60 percent of agencies actively supported emergency services, including distributing meals to older adults, families and youth, opening agency facilities to serve as satellite COVID-19 testing and vaccine support sites, and providing emergency shelter, public hygiene stations, and connections to needed health and social services for people experiencing homelessness.
While these actions were quickly implemented by park and recreation professionals to address immediate, emergency response needs during the pandemic, COVID-19 may have also served as a catalyst for a more intentional and strategic approach to addressing homelessness in parks and/or associated issues including substance use and mental illness. Seven in 10 local park and recreation agencies envision their agency having a more substantive role in supporting post-pandemic mental and behavioral health, while six in seven leaders note that the pandemic has impacted strategic priorities in advancing health equity and social justice at their agency. As agencies continue to evolve into Community Wellness Hubs, their role as trusted gathering places that support and connect all community members to needed health and social services is becoming even more pronounced.
Solutions to Addressing Homelessness and a Path Forward
As front-line staff who enrich the health and wellness of all members of their community, park and recreation professionals are uniquely positioned to affect real change. Homelessness is an ongoing social crisis requiring everyone's assistance. But how can parks and recreation be a part of the solution to homelessness? What are effective and appropriate management actions for agencies to pursue? We posed these questions during two sessions presented at the 2021 NRPA Conference in Nashville. Below are a few highlights of what professionals shared:
Develop a deeper understanding of homelessness and associated issues, including substance use disorder and mental health disorder.
Host "resource fairs" for persons experiencing homelessness at parks or community centers. Allied agencies should be invited to engage with persons experiencing homelessness about their resources while also providing immediate services like haircuts, health screenings, meals/food pantry and clothing.
At community centers, allow access to showers, food pantries and/or meals as appropriate, and provide access to computers, phones and job seeker support.
Collaborate with service organizations and local law enforcement to allow specific persons experiencing homelessness engaged with service providers to park their vehicles overnight in parking lots while they work with case managers to resolve their homelessness.
Train staff about engagement strategies (Mental Health First Aid for example) and de-escalation techniques, as well as available resources to refer people to.
Build compassion among staff and community to recognize that a person is not defined by their experience of homelessness, instead, they are a person, first, who is presently without a home.
Educate your public about homelessness. A 2019 article in Parks & Recreation magazine provides some suggested key messages to use when educating the public.
Take action and demonstrate leadership to reduce the stigma around homelessness, substance use disorder and mental illness. Check out NRPA's new Mental Health and Substance Use Disorder Language Guide.
We also would like to encourage a few final actions that each agency could pursue:
Build relationships and collaborate with the existing homeless service network in your area (often led by the local Continuum of Care – "CoC"). Whether large or small, there are people/organizations engaged in this work already. You are not alone.
Learn about the existing services available in your area designed to assist persons experiencing homelessness. This will be invaluable when providing referrals to persons experiencing homelessness in your local park areas. A simple place to start is familiarizing yourself with your local 211 community assistance phone line.
Share the challenges you are facing with the homeless assistance network and discuss how you may work together to implement positive, long-term solutions.
Become aware of and support your local CoC's Coordinated Entry process. Coordinated Entry is a locally defined way of equitably allocating permanent housing assistance to persons experiencing homelessness.
Get involved with your local Point-in-Time Count. During the last 10 days of this month (January), CoCs will conduct their annual count of sheltered and unsheltered persons experiencing homelessness. Being involved in this annual effort is a way to directly contribute to homeless assistance efforts in your area and become connected to a variety of new partners.
Don't expect change to occur overnight — through collaboration and persistence, long-term change is possible.
As this topic rests at the crossroads of two of NRPA's pillars, Health & Wellness and Equity, NRPA is committed to further identifying and promoting innovative strategies to address homelessness within parks and communities. We'd love to hear from you! Share your successes, challenges, and meaningful collaborations to address homelessness by posting them in the comments below or emailing us directly.
Allison Colman (she/her) is the director of health for NRPA. She previously worked in the recreation field facilitating health and wellness programs across all populations.
Austin Barrett (he/him) is an evaluation manager with NRPA. He previously worked in homeless services connecting people experiencing homelessness to available housing resources.