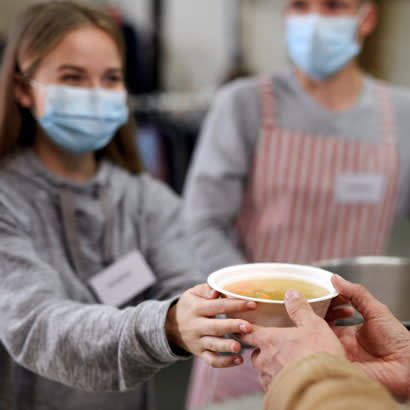 Saturday, November 13, marks the beginning of Hunger and Homeless Awareness Week. To observe the occasion and keep the conversation going, NRPA will be publishing a series of blog posts to delve into the topic of homelessness in parks in the months ahead.
Park and recreation professionals play a vital role in supporting and advancing the health and well-being of all individuals and our communities, including people who are experiencing homelessness. On any given night, over half a million people in the U.S. do not have a safe, stable place to sleep. For many experiencing homelessness, the safest and most convenient place to rest their heads is in their local parks. In addition to safety, these areas provide needed amenities and resources such as access to hygiene facilities, drinkable water, and electricity to charge devices. When people experiencing homelessness have nowhere else to go, they frequently turn to their local park areas. Given the unique role that public parks play, it is important that park and recreation professionals understand the extent of homelessness, its root causes, how they can approach the issue with empathy and be a contributor to local solutions.
The Root Causes of Homelessness
At its core, homelessness is an outcome caused by bigger, more insurmountable problems. Commonly associated causes include mental illness, substance use disorder, domestic violence, loss of employment or medical afflictions that result in physical and financial hardship, or simply poor life choices. While these precipitators of homelessness are present for many, they do not tell the whole story. Structural issues, such as historical economic and social disadvantages, also contribute to a disproportional representation of people of color in the homeless population compared to the general population.
However, the most common cause is the cost of housing has become out of reach, even among those working full-time. According to a National Low Income Housing Coalition (NLIHC) report, no state in the country has an adequate supply of affordable housing for extremely low-income renters. Another NLIHC report bluntly states "the average minimum wage worker must work nearly 97 hours per week to afford a two-bedroom rental home or 79 hours per week to afford a one-bedroom rental home at the average fair market rent."
While the factors that led to someone's experience of homelessness are disparate, one common thread remains: we are all members of the same community. What can you, as a park and recreation professional and a champion for community, do to be a part of the solution? The first step is to learn more about the prevalence of homelessness nationwide and within your local community.
Homelessness in the United States
Every year, the Department of Housing and Urban Development (HUD) publishes the Annual Homelessness Assessment Report. This report relies primarily on data communities nationwide collect to detail the extent of homelessness on a single night in January. This "Point-in-Time" approach allows for year-to-year comparisons to determine how many persons were residing in sheltered and unsheltered settings. "Sheltered" refers to a publicly or privately operated temporary residence for people experiencing homelessness not requiring leases or occupancy agreements. "Unsheltered" is defined as areas not meant for human habitation such as the street, vehicles, abandoned buildings or public parks (to name a few).
According to the 2020 AHAR report, 580,466 people were experiencing homelessness on a single night in January 2020. This data, while a bit dated, is the most accurate information available due to the impact of COVID-19 on the 2021 data collection process. The report shows how homelessness is on the rise: from 2018 to 2020, there was a 10 percent increase in total persons experiencing homelessness. A rise in unsheltered homelessness (+16 percent) accounted for the entirety of the overall increase. In 2020, 39 percent of all persons counted were experiencing unsheltered homelessness. Further, 9 in 10 unsheltered persons identified as individuals not part of a family unit. Based on these trends, it appears the number of unsheltered individuals — those most likely to be residing within park areas — will continue to grow; reinforcing the urgency park and recreation professionals have increasingly placed around addressing this issue.
While national-level data is helpful in framing the overall issue, true change occurs at the state and local levels. Therefore, it is important to delve into locally specific data. The National Alliance to End Homelessness provides an easy-to-use dashboard that allows users to select the states and regions of interest. Accessing this more localized information will be beneficial in providing further context on homelessness trends in your local area. This begs the questions: What types of assistance is out there to help people in your community experiencing homelessness? How is that assistance organized?
Existing Homeless Service Networks
While widespread, homelessness is largely a localized issue requiring local solutions. In 2009, Congress passed the HEARTH Act, requiring local planning entities to have oversight of federal dollars granted to fund homeless assistance projects. This led to the creation of the Continuums of Care (CoC) model. A CoC is a region-specific planning organization that works to ensure coordination among homeless service providers, maintenance of a centralized database, and the distribution of federal dollars that fund a wide variety of homeless programs.
Regardless of where you are in the country, there is a CoC responsible for coordinating homeless assistance. You can find your CoC by looking at the HUD-provided map or consulting this reference table. Park and recreation agencies can get in touch with their local CoC to better understand the issues, solutions and services available in your area, and explore how their agency can play a larger role. Through your local CoC, you'll be introduced to the common players involved in addressing homelessness, including non-profits; faith-based organizations; mental health, substance use and domestic violence providers; low-income housing coalitions; veterans service providers and many more.
While it may seem like a daunting challenge, it's important to remember that you are not alone in your efforts to address and support people experiencing homelessness in your parks and your community. There is a network of service providers already involved in this work, and as a park and recreation professional, you can play a role.
We'd love to hear from you! Share your successes, challenges, and meaningful collaborations to address homelessness by posting them in the comments or emailing us directly.
Austin Barrett (he/him) is an evaluation manager with NRPA. He previously worked in homeless services connecting people experiencing homelessness to available housing resources.
Allison Colman (she/her) is the director of health for NRPA. She previously worked in the recreation field facilitating health and wellness programs across all populations.