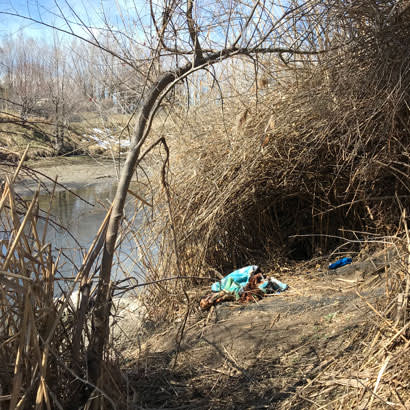 Public parks are designed to provide aesthetically pleasing green spaces where communities can gather for recreation, rest and leisure. Given that communities are not homogenous, user conflict between groups might seem inevitable. The growing concern with homelessness in parks serves as a strong and timely example of these conflicts. Park managers are tasked not only with mitigating social conflicts between traditionally housed park users and those facing homelessness, but also a variety of safety, health, experiential and environmental concerns related to homelessness in parks.
The National Recreation and Park Association (NRPA) has recently devoted increased attention to homelessness in parks, hosting and attending national conference sessions and innovation labs, surveying park and recreation departments and local government agencies and openly sharing the outcomes. To better understand the complexity of homelessness within municipal public parks and people's concerns, challenges, successes and hopes from a wide array of perspectives, we conducted a series of in-depth, semi-structured interviews (n = 19) with park managers, maintenance crews, people experiencing homelessness, police departments, health departments and social service providers. One of the themes that resonated across the research, from an overwhelming portion of those interviewed, was that they clearly expressed a need for public education to better address homelessness in our public parks.
The Jordan River Parkway Case Study
Our study took place in Salt Lake City, Utah, along the Jordan River Parkway. The parkway is a narrow riparian corridor that takes park users along a paved, multiuse trail running the length of the Jordan River. This area has been an ongoing concern for park management, as law enforcement and community members have voiced concerns about the prevalence of people experiencing homelessness who live along the trail and riparian corridor.
Our interviews with community stakeholders revealed that their concerns involving homelessness shaped the nature of park management responses to homelessness. The symptomatic impacts of homelessness, such as trash, camps and the ongoing presence of people experiencing homelessness, often upset housed park users and drove many of them to voice public complaints to park management, police departments and health departments. Complaints to park departments included requests to remove trees, restrooms, vegetation, pavilion walls and benches used by people experiencing homelessness.
Invested community members of park advisory boards also urged park management to quickly eliminate homelessness within their parks. However, a daunting task like homelessness has proven almost impossible to eliminate, especially for park managers who are well outside of the social services realm. Constant public pressure regarding homelessness was reported to be stressful and costly for park departments, and often felt beyond the scope of their professional duties and training.
Community insistence on a quick response to homelessness seemed to encourage the use of short-term, immediate responses by park management. For example, maintenance crews were often pulled from their regular park duties and tasked with posting eviction notices at camps, throwing away camp belongings and removing healthy vegetation and park infrastructure to discourage homelessness and public complaints. Predictably, such short-term, symptomatic responses failed to encourage lasting change. Park staff often felt they were "chasing people up and down the river," as those living in the park simply relocated to another area of the parkway and the process started all over again.
The Price of Short-Term Responses
The cyclical nature of responding to the public's complaints about homelessness was incredibly costly for the parks. The negative public attention caused one park department to invest more than half the budget intended for an entire city park system on responding to homelessness. Staff members were unable to complete other aspects of their regular park maintenance, and some believed their parks were "slowly degrading" as a result. The removal of vegetation, designed to reduce visible and material cover for those facing homelessness, concerned much of the park staff, as existing vegetation often enhances the aesthetics of the park, absorbs urban stormwater and mitigates soil erosion. The social value of the parks was also thought to be compromised, as park infrastructure, such as park benches and pavilions, provide spaces for people to gather, build social capital and rest. The price of short-term responses to homelessness is paid by the parks, as well as by the housed and unhoused community members who use them.
Public complaints led to high frequencies of responses to homelessness that were especially harmful to park residents and social service providers. Depending on the municipality, evictions often reoccurred every 24 to 48 hours. The subsequent displacement not only kept those experiencing homelessness from accessing needed social services, but also made it difficult for outreach workers from local social service agencies to locate current and potential clients. In addition, the disposal of belongings by park maintenance staff burdened the limited financial resources of people living in the park.
The loss of belongings forced those living in parks to repeatedly purchase or procure more blankets, clothes and supplies needed to survive the outdoor elements, instead of conserving money for housing, healthcare and/or personal expenses. One park resident paced while expressing his frustration with frequent cleanups. "I don't know where to put this stuff," he says. "[I need somewhere to keep it] so I can go to work, you know. I'm always pulling this stuff around because I get tired of having to go get clothes and blankets and tents. It's expensive."
This ongoing cycle contributes to park resident homelessness, as fears of belonging loss maintains homelessness for many people. Fear of losing belongings keeps many from seeking out employment or social services that would help to resolve their state of homelessness. Park management indicated in our interviews that it was generally unaware that short-term, symptomatic responses to homelessness unintentionally prolong instances of homelessness in public parks.
Resolving the complex issues associated with homelessness in parks requires time, understanding and collaboration. A focus on resolving the causes, as opposed to the symptoms, of homelessness may substantially reduce the prevalence of unsheltered homelessness in parks. Nearly all the people living in the park desired housing and were not content with residing in public parks. One resident shared how social service outreach workers helped her find housing off of the parkway. "I remember the first time [outreach workers]," she shares. "They come up and right away announced 'we're [outreach].' It's not the police, so I just sat there for a minute, and I thought should I say something. So, I said, 'Okay I'm getting dressed,' [and] they're like, 'we'll wait.' So they took me to [transitional housing]. I had an apartment for five or six years." Years later, she only returned to the parkway after subsequently losing housing.
A Person-First Approach
A person-first approach, both sympathetic and problem-oriented, is helpful for engaging with folks living through homelessness. Most park managers believe that fully addressing the causes of homelessness is complex and outside the scope of recreation professionals. Doing so would require substantial collaborative efforts with social service providers. However, transitioning people into housing often takes time, and social service providers use progressive engagement when interacting with those experiencing homelessness. This approach allows outreach workers to build trust through a series of interactions over a period of time, while working to secure housing.
A social service provider explains that usually "we have a 24-hour window before a cleanup and [park residents] are going to be gone in 24 hours. I think that really we need a seven-day leeway so we have some time to engage with them and actually get some things in place to make that an easy situation for them to navigate." Depending on the circumstances, housing may take hours or months to coordinate, and repeated displacement resulting from short-term solutions would compromise housing efforts. Public education is vital to the implementation of long-term solutions.
Given the discomfort voiced through public complaints and citizen advisors, long-term solutions would require the approval of the community. Park managers see public education as an important step in generating community support to address homelessness in parks. Efforts by park and recreation agencies to educate the public may take multiple forms, including interpretive signage, pamphlets, public statements, community meetings, forums and online platforms, including social media. A relatively concise list of talking points may be helpful for agencies seeking to engage in public education. Based on research findings, we recommend the following components of public education:
All members of the community are welcome to use public parks and open spaces.
Parks and other public spaces are key spaces for functional communities.
Everybody is welcome to use parks for recreation, relaxation, rest and leisure.
Those experiencing homelessness are part of our community.
Public parks and open spaces can be a more comfortable space for those experiencing homelessness.
Know the rules of the park; call the parks or police department when necessary.
High volumes of public complaints may strain park resources.
Anyone can experience homelessness.
Each person experiencing homelessness is unique.
Those experiencing homelessness may face issues, such as extreme poverty, physical and mental health concerns and/or addiction.
Such barriers and limited community resources make homelessness difficult to overcome.
Depending on individual circumstances and available community resources, securing housing can take longer than six months.
We will see less unsheltered homelessness as our community works to resolve homelessness.
Become familiar with the organizations that serve those experiencing homelessness.
Provide support and/or volunteer for local organizations that work to resolve homelessness.
Public complaints may result in the displacement of those experiencing homelessness and make it more difficult for organizations to engage people in resolving their homelessness.
Publicly displaying these statements, and even their full adoption in communities, is unlikely to resolve the prevalence of homelessness in parks. Park managers are currently straining limited resources to appease public complaints and regain community support of public parks. However, public education may help shift, and eventually transform, the evolving dynamics between communities and park systems facing unsheltered homelessness.
As one park manager states: "I don't think that throwing all of our public lands' resources into addressing homeless camps is the best approach, not just because it seems like a cyclical problem, and it's not a permanent improvement. By and large, people tend to overreact about the impact of homeless camps on our property, and a large part comes from a somewhat irrational fear of people who are different because they don't have a home. If we could just be a little more comfortable with the existence of homeless people in our society, we could put money into things that are more positively impactful for everyone."
The suggested messaging could help park managers regain the vital public support needed to shift from reactive, costly, short-term responses to proactive, holistic engagements with homelessness in parks. In the case of an educated public faced with resolving homelessness in parks, knowledge is power.
Milo Neild, M.S., is an Academic Associate in the College of Public Service & Community Solutions at Arizona State University. Jeff Rose, Ph.D., is an Assistant Professor-Lecturer in the Department of Parks, Recreation and Tourism at the University of Utah.