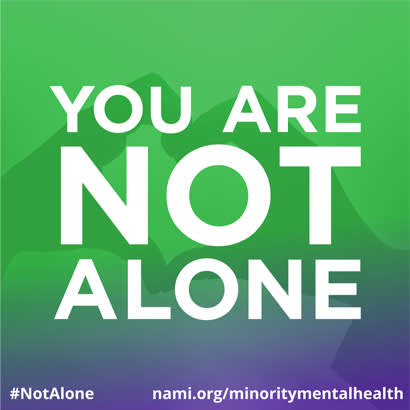 July is Minority Mental Health Awareness Month, a movement dedicated to raising awareness about the existing disparities among people of color regarding inequitable access to mental health care and social supports that improve mental health and well-being. While mental health disorders impact people of all races, colors, classes, genders and identities — a person's background, identity and environment can determine access to necessary treatments and supports that promote well-being and positive mental health outcomes. As a result of systemic inequities, black, Indigenous and people of color (BIPOC) face additional barriers in accessing mental health care and additional challenges that may increase the risk of developing a mental health condition.
Poor access to services and lower quality of care only perpetuate negative mental health outcomes — including suicide — among minority populations. Despite expanded efforts centering health equity as a goal in many communities, mental health disparities continue to exist. In fact, the Agency for Healthcare Research and Quality (AHRQ) reports that people of color are:
less likely to have access to mental health services;
less likely to use community mental health services;
more likely to use emergency departments; and
more likely to receive lower-quality care.
Additionally, due to systemic inequities and the poor distribution of resources that support health and well-being, BIPOC are more likely to reside in communities and neighborhoods that lack green space, access to healthy foods, social supports, workforce and educational opportunities, and other factors that impact health outcomes.
These barriers to accessing quality mental health care coupled with the impact of adverse community environments and adverse childhood experiences including poverty, racism and trauma, increases the risk of developing mental health conditions. As park and recreation leaders and community members, it's vital to recognize and acknowledge these inequities and work towards advancing access to mental health care and positive mental health outcomes for all.
How Parks and Rec Can Get Involved
With the ongoing challenges and stressors of COVID-19, the importance of health equity and mental health is at an all-time high. Due to the same systemic health and social inequities listed above, people of color have been disproportionately impacted by COVID-19. According to the Centers for Disease Control and Prevention (CDC):
Non-Hispanic American Indian or Alaska Native persons have a rate approximately 5 times that of non-Hispanic white persons,
Non-Hispanic black persons have a rate approximately 5 times that of non-Hispanic white persons,
Hispanic or Latino persons have a rate approximately 4 times that of non-Hispanic white persons.
COVID-19 has also created more fear, anxiety, worry and isolation across all populations, contributing to poor mental health. Supporting the health and well-being of those most impacted by both COVID-19, systemic injustices, and mental health challenges should be a top priority for park and recreation professionals as they restore operations and reinstate programming and vital services.
Park and recreation professionals are moving in this direction more and more each day. The NRPA Snapshot: June 24-26 Survey reveals that three in four park and recreation leaders envision their agency supporting community mental health and well-being in some capacity. Some ideas include:
Offering virtual programming focused on mental health and well-being (yoga, meditation, arts and crafts, journaling, etc.) (44 percent)
Offering in-person programming focused on mental health and well-being (yoga, meditation, arts & crafts, journaling, etc.) (44 percent)
Building partnerships with social workers and mental and behavioral healthcare providers to connect community members to services (31 percent)
Training staff to better support mental health and well-being (being trauma-informed, mental health first aid, understanding adverse childhood experiences) (30 percent)
Conducting well-being checks on community members (phone calls, text messages, emails to community members to check in on them) (27 percent)
By offering these types of services, park and recreation professionals can work towards expanding access to all community members, regardless of race or ethnicity.
Continued Education and Learning
Park and recreation leaders play a key role, often serving as role models and trusted members of the community. To succeed in this role, it is important to continuously learn about, and adapt to, large societal movements and shifting of cultural norms. Given today's climate surrounding social justice, racial inequity and the pandemic – mental health lies at the epicenter. Below are some resources and articles that can help you and your staff learn more about these topics and how they relate to minority mental health.
The National Alliance on Mental Illness (NAMI) share blog posts and articles that highlight the importance of mental health among minority populations:
For additional resources, be sure to check out the NAMI Facebook page.
The U.S Department of Health and Human Services, Office of Minority Health, also has great resources regarding mental health and minority populations:
Have a story? Email me and share how your agency is addressing mental health disparities in your community.
Lauren Kiefert is an NRPA Program Specialist.