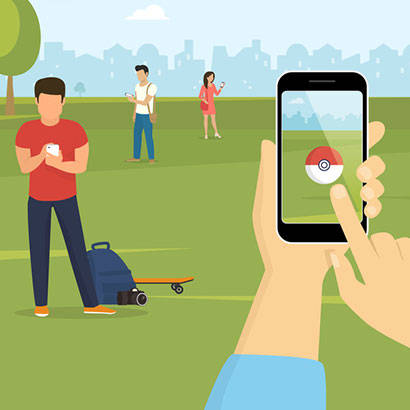 Pokémon Go. It's been headlining newspapers and top of mind for park and recreation professionals since its launch a few weeks ago. In case you've missed the finer details, here's the gist:
Pokémon Go is a Location Based Mobile Game (LBMG) which requires players to go to real locations in order to play. Players can catch Pokémon anywhere, but need to visit specific Pokéstops to get gear and can battle other players in gyms. Many of these Pokéstops and gyms are located at sites of public art and important buildings. Sometimes even donor benches serve as Pokéstops.
All of these locations had previously been part of a virtual war in Ingress, but where Ingress had a few hundred thousand active players worldwide, Pokémon Go players number in the millions. In fact, Pokémon Go broke the record for the most downloads in Apple's app store in just one week with more than 30 million downloads.
Now, players are spending a lot of time trying to catch 'em all. Mobile phone users spend more time playing Pokémon Go than they do on Facebook. The user base is so large that this game of catching virtual creatures is having real world effects — particularly for park and recreation agencies.
Parks are often host to multiple Pokéstops within a small area — making them attractive sites for Pokémon Go players. As a result, agencies all over the country are seeing increased use in many of their parks. On NRPA Connect, Kevin Brady, Executive Director of Greater Huntington Park & Recreation District in West Virginia, experienced a last minute notification that nearly 1,000 people were showing up to one of their parks for an evening event due to Pokémon Go.
This presents both a challenge and an opportunity. The increased usage can also mean increased frequency of trespass and depreciative behavior, but also increased awareness about facilities and programs. Agencies can take the following steps to harness the Pokémon Go phenomenon to their benefit.
Gain a full understanding of exactly where the game is being played in your parks. Some agencies, such as North Little Rock Parks and Recreation have created maps of Pokéstops and gyms. This gives them the chance to reach out to the local community of Pokémon Go users and provide them with additional information.


Create partnerships with other entities. For example, Johnson City Parks and Recreation teamed up with their public transit agency to create a three-day Pokémon Go event.


Make sure to include social media in your Pokémon Go plan and use hashtags. Fifty-eight percent of Pokémon Go players are between the ages of 18 and 24 and are prime users of Twitter and Instagram.


If you're having problems with late night visitors, consider hosting an after-hours event. This both shows good will and gives you the chance to remind late night players about the regular hours in the park.


Use lures strategically. Lures can be purchased in the game to bring more Pokémon to your Pokéstops for less than $1 each and they last for 30 minutes. Put lures on Pokéstops during those times when you want to encourage more visitors. Advertise that there will be lures on Pokéstops during your events. Businesses have seen dramatic returns on their very small investment with this technique.


Consider additional signage or increased security in locations that are particularly problematic. The Leesburg Department of Parks and Recreation in Virginia has put up signs in the most popular Pokémon parks indicating them as a "Pokémon Go Friendly Park" and advertising the extended hours. Also, if a Pokéstop or gym is located somewhere inappropriate or dangerous, you can request its removal.
For more than 100 years, park and recreation agencies have been urging people to go outside. Now the most popular app requires players to do just that. Don't miss out on this great opportunity to pull new users into your parks.
How has Pokémon Go affected your park and recreation agency? What have you done to capitalize on this phenomenon?
Linda Oakleaf is an Assistant Professor at Missouri Western State in the Recreation Sport Management program.
Pokemon Go Park Resources

NRPA Open Space

Resources

Parks and Recreation Examples

In The News