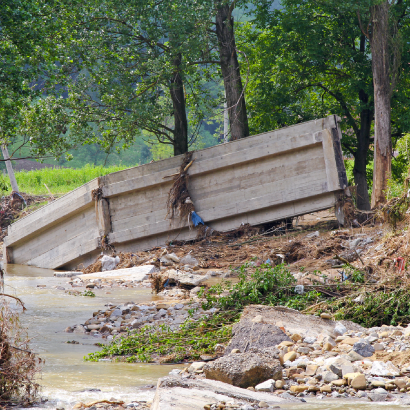 From hurricanes to floods and wildfires, the United States has seen its share of natural disasters this year. While we may never be 100 percent guarded against the forces of nature, there are many steps that our local and federal government can take to mitigate loss and increase our safety. Park and recreation agencies and the lands they steward not only protect the environment, but they can also be vital contributors to natural disaster prevention and resiliency.
This year's Americans' Engagement with Parks Survey included questions that explored how Americans view issues of conservation and preservation. Ninety-five percent of Americans agree it is important that their local government protects the natural environment. In fact, just under half of the survey respondents would characterize local government acquisition, construction, and maintenance of local parks, trails and green spaces to be "extremely important." Americans' agreement that local governments should focus on protecting the natural environment is strong, with the support barely wavering across key demographic groups, including generation, race, ethnicity, household formation and political affiliation.
Another opportunity for local governments, that has the full support of the community, is disaster mitigation and prevention. Eighty-seven percent of Americans agree that their local government and park and recreation agency should make the needed investments to ensure their community is more resilient to natural disasters. Critical infrastructure investments that help improve a community's ability to withstand or recover quicker from natural disasters can include:
Parks doubling as flood control areas
Selected vegetation in open space that mitigate pollution from stormwater runoff
Cultivating tree canopies in urban areas that help lessen the heating effects
Planting drought-resistant plants
Prescribed burning to reduce build-up of undergrowth often attributed with the most severe wildfires
Using recreation/community facilities to serve as emergency centers during excessive heating/cooling events or during and after a natural disaster.
These measures, linked with park building and local government land acquisitions in disaster-prone areas, are just the tip of the iceberg. With the growing impact of climate change and weather-related disasters, the need for this protection (and the public support for it) has never been greater.
Four in five Americans indicate they are concerned about their community's ability to withstand or recover quickly from natural disasters, including 54 percent of survey respondents who are "very" or "extremely" concerned about their community's resiliency. Among those that are more likely to be "very" or "extremely" concerned are millennials, individuals who identify as either Hispanic or non-white, and parents.
Park and recreation agencies protect and connect people to nature, provide a safe and educational experience to kids throughout the year, strive to give the public opportunities to improve health and fitness, and provide necessary services at low- or no-cost to all members of the community. All of this and much more is done on ever-shrinking budgets. While park and recreation agencies are not generally the sole department responsible for providing safety to a community, their vast contributions should not be overlooked or underestimated. Working together with other government agencies to handle whatever nature may throw at them, local park and recreation departments are an important partner in ensuring the safest, most resilient community they can create.
Melissa May is NRPA's Senior Research Manager.


About the Survey: The 2017 Americans' Engagement with Parks Survey is an annual research series of the National Recreation and Park Association, focused on the general public's interaction with parks and recreation. The goal of this research series is to understand better Americans' use of local park and recreation facilities and their willingness to fund these resources.
To explore these issues, the National Recreation and Park Association Research Department created a 38-question survey and engaged Wakefield Research to collect responses using an online survey from 1,000 randomly selected American adults who are an accurate representation of the U.S. adults ages 18 and above. The margin of error of the response is +/- 3.1 percentage points at the 95 percent confidence level.
The NRPA Research Department created the survey instrument and final report and is solely responsible for their content.