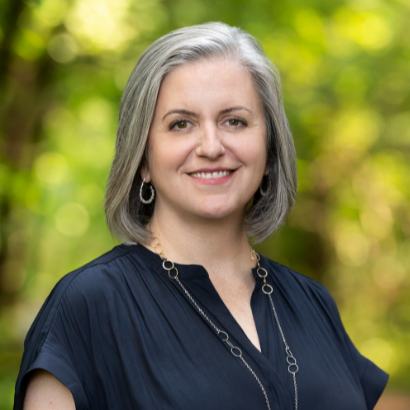 To all our friends, colleagues and supporters,
As we close out 2021, we look back on the challenges we faced and overcame, we remember the colleagues and loved ones we have lost, and we celebrate the good work that our field has done for millions of people in communities across the country. Thank you for supporting our mission and the power of parks and recreation.
We are incredibly grateful that the availability of vaccines and health protocols enabled us to resume our highly anticipated annual conference, an event we look forward to every year. We express sincere gratitude to everyone involved in the planning and execution of the 2021 NRPA Annual Conference — including our hard-working staff, dedicated volunteers and generous sponsors, who contributed greatly to the success of the event both in person and virtually.
A top highlight of this year's conference was the rollout of our new logo, which is part of a larger rebranding campaign aimed at spotlighting the extremely talented individuals who represent parks and recreation. The new logo, brand colors and website updates echo NRPA's unwavering commitment to the profession and help position park and recreation professionals as the powerful change agents they are. They reflect the fact that park and recreation professionals connect and hold their communities together and strengthen them with greater health, wellness and resilience.
People like Dr. Marby Barker from Vivian, Louisiana, lead the way to positive change in their communities. Marby, who runs a food insecurity program, helps identify at-risk individuals by meeting community members where they are, talking with them at community meetings and recreational events, for example. Then she partners with others, including the local school district, to ensure people's need for healthy, nutritious food is met. As an NRPA nutrition hub grant recipient, thanks to the generosity of the Walmart Foundation, she hosts family dinner nights where people of all ages get a chance to eat together and learn about nutrition as a community. Marby even championed the town's first farmers market that provides community members with access to fresh, local foods. Way to go, Marby!
The good work of our members is something that we take pride in celebrating — through Parks & Recreation magazine, Open Space Radio, our social media accounts, blog, website, NRPA Connect and via our education offerings. In fact, we are extremely proud of the different ways our members have committed to professional excellence. There are the 41 graduates who recently completed NRPA Directors School, our two-year program that prepares new and potential park and recreation directors to be effective leaders. We welcomed 2,894 new certified professionals to our ranks this year, including 53 Certified Park and Recreation Executives (CPREs), 844 Certified Park and Recreation Professionals (CPRPs), 920 Certified Playground Safety Instructors (CPSIs) and 1,077 Aquatic Facility Operators (AFOs). Congratulations, all! We also wish to recognize the tremendous accomplishments of the 10 newly accredited and 27 reaccredited agencies by the Commission for Accreditation of Park and Recreation Agencies (CAPRA), along with this year's National Gold Medal Award and NRPA Innovation and Spotlight Award winners, and our talented 30 Under 30 stars. These accomplishments, awards and recognitions, which exemplify excellence in parks and recreation, show that the future of parks and recreation is truly bright!
A measure of excellence in our field is how well we are serving all community members, breaking down barriers to inclusion, and overcoming social injustices and racial inequities that continue to trouble our hearts and communities. As fierce advocates for equity and inclusion, we made it our duty and responsibility to ensure our members have the tools and resources they need to achieve access to parks and recreation for all. To strengthen this work, we — with the help of our partners — introduced several new equity-centered tools this year, including an Equity Language Guide that helps provide park and recreation professionals, and others, with guidance on how to think about language and use respectful terms when communicating to community members. In addition, we developed an Equity in Parks and Recreation: A Historical Perspective story map so people can better understand how unfair practices in our history are still present today, because understanding is the first step in undoing barriers in access to parks and recreation. And we officially launched our Equity in Practice program, which will continue to bring education, tools, resources and networking to our field in the months to come.
To further our decades-long work on health and wellness programs, we launched the Elevating Health Equity Through Parks and Recreation: A Framework for Action to support park and recreation professionals in their work to eliminate health inequities — especially within Black, Latino, Indigenous and Asian American communities where health disparities are greater. Our profession plays a critical role in the distribution of health services, as witnessed throughout the pandemic and in day-to-day services that promote healthy aging, youth development and social connection. In fact, park and recreation agencies are community wellness hubs that connect every member of the community to essential programs, services and spaces that advance health equity, improve health outcomes and enhance quality of life. In early 2022, be on the lookout for our Community Wellness Hubs Toolkit that will include evidence-based strategies, resources and case study examples from the field.
NRPA remains steadfast in its commitment to assist park and recreation professionals in building and maintaining climate-ready parks. This year was no exception, as we launched two new resources to assist park and recreation professionals in this important work. The Climate.Park.Change toolkit compiles data on how climate change is affecting park and recreation spaces and offers physical design and community engagement solutions to address climate impacts and other challenges focused within the Intermountain West region. In addition, a new Green Stormwater Infrastructure (GSI) Certificate program provides the foundation to successfully oversee a GSI project or program from planning to evaluation and every step in between.
Looking ahead, we have several exciting opportunities we hope you will take advantage of in the new year. First, we invite everyone to join us at the 2022 NRPA Annual Conference, which will be held September 20-22, 2022, in Phoenix, Arizona, an area that boasts 41,000 acres of desert parks and mountain preserves, more than 200 miles of trails, and 185 parks! To support our large and growing community of certified professionals, we will be unveiling new CPSI, CPRP and CPRE study materials and publishing the new fifth edition of Management of Park and Recreation Agencies this coming spring. Lastly, we urge everyone to make plans to participate in Park and Recreation Month this July, which provides an opportunity to showcase to the world the strength, power and dedication of park and recreation professionals everywhere.
This has been a particularly tough year of saying goodbye to so many colleagues and friends. NRPA lost former trustees, presidents and volunteers, and the field lost many cherished colleagues, volunteers and supporters. One recent loss I feel compelled to recognize here is Dirk Richwine. Dirk was a standout in his dedication to mentoring the current and next generation of park and recreation professionals and was one of the most committed and generous volunteers that NRPA has ever seen. He touched the lives of many, and we will miss him dearly. We hold the memories of our cherished colleagues and friends in our hearts and carry on their service and commitment in the work we do. I invite you to take a moment to reflect on the dedication of those who have come before us and thank them for having touched our lives and the lives of so many.
On behalf of the NRPA Board and staff, thank you for filling our hearts with constant hope and optimism and for your continued support of our great organization. Throughout 2021, you demonstrated the commitment to your communities and each other that is the hallmark of this amazing field. As we welcome 2022, let's say it loud and proud: "We Are Parks and Recreation!"
In gratitude,
Kristine Stratton (she/her)
President and CEO
National Recreation and Park Association