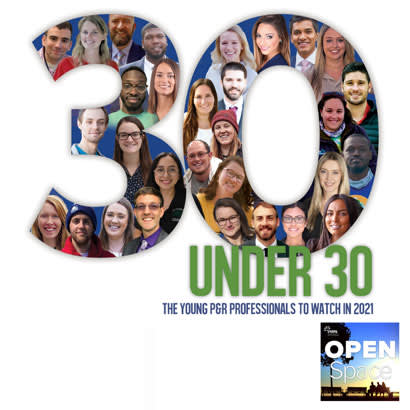 The February issue of Parks & Recreation magazine is out now, and on today's episode, we're diving deeper into this month's cover story, "30 Under 30 for 2021." We know from our work at NRPA that there are a lot of talented, passionate young professionals in the field of parks and recreation. These individuals truly serve as everyday superheroes in their communities and are continuing to make impacts that are not only felt on a local level, but are absolutely worthy of every bit of recognition on a national level, as well. We're so excited to talk with our guests today to learn more about how we're lifting these young professionals up and sharing the good work they do.
The NRPA Young Professional Network, or YPN, and Parks & Recreation magazine recently teamed up to launch the first-ever "30 Under 30" recognition program to honor 30 of the top young park and recreation professionals in the country. With a diverse group of nominees from 29 different states, one Canadian province and one U.S. Navy aircraft carrier, we're going to assume that the selection process wasn't easy. But, we're thrilled to be joined by two people on the show today who worked to get this program moving.
Today we're speaking with Michael Biedenstein, CPRP, AFO, a park program services division manager for St. Louis County Parks in Missouri and past chair of the NRPA YPN who, along with other leaders from the YPN, brought this great idea to NRPA. We're also joined by Hayley Herzing, NRPA's senior manager of membership, to learn about how NRPA has supported this program on a national level.
Tune in below to learn about the role that Michael and Hayley played in bringing the "30 Under 30" idea to life, as well as:
What — or, more appropriately, who — inspired the 30 Under 30 recognition program.
What qualities the selection committee was looking for when selecting the 30 individuals out of more than 100 nominations.
Why Michael and Hayley feel it's important for parks and recreation as a profession to highlight and elevate young professionals.
What stories from this impressive group of young professionals have stood out to each of them.
How these young professionals' stories make Michael and Hayley feel about the future of parks and recreation, and more!
Congratulations to the 30 young professionals who were selected in the inaugural year of this program! Be sure to read each one of their stories in the February issue of Parks & Recreation magazine!
Listen to the episode for the full story.