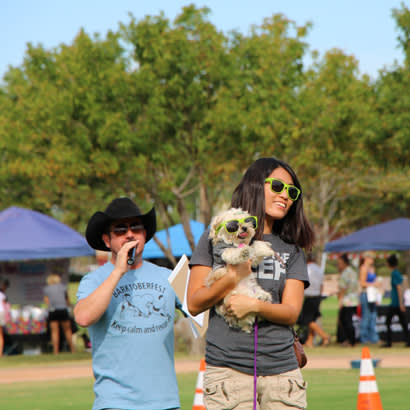 Whether you're planning an outdoor fundraiser at your park or hosting an educational event for kids, it takes a lot of planning to run a successful community event. Including pets in these activities adds another layer of factors you need to consider.
From avoiding liabilities to marketing your pet-friendly event, we've compiled a list of tips that park and recreation agency staff can use to improve pet behaviors at any kind of community event.
Allowing pets at your event can boost attendance and bring joy to pet lovers in your community. With these four tips, you can create a better experience for both people and pets by making sure everyone feels safe and well-prepared.
1. Learn from the professionals
To prevent any pet behavior concerns from affecting your event, learn from the professionals in your community.
Most dog trainers, groomers and kennel technicians rely on software to monitor and handle pet behaviors. For example, Gingr's boarding software allows staff to create report cards that detail how pets have behaved while in their care. These professionals can tell you exactly what to look out for and what strategies to use to keep animals calm at your event.
If you know anyone in your community who's a dog groomer or trainer, contact them ahead of time and ask if they'd be willing to give your staff some professional advice. Or, hire them to help out at the event itself. They can make attendees with pets more comfortable and help out in case of an emergency.
2. Train your event staff and plan ahead
Full-time park staff already know what to do in most emergency situations, but your volunteer event staff may not. Along with having a pet professional talk to your staff, make sure to cover the following bases:
Educate staff on dog behavior basics. Ensure your staff understands how to interact with pets calmly and knows which behaviors and body language to watch out for.
Create risk management plans. Train your staff on what to do in case of a pet emergency at the event.
Map out your event space. Ensure you have a shady area where pets can keep cool and a place for them to drink water. Designate a separate area for pet owners to take their animal if it feels stressed or needs to be separated from the others.
Plan for last-minute weather changes. If it rains and you have to move your event indoors, how will you manage the pets? Consider whether or not you will allow them inside or if you need to budget for some sort of awning.
The more plans you have in place, the better prepared you'll be to handle any pet behavior situations that arise.
3. Prepare your guests
Pet owners generally know how to keep their pets calm in public. But it doesn't hurt to remind them to be extra considerate at community events! Here's how:
Set guidelines for pet owners at the event, such as picking up after their pets and keeping dogs on non-retractable leashes.
Communicate policies to guests ahead of time by adding a note on event flyers, promotional emails, or social media posts.
Make an announcement at the beginning of the event reminding everyone to be conscious of pets.
Remind guests of park rules, such as dogs must be on a leash at all times.
Pet owners likely won't be the only ones attending your event, so make sure that your policies promote inclusivity and that your event is accessible to all guests.
4. Stay aware at the event
During the event, staff should pay attention to the body language of animals and watch for any signs of stress or aggression, such as snarling or panting excessively. If you see any warning signs, don't be afraid to ask a guest to remove their pet to a separate area until they can calm down. If you have a pet professional on hand at the event, calming pets down will be much easier.
On the other hand, some guests may not know how to interact with dogs. Make sure that all guests are being friendly towards the animals, and let them know if they accidentally encourage negative behaviors.
After your event, send out a survey to get feedback from guests. Ask specifically about the pet policies and what attendees thought of them. You can use this feedback to improve your plans for handling pets at your next community event. With the right training, preparation and professional advice, you'll improve pet behavior at your events in no time.
Casey Dorman is the sales manager at Gingr software.