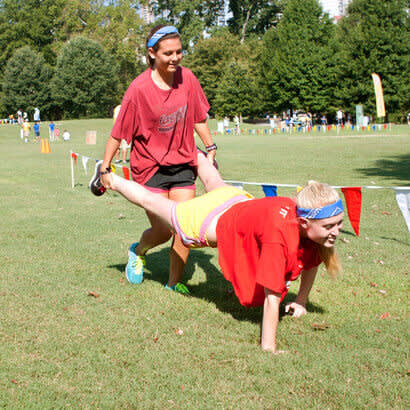 For nonprofits and other mission-driven organizations, fundraising is key. For park and recreation agencies, fundraising can bring awareness to local issues and engage your community in a cause your organization cares about like environmental restoration and increased access to play spaces. By hosting a mix of your own fundraisers and partnering with local nonprofits and other organizations, your park or recreation center can maximize both impact and revenue.
We value making fundraising simple and fun, and 99Pledges' fundraising ideas make it easy to achieve your fundraising goals. As a park and recreation professional, outdoor fundraising ideas like these might be even more appealing to you:
Hold a fun run.
Host a tree planting party.
Host a sports camp.
Have a sports tournament.
Fundraising can get people involved in community-based causes and out and about at their local parks. These fundraising ideas can help you accomplish your goals and better your community.
Hold a fun run
People in your community might be searching for fun, family-friendly activities, especially in the summer months. With kids out of school and lots of pleasant, sunny weather, there are plenty of opportunities for an exciting outdoor event. For instance, holding a fun run is a great way to fundraise outdoors and get people moving.
Fun runs are an extremely versatile fundraiser for parks and recreation centers. These runs are usually non-competitive, short-distance events with an added fun element. The distance and rules of the run can be tweaked for any age group so families are able to participate.
You can customize these events even more by changing up the fun element of the run. Depending on your cause and factors like average participant age, you can incorporate bubbles, sweet treats or a fun activity into the run to make it more exciting. Fun runs are also fairly affordable, and fundraising can be done through participants accruing pledges, taking most of the fundraising responsibility off your shoulders.
Host a tree planting party
Many park and recreation agencies prioritize efforts to go green. Due to the increasing emphasis on environmental restoration, choosing a fundraiser that gives back to the land and environment is a great way to be more eco-friendly.
One way to combat climate change and restore the environment is to host a tree planting event. Double the Donation's fundraising ideas guide recommends bringing your supporters together to help plant saplings at your local park or sending the saplings home with your participants so they can plant them in their yards.
If you plan to host an event like this one, don't forget to plan for outdoor conditions. If you think it might be hot, provide your participants with sunscreen, water and snacks.
Host a sports camp
If your community loves sports, this idea is a great way to get young sports fans involved. Partner with a local club or high school team, such as a baseball team, and set up a sports camp at your parks or recreation centers. It's best to reach out to teams with older members as they can be mentors and teachers at the camp.
At the event, have the older, more experienced players coach younger children. Not only can their tips and guidance improve their skills in sports, but working with older players they look up to feels special to young beginners. Along with the mental health benefits of playing outside, younger kids will gain a positive role model and feel motivated to continue in their sport.
Have a sports tournament
Another fundraising idea that will get your supporters out of the house is hosting a sports tournament at your local park.
While you can host a tournament for any sport, basketball tournaments might be the easiest if your park already has basketball courts on site. Spark up a little friendly competition in the community by giving participants the opportunity to form their own teams and compete for the crown. Getting event sponsorships, selling branded merchandise and using a marketing strategy can maximize revenue to make your event a success.
If your tournament is a big hit in the community, participants may want the fundraiser to become an annual event. Hosting a celebrated tradition at your parks and recreation center is a great way to fundraise and foster community connection through a worthy cause.
While fundraisers are a great way to raise the revenue your organization needs, their impact can extend far beyond that. Fundraisers are important hubs for community connection. With the right fundraiser, you can motivate community members to reap the benefits of getting outside, moving their bodies and building community relationships.
Brad Dowhaniuk is the co-founder of 99Pledges, which provides schools and teams with an easy-to-use, web-based fundraising solution to manage and drive success in Fun Runs, jog-a-thons, baseball hit-a-thons, and much more.