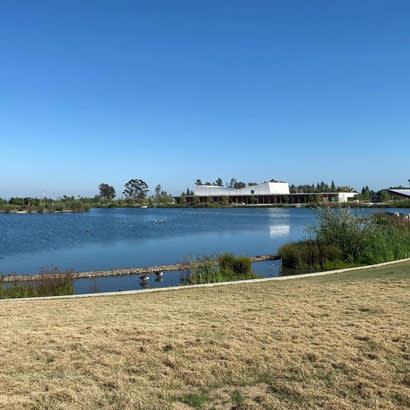 Pictured: Earvin "Magic" Johnson Recreation Area in Los Angeles, California.
Recently, there has been much discussion at the federal and state levels of government about achieving "30x30," the goal of conserving 30 percent of lands and coastal waters by the year 2030 to fight climate change and advance biodiversity and conservation. For example, the California Natural Resources Agency has developed the Pathways to 30x30 Strategy to accelerate the conservation of the state's lands and coastal waters. While there is certainly a need to conserve additional natural lands, the restoration of degraded lands is also of great importance and a matter of environmental justice in Los Angeles County where numerous underserved communities are plagued with environmental burdens.
Degraded lands are often found in areas that have the most environmental burdens with respect to groundwater threat, hazardous waste, poor air quality, pollution burden, etc. These lands include properties occupied by abandoned, redundant, or unwanted infrastructure, such as decommissioned landfills, oil wells, rail yards, utility corridors, airports, and power plants. In Los Angeles County, many of the most environmentally burdened communities are also the most park poor per the Countywide Parks Needs Assessment and the most climate-vulnerable per the County Climate Vulnerability Assessment.
In locations where environmental burdens are concentrated and impactful land uses are defunct, multiple benefits can be derived from restoration projects like new parks that address residual pollution and unhealthy conditions, restore natural systems, and provide enhanced recreational opportunities for residents. Parks are increasingly recognized as essential infrastructure which provides a wide range of benefits to communities. Specifically, parks offer a variety of environmental, social, and economic benefits both within and beyond park boundaries, as summarized below:
Environmental
Improve air quality
Capture and clean stormwater
Mitigate heat and stabilize temperature
Social
Improve public health
Improve community safety
Enhance community cohesion
Improve walkability
Reduce stress and improve academic performance
Economic
Increase property values
Create temporary and permanent jobs
Given such benefits, numerous local governments are investing in parks, especially in areas where they are most needed and where degraded lands are prioritized for environmental restoration. The Los Angeles County Department of Parks and Recreation (DPR) is an example of a local park agency that has been proactively analyzing and addressing the park needs of the communities it serves. In addition to the projects previously highlighted in From Plans to Parks, DPR is in the process of implementing the Puente Hills Landfill Park Master Plan which was adopted by the Los Angeles County Board of Supervisors in 2016.
The 1,365-acre Puente Hills Landfill closed in 2013 after 56 years of receiving trash from homes and businesses in over 60 cities and unincorporated areas across L.A. County. The Master Plan proposes to transform 142 acres of the landfill into parkland, creating the first new regional park in the county in over 35 years. The proposed park will offer a variety of recreational and educational experiences and programming for residents living in the San Gabriel Valley and beyond. The additional parkland that will be created will help to offset the severe shortages for parkland regionally and the surrounding communities. To make the Puente Hills Regional Park a reality, the Board of Supervisors recently approved the allocation of an additional $28 million to the project, with total funding for the park now at almost $110 million.
Oil fields represent another type of opportunity for environmental restoration and the creation of parkland. For example, in recent years, DPR has been making substantial improvements, including adding much-needed amenities like a community center and outdoor play and exercise equipment, to the 126-acre Earvin "Magic" Johnson Recreation Area which lies on the site of an oil storage facility that was in operations until 1963. Also, the Inglewood Oil Field which underlies the Baldwin Hills area has the potential to be restored into additional parkland over time to provide equitable access to park-poor communities. In addition, in September 2021, the Board of Supervisors approved a motion to update the County's Oil Well Ordinance for unincorporated areas to prohibit all new oil and gas extraction wells and designate all existing oil and gas extraction activities as nonconforming uses. There are over 1,500 active or idle oil wells in the unincorporated areas of the county.
Abandoned rail yards may also be restored for park and recreation uses. An example of a completed project is the Los Angeles State Historic Park which offers 32 acres of beautiful open space in the heart of Los Angeles and represents a significant environmental justice victory and a testament to the power of grassroots activism. Also noteworthy is the planned Taylor Yard G2 River Park Project which will transform an abandoned 42-acre former rail yard in northeast Los Angeles into a unique park with access to the Los Angeles River, wetlands, wildlife habitat, walking trails, and various other amenities.
To advance park equity and improve the quality of life for frontline communities, we must work towards transforming more degraded lands from liabilities into assets like parks and open space. This requires an equity-based conservation and restoration approach that prioritizes and focuses funding and other resources to acquire, clean up, and reclaim degraded lands for park use in the communities that have the most environmental burdens.
Clement Lau, FAICP, DPPD (he/him), is a Departmental Facilities Planner with the Los Angeles County Department of Parks and Recreation.