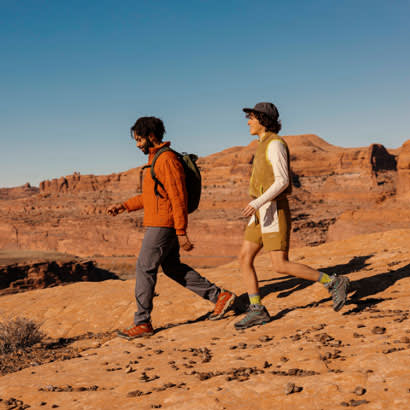 When most people think of the outdoors, their associations are primarily positive. Happiness, relaxation and calmness all come to mind. Even as issues of social injustice and racial inequality increasingly impacted many over the past few years, communities have sought a form of escape in the outdoors.
Outdoor leader Merrell exists to share the simple power of being outside. Knowing the globally recognized benefits of being outside, Merrell conducted a study of cross-cultural perceptions and experiences in the outdoors to better understand how race, ethnicity, gender identity, sexual orientation and income affect how welcome people feel outside. The brand believes the trail is for everyone – inspiring the drive behind the study to make the outdoors inclusive and welcoming to all.
The study – Inclusivity in the Outdoors Report – unveils that despite the globally recognized benefits of being outside, not everyone's associations fit the positive narrative. Revealing "a tale of two outdoors," the study shows more people getting outside overall and that positive sentiment has increased. Respondents across the globe indicate a 4 percent increase in feeling happy or alive and a 2 percent increase in feeling thankful when outside.*
On the other hand, nearly 1 in 5 respondents noted they have experienced discrimination when outside.
Key Findings
The six main takeaways from Merrell's global outdoors audit are:
Conflicting emotions exist when outside across the globe​
Indigenous communities face barriers to being in their natural homes​
Communities of color still feel cautious about the safety of outdoor spaces​
Women have growing concerns regarding safety and continue to be underrepresented​
Income impacts outdoor participation​
LGBTQ+ people are left out despite a desire to participate
The Inclusivity in the Outdoors Report showcases there are still barriers to overcome. It is important to address the obstacles that those who identify as women, Black, Indigenous, and LGBTQ+ people, and those with lower incomes encounter to ensure everyone feels welcome outside while helping decrease the associations that do not fit within the positive narrative. Merrell is calling for industry leaders — including local park and recreation professionals — to help.
Actions You Can Take
Expand representation in marketing.
Commit to getting youth outside as early as possible to instill a lifelong love of the outdoors and increase a sense of ownership and belonging.
Ensure all staff has bias training. Equip them to create welcoming experiences for all, without aggressions and microaggressions that could reduce individuals' sense of belonging. NRPA members are encouraged to leverage the Equity in Practice Resource Library which offers a set of vetted and carefully curated articles, books, technical resources, podcasts, videos and webinars.
Fund green spaces in urban areas to improve recreational areas closer to home.
Address both physical and perceived access issues for underserved communities. Establish and leverage partnerships, provide transportation, reduce, subsidize or eliminate admission fees, and provide access to lower-cost or refurbished products.
Redefine and reimagine outdoors.
The outdoors is everywhere and for everyone. And, outdoor experiences are as diverse as the communities who enjoy them. When we expand upon our perception of the outdoors, we help make it more inclusive for those who have different experiences. Think beyond camping and hiking. Backyards and front yards, playgrounds, city parks, kids walking to school, taking the dog for a walk, sitting outside and watching wildlife, going to get coffee/pizza, gardening, bicycling, and commuters enjoying fresh air as they walk to work. The outdoors is ubiquitous, and it's up to us to help all feel welcome.
The Trail Ahead
In partnership with Merrell, the National Recreation and Park Association is working to increase access to green spaces and bring park improvement projects to life in communities hit hardest by park funding inequities. The journey toward inclusivity in the outdoors means supporting diversity, representation, education and awareness.
The trail is for everybody regardless of size, gender, race or ability. We all need to work together to create a welcoming environment in the outdoors not only because it's the right thing to do, but it's imperative to continue the protection and conservation of the natural environment that sustains us all. The more people we can inspire and welcome to the outdoors, the more people will learn to enjoy, respect and work hard to conserve our natural spaces.
Be sure to tune in to the latest episode of Open Space Radio below, as Regina Hill, Merrell's CSR marketing manager, chats in depth about the Inclusivity in the Outdoors Report with NRPA's Cort Jones.
Listen to the episode for the full story.
Regina Hill (she/her) is a CSR Marketing Manager at Merrell.
*when comparing 2022 vs. 2020 results