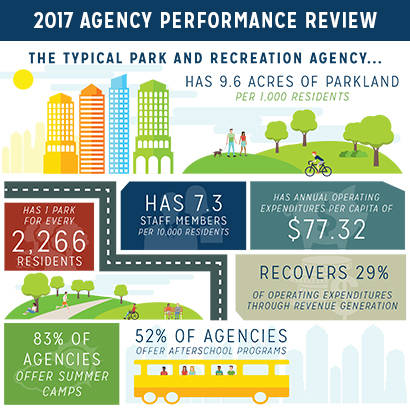 The typical park and recreation agency offers one park for every 2,266 residents served, with 9.6 acres of parkland per 1,000 residents. But park and recreation agencies are as diverse as the communities that they serve, and what works well for one agency may not be best for your agency. Therefore, you need data to best identify the best practices to optimally serve your community.
That's where the 2017 NRPA Agency Performance Review comes in. This report is the most comprehensive resource of data and insights for park and recreation agencies in the United States, and has 21 figures highlighting critical park and recreation metrics.
The NRPA Park and Recreation Salary Survey report provides comprehensive salary data and benefit policy details for five typical park and recreation positions based on a survey of 480 agencies across the US. The full report also includes sample job descriptions and agency organization charts


Park and recreation agencies are in a unique position to ensure that the needs of underserved older adults are being met. Based on survey responses from 524 park and recreation professionals, this study explores how park and recreation agencies and their staff serve older adults.


Parks are key community stakeholders when it comes to addressing the effects of climate change. From protecting water resources via green infrastructure practices, to reducing urban heat island effect through city wide forest restoration - parks play a critical role in ensuring that our communities successfully adapt and thrive in light of a rapidly changing planet.


The vast offerings of the local park and recreation agency improve the lives of people throughout our nation. From the fact that Americans on average visit their local park and recreation facilities approximately 29 times a year to the majority of Americans identifying parks and recreation as an important service provided by their local government, the general public is an untapped advocate to spread the public park and recreation story. This annual study probes Americans' usage of parks, the key reasons that drive their use and the greatest challenges preventing greater usage.


Historically, park and recreation agencies have had a complicated relationship with the homeless community they serve. On one level, public parks are resources for the entire community, providing valuable services to all people. On another level, the prevalence of homeless individuals using park resources can put great pressure on the finite resources of park and recreation agencies. The circumstances of homelessness vary significantly by city, with each park and recreation agency facing a unique set of challenges and holding a unique perspective. As a result, mitigating homelessness cannot be the sole responsibility of one agency or one department within a city. In all, nine out of 10 urban park and recreation agency directors report that their city has tactics and strategies in place to alleviate homelessness in the community.

Out-of-school time (OST) programs are critical providers of child care — affording parents and caregivers the opportunity to earn a living. These programs provide education about nature and nutrition, tutoring, mentoring and enrichment opportunities that improve the mental, physical and emotional health of youth. More so, OST programs fill a critical need by providing healthy meals to children during out-of school times. There remains, however, many opportunities for greater success by serving more children and expanding program offerings. Based on survey results from 396 park and recreation professionals, this study explores the scope and missions of out-of-school time programs, along with their greatest challenges and successes.
In recent years, park and recreation professionals have increased their use of data analysis to support decision making. The insights gleaned from data analysis help agencies make informed programming decisions for their facilities, help optimize capital expenditure budgets and support master planning. At the same time, many park and recreation agencies face the daunting challenge of identifying how to best take advantage of the great promise data can bring to their agencies. Based on the feedback of 58 directors from urban park and recreation agencies, this study looks at how park and recreation agencies are embracing data today and to identify the barriers that inhibit greater use of analysis.
Americans cherish their local public park and recreation services, seeing them as valuable features of their communities, towns and cities. In fact, Americans almost unanimously agree that their communities benefit from their local public parks, even if they themselves are not regular park users. This passion for local public parks has gone unabated during the past 25 years even as our nation and the ways we interact and entertain each other have dramatically evolved. Read the study and dig deeper with interactive graphics.


America's local and regional public park agencies generated nearly $140 billion in economic activity and supported almost 1 million jobs from their operations and capital spending alone in 2013. When the spending at local and regional parks is combined with that of national and state parks, public parks are responsible for more than $200 billion in annual economic activity.
The study, the first nationwide study of its kind, focuses exclusively on the direct, indirect and induced effects local and regional park agencies' spending have on economic activity. Read a more thorough, technical discussion of the study here.


This report translates key academic research findings for everyday park and recreation professionals. Included are summaries of 45 peer-reviewed research articles published between 2012 and 2015, organized by the subject matter focused on NRPA's Three Pillars of Conservation, Health and Wellness, and Social Equity. For each report, you will find a summary of each articles' key findings, the full reference, contact information of the primary authors and (if available) links to download the full academic articles.
Read more about key academic research findings here.
Parks and recreation agencies have historically been closely aligned with the goals of active transportation principles, as well as playing an important role in the development and management of active transportation infrastructure. It is difficult to imagine a truly comprehensive active transportation network that is not touched by a park and recreation agency, and in many cases parks and recreation agencies are the primary providers of active transportation-related services. Through active transportation, parks and recreation agencies provide valuable benefits to communities by providing an engine for economic development, increasing health and wellbeing, supporting conservation and providing benefits to all advocates regardless of socioeconomic status. Download Active Transportation and Parks and Recreation.
Access to parks increases one's level of physical activity, therefore parks are an important destination that should be easily accessible to all advocates. This report explores the obstacles limiting walkability to parks and identify the essential elements of a safe route to a park. Additionally, this report assesses the barriers to walkability, determines the key stakeholders responsible for creating safe routes to parks, identifies strategies on building awareness on the importance of walkability, and recognizes current initiatives on improving safe routes to parks. Download Safe Routes to Parks: Improving Access to Parks through Walkability.



Older reports can be accessed here:
Case Studies
Issue Briefs
For more information about research papers, contact NRPA Customer Service at 800.626.NRPA (6772)