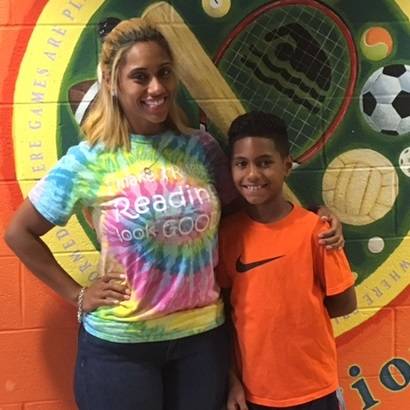 "EWWWW! Yuck! Lentils...no way am I eating that!" These were very discouraging words to Reading Recreation Commission's summer intern, Emily Lengel, hired as our nutrition coordinator for the summer program and to help provide six weeks of nutrition literacy we committed to provide as recipients of the 2016 Out-of-School Time Programs Grant from NRPA and the Walmart Foundation. Each week, Emily visited 8 playgrounds and recreation centers and creatively engaged hundreds of children in learning about the importance of healthy eating. This was not an easy task for many of the children we serve (and our staff), mostly due to cultural and behavioral likes and dislikes of foods that we should avoid, and foods we should be encouraged to add to our daily food plate.

Emily broke the lessons down to follow the My Plate guidelines, including the importance of good hydration. Children learned that they needed to drink 8 cups of water a day, avoid sodas and sugary drinks and that the true test of whether or not they had consumed enough water was to see if their "pee was almost clear" (that brought a lot of giggles). Working with program supervisor, Heather Boyer, and chief development officer, Camille Stock, Emily created lesson plans, colorful posters, and most important, great recipes to drive home each week's lesson. The recipes were shared with the children, who were encouraged to "try this at home, amaze your family with what you are learning!" Sometimes it was difficult to keep the children focused, after all, they were at the playground, not sitting in a classroom all day. What we discovered at our last lesson, week six, was that the children REALLY did learn something, based on the Nutrition Bingo responses we got as feedback.

During week one, we gave each child their own water bottle, and showed them how to make flavored water using cut up, fresh fruit. They loved it! Week two, "Fabulous Fruits" involved taste testing fruits, many of which the children had never tried. And the children also made their own Bagel Fruit Pizzas. They loved it! Vibrant Vegetables was the lesson for week three, and we served mini fruit slushies with carrots and kale hidden in the slushie, which was not as popular as weeks one and two. Emily was stumped as to what to prepare and serve during week four "Grains and Proteins" lesson. She stumbled upon a Lentil Taco recipe, which she said her college roommate (a vegetarian) would make quite often. Of course, the smell of the lentils sautéed in garlic was enticing, but once the children and staff found out the lentils are beans, they turned up their noses at the thought of eating ONLY beans in a taco. That is, until they tasted the lentil tacos, which melted in their mouths. For Schlegel Park Swim Camp site supervisor, Yanyzel Torres, and her son, Marcus Torres, age 10, the lesson was a game changer. " I was curious about how they tasted, and then I was shocked because they tasted so delicious!" exclaimed Marcus. Yanyzel echoed the same "I was skeptical. I didn't think the campers would try the tacos. I encouraged them to at least try the tacos. I was so surprised - they loved them! Most of the children asked for seconds...and thirds!' She added, "what it taught me is that I can prepare these healthy meals at home, and my son will actually like what I am making." Yanyzel was also our staff "Biggest Loser" contest winner, so she really did practice what we taught our children and staff about the importance of healthy eating.

It was hard coming up with something delicious and transportable for week five dairy lesson, but Emily had a lot of success with the low fat yogurt parfaits with fresh fruit and granola. Week six, review week, and Nutrition Bingo ended on a great note with Peanut Butter Banana Quesadillas, with many of the children thanking Emily for a great summer where they learned a life lesson about how important it is making healthy food choices. Many of our parents told us that the children were coming home and telling them that they were not going to drink soda any more, or eat Taki's ( a popular spicy snack food found in many lunch boxes of Reading children), and that they needed to eat more whole grains, and fruits and vegetables. What the children also learned is that they should at least try a food first, then decide if they like it or not.

It was a great summer full of great memories, not just of the dinosaur contest and the Lantern Parade, the field trips, the arts & crafts projects, playing box hockey, swimming, learning how to play Frisbee golf, and Pound classes, and, yes, even learning about healthy eating....and Lentil Tacos! YUM!