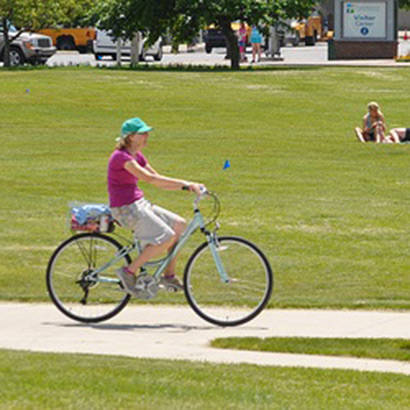 Stories from Small Towns is a project of the National Physical Activity Society. The objective of the project is to demonstrate that structural changes to make walking easier can be carried out in America's thousands of small towns and not just its big cities. The project focuses on advice from towns that have made some changes, with the aim of inspiring town leaders across the country to see such infrastructure as possible and worthy. The following are stories from small towns that have focused on parks as a key to walkability. More stories from small towns collected by the National Physical Activity Society can be found here.

Brentwood, Missouri (Pop. 8,032)

Parks have long been promoted in Brentwood, considered good for residents and businesses. Recently, Brentwood formally adopted a master plan, a blueprint for parks. The city turned to Great Rivers Greenway to align plans to establish connected trails in the area. Responding to resident input, Brentwood installed benches and tables as small amenities to make greenways more enjoyable.

As a suburban area, Brentwood's young family population appreciates renovations of playgrounds. Positive reaction to one improvement leads to others as residents want the same improvements in their parts of town. Five-foot wide sidewalks now connect parks that were previously unconnected. The town recently re-built its recreation complex and is connecting its plans for biking and walking with nearby communities.
Brentwood sees quality of life as the biggest benefit. Businesses and families support parks and walkability, and health is a side benefit.

Key Lessons


Talk with residents early and often for truly engaged citizen involvement.
When possible, provide requested amenities (e.g., benches); citizens will support projects more.


Columbia, Pennsylvania (Pop. 10,382)

Several parks in the borough of Columbia were run down, and a master plan identified the need for improvements. Mayor Leo Lutz started revitalizing, purchasing more land for the park system. One example is the Susquehanna River Park, four acres now refitted with a trail system and a new building with educational center. The borough obtained several grants to fund this project.

Another project was carried out amidst concerns from residents, who thought the new basketball courts and play apparatus would be destroyed. Residents came around to the idea and now even support the new park projects. The important aspect seemed to be letting them have their say and be heard by the town leaders.
The borough's changes have taken place over 12 years. Columbia was listed as one of the 20 best small towns to visit in 2014 by Smithsonian Magazine and in the same year among the top 16 small Pennsylvania cities by Cities Journal.

Key Lessons


Funding can be cobbled together from multiple places. Columbia obtained Urban Enhancement Funding from the county, along with funds from the Department of Conservation and Natural Resources, the Pennsylvania Fish and Boat Commission, and the Department of Environmental Protection.
Involve everyone you can think of, from the very beginning. The more people and the more public, the better your chances of success.


Traverse City, Michigan (Pop. 15,018)

Two decades ago the state department of transportation widened a road into town without any provisions for walking or cycling. Local citizens then formed into a group to promote trails and walking in the city and at the state level. Upon securing funding, the group built trails. After the department of transportation objected to a trail to "nowhere," the private group coordinated with town leaders to tie in a base park, and thus was birthed the Traverse Area Recreation Trail.

Business leaders, including those at a local resort on the edge of town, wanted connectivity. "There's no reason our guests shouldn't be able to hop on a trail and bike into Traverse City," said the owner. In a state heavily influenced by the automobile, these events spurred a way of thinking. Now there are 25 miles of paved trails connected to trail networks, and Traverse City is known for health and recreation opportunities.

Key Lessons


Economic benefits are huge. One trail network pumps $2.6 million into the local economy, mostly due to special events.
People are paying to live in areas where they can walk and bike.
Start somewhere; it doesn't have to be big! Gather people and get started.