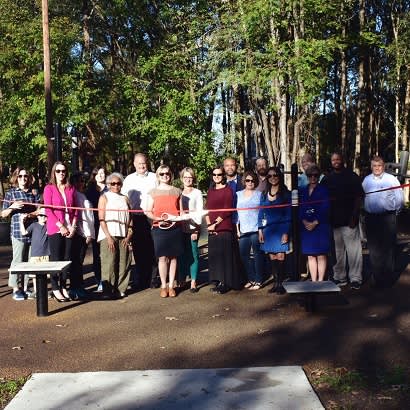 One of Spartanburg's most popular recreation and physical activity destinations is the Mary Black Foundation Rail Trail. This two-mile rail-to-trail conversion is a wheelchair accessible recreation and activity hub that parallels two major roads and connects many neighborhoods to downtown Spartanburg, South Carolina. The Rail Trail is also adjacent to many restaurants, retail businesses, and recreational facilities like the YMCA, a skate park, dog park and a bicycle-sharing system.
From 2009 to 2012, Partners for Active Living (PAL) worked with Furman University to evaluate use of the rail trail. They learned that use increased from 25,000 users in 2009 to 65,000 users in 2012, but that few children were using the facility compared to the number living nearby. To bring more children and families to the trail, PAL worked with Duke Energy and the City of Spartanburg to secure a recreation lease on a seven-acre property along the trail. A destination park and community gathering space is being created for residents throughout Spartanburg County, but especially for those with children and youth in the urban area. To date, $1 million has been raised, with $900,000 coming from private sources and $100,000 from public sources. PAL is leading design and fundraising while the City of Spartanburg will maintain the property.
Thanks to a partnership with Kaboom!, PAL and the City of Spartanburg have also discovered that the area is considered a "play desert." PAL is working with nearby residents and community leaders to create a collective vision for the new space that invites the community, especially children and families, to play and gather in a new, welcoming outdoor space.
This park will be different from others in the community because the city has only one other park that is located outside of a neighborhood. Neighborhood parks are very important to health so that families can walk to places to play. However, there also needs to be a community park where children from across the county can gather together, and the hope is that this new park will create that space. The park will provide an outlet for families with children of all ages, but especially those with older children who need amenities beyond what is currently offered.
"The rail trail is one of the City of Spartanburg's most visited recreation facilities. It also is a place that, at one time, was the railroad track that separated the east side of the Spartanburg community. Now it is a place that is enjoyed and celebrated by a diverse group of users. The proposed park will only enhance and expand use," said Mitch Kennedy, community services director of the City of Spartanburg.
Key features and partners on the project:
The property has been provided by Duke Energy and cleared with the help of volunteers.
A pavilion has been created to look like a trolley to celebrate the history of the site when it housed a Trolley Barn at the turn of the twentieth century. The pavilion was created in partnership with a donor group called The Group of 100.
A tree tunnel and misting station highlighting the watershed divide in the county with be located along the adjacent trail.
Fitness equipment is being provided in partnership with corporate donors and Leadership Spartanburg class.
The site will include areas for the 40-yard dash and an NFL Play 60 obstacle course.
A bicycle park and pump track is being developed in partnership with an adventure group called Coalition for Active Youth.