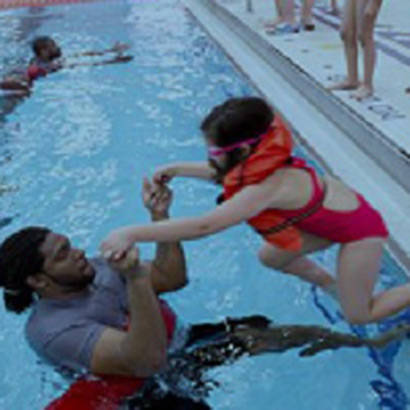 In 2010 the USA Swimming Foundation conducted a survey and found that a large percentage of minorities had low rates of swimming ability. In Prince George's County, Maryland, the staff at Maryland National Capital Park and Planning Commission (MNCPP) found this to be true in their highly diverse community.

Over 80% of Prince George's County's citizens represent minorities. Given those demographics, MNCPP staff developed a pilot program in partnership with Prince George's County Schools in 2012 aimed at teaching minority children about the basics of swimming as well as water hazards. Grant funds were provided through the USA Swimming Foundation to operate a pilot program at five elementary schools. The program consisted of two major components which included a "dry land" instruction program at the schools and an "in water" session at the recreation department's swim centers. In order to prepare students to understand the various hazards associated with the water, a resource guide was prepared using the Red Cross Whale Tail Program and school teachers were then able to implement the lessons in the classroom, once a week for the duration of the four-week program.

Following the pilot program, MNCPP and the Prince George's County School system made the decision to continue running the program in partnership. In its second year, the program was expanded to serve 23 schools, then later to 26 schools. For the upcoming 2015-2016 school year, the program will be operating in 30 schools. The program is projected to have approximately 2500 students in the upcoming 2015/2016 sessions, targeting students in title one schools, students eligible for free and reduced meals, and schools in transforming neighborhoods. The school system provides the transportation of the students to the swim centers, the four "in school" water safety lessons, and swim suits for each student in the free and reduced meal program. MNCPP provides the staff for the instruction program and classes in their swim centers. Both MNCPP and the school system share costs for the program annually. To encourage further learning and swim skill development, when students complete the course they receive a report card as well as a coupon to use at the swim centers for enrollment in the MNCPP's "Learn to Swim" programs.

This program is the perfect example of two major county agencies coming together for the benefit of the community. MNCPP and Prince George's County Public schools have made a comprehensive effort to target minority children to provide an understanding of water safety and an introduction to basic swim skills and swimming as a recreational lifetime activity. In the state of Maryland, which has an abundance of water nearby, this is a critically important program. In discussions with staff, it is apparent that the program has become an important part of MNCPP's programing efforts and serves as an excellent example of how intra-governmental partnerships can work for the benefit of their clients.